protel hotelsoftware GmbH's Journey to the Cloud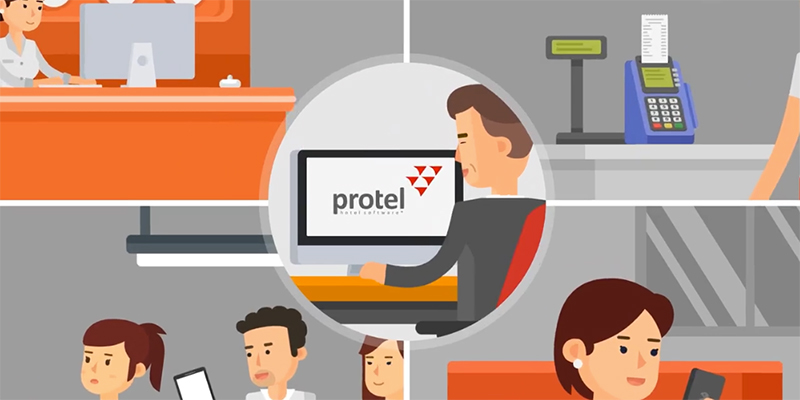 Guest post by Ingo Dignas, Co-Founder & CEO of protel hotelsoftware GmbH
Some people are under the impression that tech companies are founded to take advantage of carefully-researched opportunities. The truth is a little more complex. Founders like myself start by doing what we love and asking questions about things that intrigue us. Our first business opportunities present themselves through the lens of our own personal curiosity and often pop up by chance, not as the result of market research.
Consider my journey to founding protel hotelsoftware, a hotel property management systems (PMS) business. In the early 1990s, I studied computer science at university and found that I enjoyed teaching computer courses for adults. I developed a little clientele and found myself traveling a bit. During one visit, a hotelier showed me the cumbersome text-based PMS he used, and hinted at how much money he'd invested in the system.
The system's capabilities didn't seem to warrant its hefty price tag, as the hotel's staff struggled to make use of its most basic functions. That observation was the genesis of what became protel: if an enterprise system is too cumbersome and frustrating to use, its feature set doesn't matter. What matters is the benefit conveyed to end users. For hoteliers, that meant a flexible, scalable, responsive PMS with an intuitive graphical user interface (GUI).
My friend Manfred Osthues and I developed the concept behind protel, including an early version of its GUI. When we showed our work to potential customers, we hoped for a few murmurs of encouragement and vague promises of future conversations. Instead, every single hotel that saw our prototype wanted to know when the full PMS would be available. Just by following our interests and instincts, we'd stumbled onto a latent market that no one had adequately served.
Since that day in 1994, protel has maintained a steady set of core principles. But staying true to our vision has meant overhauling our software—sometimes radically—as the hospitality industry and its approach to technology have changed.
Before protel brought its first product to market, we attracted buyout offers from future competitors. That was more than enough encouragement for us to blaze our own trail, and for the next ten years we grew steadily but prudently, placing great emphasis on tailored solutions and rock-solid, painstaking—and, considering everything that goes into an on-premise installation, somewhat expensive—deployments in hotels across Europe and beyond.
In 2004, we were chosen to manage the Olympic Village at the Summer Games in Athens. We thought this would be a fairly straightforward affair: we just needed to manage a certain number of athletes, all of whom would have similar needs, occupy similar living quarters, and stay at their hotels for similar periods of time. It soon became clear that this would be a logistical challenge unlike any we'd encountered thus far.
We're proud of how well we met that challenge and our success there led to our being named for the same job at the 2008 Olympics in Beijing. But that experience also prompted us to completely re-think our approach to deployment, which in turn led us to consider reimagining our entire suite of solutions—specifically, how much more efficient our deployment would have been if we'd offered a cloud-based solution. The Beijing Olympics were too close for us to completely change course, but when our experience in Beijing matched that in Athens, in terms of both our success and the internal measures needed to ensure it, we committed to switching to the cloud.
The switch wasn't painless—more about that in a moment—but I'm proud of one broad decision we made. When protel decided to pursue a cloud-based model, it took advantage of the opportunity to rethink its solution's very architecture. Some of that was necessary, of course, but some of it was a deliberate decision to use a period of disruption to ask ourselves what else we could do for our clients.
For example, we'd been kicking around various ideas about an Enterprise Service Bus capable of integrating third-party data sources, but those ideas really started to take shape when we moved to the cloud. The hospitality industry can be pretty loyal to legacy systems, and we saw an opportunity to help our clients by offering a hub through which information from various legacy systems could be standardized and made mutually intelligible (and useful). Today, our API-driven protel.I/O ESB is a central feature of our PMS.
Moving to the cloud did require us to invest in a much larger data center and to maintain a larger team of engineers to run it. At first, it was all hands on deck—I lost more than a few nights' sleep walking clients through backup procedures and answering last-second questions about scaling issues.
But those were growing pains, and our subsequent move to AWS gave us a cloud partner capable of anticipating our concerns and those of our clients. Moving to the cloud let us scale our solution up to massive chains and down to boutique hotels and inns, at least in Europe. When we switched to AWS, we were able to reach the same spectrum of clients worldwide, more efficiently and reliably.
Entering our second quarter-century, protel is still motivated by the surprise I felt more than 25 years ago when I saw how poorly that first hotel was being served by its outdated PMS. "This can be better, and it should be," I thought back then, and AWS has proved to be a kindred spirit; David Peller, AWS's Head of Worldwide Business Development, Hospitality, himself confirmed as much the last time I spoke with him.
I'm almost used to AWS paving the way for protel's next big initiatives. When for instance we made a strategic decision to support voice commands and automated translation, AWS was right there with Amazon Transcribe and Amazon Polly. Amazon Personalize promises to help our clients with everything from sweeping promotions to finely targeted upsell opportunities.
It's been an amazing 25 years for protel. And all the pieces are in place to make the next 25 just as rewarding.