Achieve your personal and hiring goals with cloud-focused internships
Editor's note: Are you a job-seeker looking to gain hands-on experience to land the tech role of your dreams? Are you one of the many employers struggling to find qualified tech talent? If you answered "yes" to either question, you've landed in the right place. Read on to learn how job-seekers and employers alike can achieve their personal and professional goals with internships.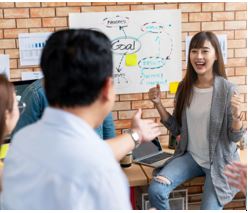 Amazon Web Services (AWS) is committed to helping prepare the next generation of cloud talent and helping our customers and Partners address IT skills gaps. AWS Education Programs, like AWS Academy, AWS Educate, and AWS re/Start, work hand-in-hand with organizations, education institutions, governments, and private sector companies to help individuals upskill, reskill, and prepare for high-quality cloud jobs. Amazon also has a robust internship program, and recently welcomed its largest class of interns ever (more than 15,000!) across nearly all areas of our business in more than 40 countries. Internship programs provide many benefits to businesses and job-seekers alike. And that's why we're spending time to celebrate the fifth annual National Intern Day.
Launched by WayUp in 2017, National Intern Day is a holiday "dedicated to recognizing and celebrating the future leaders of the world: interns!" In a 2020 Forbes's interview, WayUp founder Liz Wessel shared why her team created the first-ever official holiday to celebrate interns. For students, internships are impactful because they can help you determine what you do and don't love. And, as we've shared before, hiring early-career talent is an effective strategy for organizations to increase diversity, and thus, innovation. Not only do internship programs bring fresh perspective to organizations, they also create a pipeline of new talent. According to a March 2022 smallbizgenius article, over 70% of employers offer their interns full-time, entry-level positions.
Not a one-size-fits all opportunity
Internship programs come in all shapes and sizes. They can vary in compensation from paid to unpaid; training method from shadowing to hands-on practice; and time commitment, from full-time to part-time. And, contrary to popular belief, internships aren't just for students. According to Indeed, some adults are considering part-time and paid internships to explore new career fields. Regardless of the nature of the program, the most successful tech internships for employers and interns alike provide real-world, practical experience that prepares interns for the rigors of the working world. In fact, the National Association of Colleges and Employers recently listed "provid[ing] interns with real work assignments" as the number one best practice for internship programs.
A successful internship model
What does success look like? We recently met with Serena Gonsalves-Fersch, Global Head of SoftwareOne Academy at SoftwareOne, to learn more about their internship program.
SoftwareOne Academy is a three to five-month internship training program with the offer of full-time employment upon successful completion by candidates. To recruit grassroot talent for its open application services developer and managed services support roles, SoftwareOne works with AWS re/Start, a full-time, classroom-based, skills development and training program that prepares individuals for careers in the cloud. During the Academy program, SoftwareOne provides the interns with additional learning on business skills and company products and services.
Through this collaboration, SoftwareOne has been able to create a pipeline of new technical talent with diversity in experience and background. This early-career talent is then mentored by senior technical employees, which provides both new and tenured talent a clear career path.
Take, for example, Danish Fatima, who studied physics at university and had zero technical experience prior to joining AWS re/Start. Danish recently secured an internship with SoftwareOne as an Academy Associate. As an intern, Danish learns about improving her communication skills and receives training on the various technologies she'll work on when hired as a full-time SoftwareOne employee. "This has been a wonderful opportunity for me to grow as a professional in this field, " Danish shared. "It's helped me become a full-fledged professional."
Like Danish, Abbas Siddique joined AWS re/Start without any technical background. "During the second wave of Covid-19, I went through a few uncertain circumstances, had to relocate, and developed interest in cloud computing," Abbas reflected.
After completing the program, Abbas joined SoftwareOne as a Service Desk Academy Associate, where he received technical training from his tech mentor, took weekly courses, completed hands-on lab projects, and wrote in a journal to reflect upon the day's learning. "This experience helps graduates from both technical and non-technical backgrounds," Abbas shared. "It has been a blessing in my life to transition from a Mechanical Engineer by degree, where I worked for a considerable amount of time, to my current role in tech. If I can do it, others can, too. Keep an open mindset to learn and grow."
Gonsalves-Fersch agrees. When asked what's most rewarding about her work with SoftwareOne and AWS re/Start, she shared, "We can source and work with people from non-traditional routes of education, grassroot-level talent who wouldn't have necessarily had a chance at a career in technology. The SoftwareOne Academy acts as a bridge between education and employment. And the collaboration with AWS provides a higher baseline of talent from where we can start building."
The SoftwareOne Academy currently runs in 11 of the 90 countries where SoftwareOne has a presence. The current model is so successful that the organization is now looking to expand to more countries and continue its work with AWS re/Start.
What can other organizations do to replicate this success? Gonsalves-Fersch offered, "Know what you want, appreciate the baseline these candidates enter your organization with, and have a robust plan in place for developing and transitioning the talent when they come to you."
Achieve your goals with internships
Thanks for celebrating National Intern Day with us. Now that you know how AWS Training and Certification can support internships, helping you achieve your personal and professional goals, get started by exploring the next steps below, today!
For students: Upskill and connect to internships across the globe
AWS Educate offers hundreds of hours of free, self-paced online training resources and the opportunity for hands-on practice on the AWS Management Console. Designed specifically for the pre-professional learner, AWS Educate provides simple, barrier-free access to learn, practice, and evaluate your cloud skills without creating an Amazon or AWS account. Follow personalized content recommendations to earn badges that demonstrate your skills. Learners ages 18 years and older can access the AWS Educate Job Board to explore, search for, and apply to thousands of in-demand jobs and internships with organizations of all types all over the world.
For employers: Post your open roles and find motivated talent with AWS skills
Through the AWS Educate Job Board, employers can post jobs and reach hundreds of thousands of learners in more than 200 countries and territories around the world. Tap into a qualified pool of entry-level talent to optimize your recruiting efforts and make onboarding new talent more efficient and cost-effective. Employers report that our learners are able to put their skills to work and contribute to teams quickly.
AWS Education Programs are removing barriers to education and forging new paths for individuals to develop cloud expertise, obtain AWS Certifications, and enter the technology workforce. From college courses, to full-time training programs and self-paced learning content, our programs provide individuals from all backgrounds and experience levels the opportunity to develop cloud skills and become the builders of tomorrow.
Please take a few minutes to share your experience with the AWS Training and Certification Blog in this survey. We'll use your feedback to create content aligned with your and our readers' preferences.