A career with the space to innovate: David's story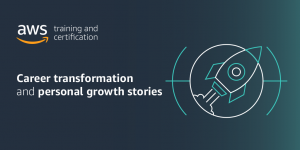 Self-improvement has always been a driving force for David. The desire to grow, improve, and build a financially secure life is an ethos that harks back to the early days of his childhood in South Africa.
Even from this early vantage point, David knew that his future was within the technology sector. Subsequently, his willingness to experiment and explore—alongside his innate talent for computers—has proved the perfect platform to achieve his formative goals and take new thinking out into the world.
For David, seeking to improve his skills through AWS Training and Certification has been an extension of this obsession and desire to operate at the cutting edge of technology. He's never happier than when delving into the new, untapped, and unexplored possibilities of technology, like quantum computing and artificial intelligence.
If you, like David, are filled with a sense of excitement and anticipation when the cloud and the future of technology is discussed, then delve into AWS Training and Certification. Discover more about David's journey and how you can take your career to new heights.
David Webster, AWS Technical Practice Lead, Schuberg Philis
What attracted you to a career as a developer and AWS Training and Certification?
I've always had a passion for computers from a young age and knew that my talents in that area were going to help me create a secure life for myself and my family. They're my motivation for self-improvement in my career.
When the cloud came into the story, I was living in South Africa and wanted to find a way to differentiate my skills and make them more valuable. I'd always been a creator and inventor, and was given the opportunity at a company called Synthesis to help set up banking systems for the "unbanked" all over Africa. We eventually moved the application onto AWS and this fired up the side of me that craved learning and experimentation.
From there, I starting my AWS Training journey, which took me back to when I was ten and launched my first homemade rocket. I got that same sense of excitement and anticipation from the possibilities. I still do when I look into quantum computing and artificial intelligence, which is where I want to go next.
What did you learn from this process aside from cloud development?
Since starting my AWS learning experience, I've gained 13 AWS Certifications, which have allowed me to progress in my career and create that secure life that I wanted for my family.
I also learned that you have to make sacrifices. However, they're not that difficult to make if you have an obsession with technology. I'd say find your motivation first because it will keep you going, and then step right into AWS Training and keep going.
What's been your most rewarding moment since beginning your AWS Training?
Obviously, discovering AWS and being able to host our banking systems on it in Africa was particularly powerful. Mainly because we were providing banking services to people who until then didn't have an account. We were making a huge difference to so many people's lives.
From a personal perspective, I remember the first time my work on event-driven architecture was talked about by Werner Vogels, the chief technology officer and vice president of Amazon. Wow! That was a humbling but career-defining moment.
Because of that, I've become really passionate about taking new thinking out into the world. As developers, we have so much potential to do good in the world. That's what I'm really excited about. That's the possibility that training can bring about, so I would encourage everyone to take that first step now and enjoy it.
Learn more about how AWS Training and Certification can help you advance your career as a cloud developer. Hear the stories of other developers who are prioritizing cloud learning and creating a new future.