From international masters student to FinTech success: Sara's story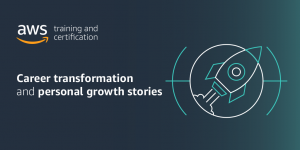 Sara's journey through AWS Training and Certification is truly an inspiration. In an industry where gender disparity is still a very real issue, Sara has surged ahead with fortitude and grace to forge a successful career as a developer.
After graduating in 2018 with a degree in computing, Sara was always destined for a tech-focused future, but it was the courses she took through AWS Training and Certification that catalyzed her journey and helped shape her career.
Today, all sectors—including financial services—are adopting AWS Cloud services, and given that Sara works for a well-regarded financial technology (FinTech) company in Bahrain, she knows firsthand the value of knowledge transfer and exchange.
Sara can stand proudly as a woman who has not only managed to break into the largely male-dominated IT industry, but as someone at the forefront of developing a sophisticated digital infrastructure in her region.
Sara is a digital analyst working with big data in the competitive and exciting world of FinTech and we're proud she found success with our training and certification.
We hope you'll be inspired by her story below.
Sara Alasfoor, Digital Analyst, ila Bank
What attracted you to a career as a developer and AWS Training and Certification?
I graduated from university in 2018 with my degree in computing. As soon as I began work, I wanted to start shaping my career, and I could see that analytics was going to be the future. At the same time, after work, I was playing with coding and manipulating data. This started me thinking about a professional training program that would add to my skills and help me gain professional recognition.
My line manager recommended AWS Training and Certification because he could see I was ambitious and that AWS would give me scope to achieve more in data analytics.
Now, I build dashboards to help our teams access actionable insights and data visualizations about our products and learn about app behavior. We sometimes face technical issues, such as data migrations, and have to maintain clean and consistent data. I remember the first time a problem occurred, I was able to refer back to my AWS Training and solve it.
What did you learn from this process aside from cloud development?
That I could learn way more than I ever thought possible, and that my confidence would blossom. Prior to my certification, I sometimes struggled to keep up with technical concepts. Now, however, I feel much more empowered. I'm not just listening, I engage, suggest ideas, and even challenge. I feel like an activator of ideas now, which I love, and I'm a much better problem solver than I was before.
The confidence I gained through AWS Certification inspired me to go on to study for my master's degree, which is so exciting and such a major achievement.
What I would say to anyone taking their first steps into certification is to make use of AWS's exam readiness tools and read a lot of use cases to help put the theory of AWS tools and services into practice creatively.
What's been your most rewarding moment since beginning your AWS Training?
I think it was just realizing that anything is possible in life as long as you put your mind to it. It's a little bit like when I went to university abroad. I was excited because it was my first time living away, but I was also apprehensive because I didn't know anyone. I didn't know the culture or how the education system would work for me. But I overcame those fears, and as a result, I've been able to create this incredible career as a woman in the IT industry and the FinTech sector. I'm thrilled. And I'm excited to continue learning and to see where the future will take me.
Like Sara, you can begin your journey with AWS Training and Certification. Hear the stories of other developers who are prioritizing cloud learning and creating a new future.