Peering and Interconnection
Interconnect with the Amazon global network
Amazon operates a global network covering more than 90 cities and over 275 Points of Presence (POPs).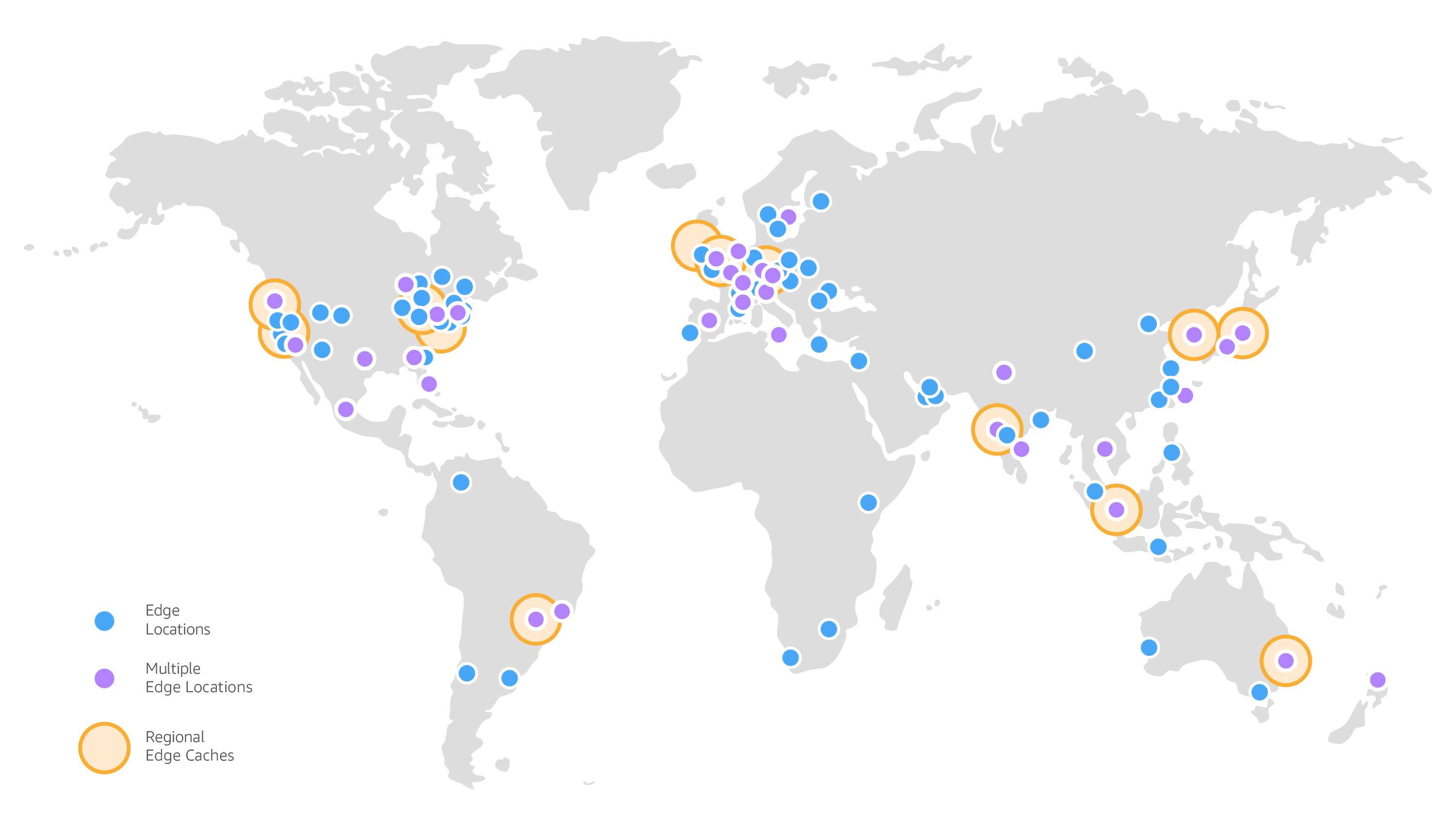 Interconnection Options
Public Peering
AWS has presence on 98 public Internet exchange points with some offering close to half a terabit of capacity each. Routes advertised to exchanges are the same region specific routes offered via private network interconnection.
Private Peering
Depending on the location, or if a peer cannot reach AWS via an exchange, private network interconnection (PNI) may be available. Peers can elect to connect to multiple devices on the AWS edge to ensure redundancy and scaling.
AWS Direct Connect is a cloud service solution that makes it easy to establish a dedicated network connection from your premises to AWS. Using AWS Direct Connect, you can establish private connectivity between AWS and your datacenter, office, or colocation environment, which in many cases can reduce your network costs, increase bandwidth throughput, and provide a more consistent network experience than Internet-based connections.

See the full list of locations and exchanges on PeeringDB
Routing Regions
When peers interconnect with AWS via either public or private peering they will receive region specific routes. Depending on the location, the specific regional routes will be based on the nearest AWS Region or localized groups of regions. Peers who are connected via Direct Connect will receive all global routes.
Americas
North America
Peering partners who interconnect in the United States anywhere on the Western half will receive routes from all US-West Regions. The Western half includes all interconnection points from Denver, CO and west. Peers who interconnect in Chicago, IL or Dallas, TX or further east will receive routes from all US-East and Canada Regions. POPs in Montreal and Toronto Canada advertise both US-East and Canada Region routes.
South America
Routes for the South American Region are advertised in all locations in Brazil, Colombia, and Argentina.
Africa, Europe, and Middle East
POPs in Africa and the Middle East advertise all Region routes for that Region as well as all Regions in Europe. Most POPs in Europe advertise all Europe, Middle East, and Africa Region routes except for select European content distribution POPs. For specific details on your interconnect location please reach out to your assigned Amazon peering contact.
India and Asia Pacific
For India and all Regions in Asia Pacific route advertisements are for Region routes for that specific country. All POPs in India receive India Region routes where each POP in their respective Asia Pacific country receive that country's Region routes.
Select POPs receive additional Region routes. Your assigned Amazon peering contact can provide more information.
Learn more about Regions and Zones
Get Interconnected
Amazon peering and interconnection team members attend multiple industry events including operator group meetings (NOGs), peering forums, Internet Exchange Meetings, RIR meetings etc.
For IX peering session requests, please use our peering portal: https://interconnect.amazon/
For PNI peering and interconnection questions please e-mail the appropriate regional team. To avoid delays please refrain from emailing additional regional teams not germane to the specific request.
EMEA: peering-emea@amazon.com
Americas: peering-amer@amazon.com
India: peering-india@amazon.com
APAC: peering-apac@amazon.com
Interconnection Support
In the event you are having a connectivity issue to Amazon we have both a v4 and v6 tool which will check the connectivity from you to all of our global regions. If you are still experiencing issues please contact peering-to@amazon.com and include as much details as possible.