AWS Digital and Classroom Training Overview
Learn in-demand cloud skills and best practices you can use right away to help advance your career, stay up to date, and innovate in the cloud
AWS Training and Certification builds your competence, confidence, and credibility through practical cloud skills that help you innovate and build your future. You can choose to learn online at your own pace or learn from an accredited AWS instructor built by experts at AWS.
We offer free AWS Digital Training, in-depth AWS Classroom Training delivered virtually and in person, and private virtual or on-site training so you can learn where and when it's convenient for you.
Whether you're just starting out, building on existing IT skills, or sharpening your cloud knowledge, AWS Training and Certification can help you be more effective and do more in the cloud.

Get Started
Learn in-demand cloud skills from AWS experts.

Build Your AWS Cloud Knowledge with Ramp-Up Guides
Our downloadable Ramp-Up Guides offer a variety of resources to help build your skills and knowledge of the AWS Cloud. Each guide features carefully selected digital training, classroom courses, videos, whitepapers, certifications, and more to remove the guesswork of learning AWS.

Select a guide below to download:

Featured Free Digital Training
Featured Classroom Courses - Virtual and In Person
Running Containers on Amazon Elastic Kubernetes Service (Amazon EKS)
Intermediate | 3 days
This new three-day classroom course, Running Containers on Amazon Elastic Kubernetes Service (Amazon EKS), teaches practical, in-depth skills for managing containers. The intermediate-level course includes classroom presentations, demonstrations, group discussions, exercises, and six hands-on labs.

AWS Cloud Financial Management for Builders
Intermediate | 3 days
This course is for individuals who seek an understanding of how to manage, optimize, and predict costs as you run workloads on AWS. You will learn how to implement architectural best practices, explore cost-optimization strategies, and design patterns to help you architect cost-efficient solutions on AWS.

Architecting on AWS
Intermediate | 3 days
This course shows you the fundamentals of building IT infrastructure on the AWS platform. You learn how to optimize the AWS Cloud by understanding AWS services and how they fit into cloud-based solutions. You explore best practices and design patterns to help you architect optimal IT solutions on AWS, then build and explore a variety of infrastructures through guided, hands-on activity.
AWS Technical Essentials
Fundamental | 1 day
AWS Technical Essentials introduces you to AWS products, services, and common solutions. It provides you with fundamentals to become more proficient in identifying AWS services so that you can make informed decisions about IT solutions based on your business requirements and get started working on AWS.
Developing on AWS
Fundamental | 3 days
Learn how to use the AWS SDK to develop secure and scalable cloud applications. Explore how to interact with AWS using code and also learn about key concepts, best practices, and troubleshooting tips.
Migrating to AWS
Intermediate | 2 days
Migrating to AWS focuses on planning and migrating existing workloads to the AWS Cloud. The course covers various cloud migration strategies with a detailed discussion on each phase of the migration process, including portfolio discovery, application migration planning and design, migration execution, and post-migration validation and application optimization.
Build Your Machine Learning Skills with AWS Free Digital Training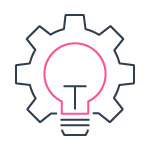 AWS has the broadest and deepest set of machine learning (ML) and AI services for your business. Get started, and build your ML skills with one of our free digital courses below.