Amazon RDS Partners & New RDS Partner Page
As you may know, Amazon RDS makes it easy for our customers to set up, scale, and operate a relational database in the cloud. Amazon RDS supports MySQL, Oracle (Standard Edition One, Standard Edition and Enterprise Edition) and Microsoft SQL Server (Web, Express, Standard, and Enterprise editions). RDS handles the time-consuming database administration tasks so that you can focus on your applications and build your business. With Multi-AZ deployments, RDS provides a Service Level Agreement (SLA) of 99.95% per instance per month up time, making it a great fit for production applications.
Thousands of customers have brought their workloads to RDS over the past four years. Over that time, we have quietly formed an ecosystem of partners. The creative solutions built by these partners add value to RDS and make it an even better fit for specific industries, applications, and use cases. We have created a new Amazon RDS Partner page to showcase our partners and their unique services.
Here are some examples of what the RDS partners are doing: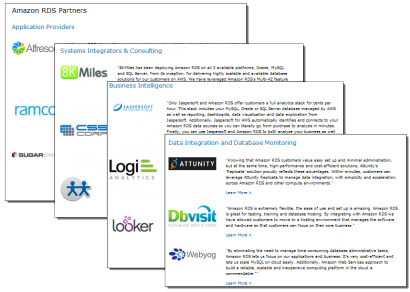 Alfresco, a leading open document management and collaboration application runs on Amazon RDS. Using RDS Alfresco deploys a scalable, fault-tolerant database to provide their customers with a business-critical document management system.
SugarCRM, the worlds leading open source customer relationship management application, runs on Amazon RDS for MySQL. If you are coming to re:Invent 2013, you can learn how Zac Sprackett, VP of Operations is achieving cloud efficiencies by attending his session, DAT-201 Understanding Database Options.
DLZP focuses on implementing, migrating, and managing Oracle applications in the AWS Cloud. DLZP helps customers to deploy PeopleSoft Financial and Supply Chain Management and Human Capital Management using Amazon RDS for Oracle.
Attunity and Dbvisit enable customers to move their data from on-premise databases as well as multiple heterogeneous sources to Amazon RDS. Equally, they can move the data from Amazon RDS to external targets.
Webyog provides the MONyog data management tool. This "MySQL DBA in a box" tool enables developers to manage and tune MySQL databases running on Amazon RDS easily.
Leading BI tool vendors such as Jaspersoft, Logi Analytics, MicroStrategy, SiSense, and Tableau, (to name a few) make it easy for their customers to connect and analyze data residing in Amazon RDS. Customers can set up a MySQL, Oracle or SQL Server database and connect to their preferred BI tool within minutes.
8KMiles help companies adopt Amazon Web Services. 8KMiles recommends Amazon RDS to their customers because of the ease of deployment, backups with point-in-time recovery, Multi-AZ and low management overhead.
CSS Corp is a global technology solutions provider to enterprises, consumers, and technology companies. CSS uses Amazon RDS for quick small-scale relational database requirement to long period huge-scale relational database requirements.
To read more about the entire Amazon RDS partner ecosystem, please visit our partner page. This is just the beginning. We expect to add many more partners, so stay tuned!
— Jeff;