AWS Direct Connect Update – Five New Locations
AWS Direct Connect makes it easy for you to create a dedicated network connection from your premises to AWS. This private connectivity can reduce your network costs, increase data transfer throughput, and provide a more consistent experience than a shared Internet-based connection.
I am pleased to be able to announce that we have opened up 5 more Direct Connect locations, bringing the total to 23. Here are the new locations:
Equinix Slough (LD4, LD5, LD6) – supporting the Europe (Ireland) region.
Equinix Dallas (DA1, DA2, DA3, and DA6) – supporting the US East (N. Virginia) region.
GPX Mumbai – supporting the Asia Pacific (Singapore) region.
Tivit São Paulo – supporting the South America (São Paulo) region.
Equinix San Jose (SV1, SV5) – supporting the AWS GovCloud (US) region.
Every AWS region is now supported by a pair of Direct Connect locations. This allows you to incorporate an additional level of redundancy into your designs. In addition to using multiple VPNs for backup and provisioning two connections to the same site for device redundancy, you can now get site redundancy for every region. A single VPC can accommodate multiple connections; to learn how to set this up read Configure Redundant Connections with AWS Direct Connect.
You can use the Direct Connect Console to create a connection: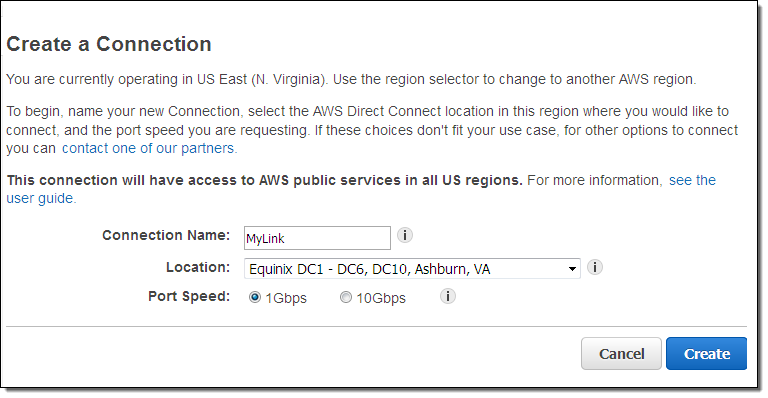 Connections are always made to a particular Direct Connect location and can run at 1 Gbps or 10 Gbps. If you don't need that much capacity, you can work with one of our Direct Connect Partners to provision a more modest connection. To learn more, check out the Direct Connect User Guide.
— Jeff;