Two New Case Studies: Sonian Networks and Digital Chalk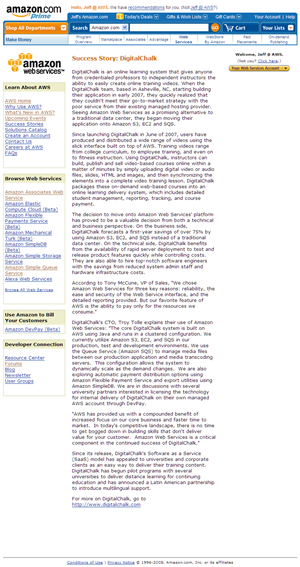 I want to make sure that you are aware of the Success Stories section of our web site!
Within that section you can learn about how companies large and small are using our Utility Computing Platform (EC2, S3, SimpleDB, and SQS), the Amazon Associates Web Service, the Amazon Mechanical Turk and the Alexa Web Information Service to solve existing problems and to create entirely new types of businesses.
Earlier this month we introduced two new stories. You can read about how Digital Chalk used 3 different services to create a system for creating, editing, and hosting training videos.
You can also read about how Sonian Networks (previously blogged here) used the same services to create a highly scalable system for archiving and indexing corporate email and other internally generated content.
We've got more stories in the works, so please check the Success Stories part of our site from time to time.
— Jeff;