Meeting evolving patient and clinical needs during COVID-19 and beyond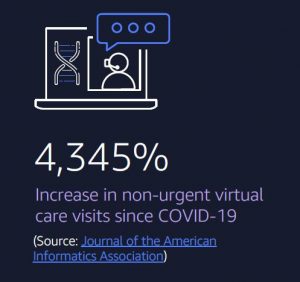 The COVID-19 pandemic is challenging health systems around the world. They are responding to an increase in ill patients, managing a lack of resources such as personal protection equipment (PPE), and focusing on keeping their workforce well. With worldwide deployment of vaccines still underway, health systems will need to continue transforming to adapt to managing COVID-19 alongside other health conditions. Using cloud technology has already provided benefits to health systems during the pandemic—many of which will persist into the recovery phase. Amazon Web Services (AWS) is helping healthcare systems accelerate the pace of research, support data-driven decision making, and facilitate the delivery of services to citizens and patients.
Accelerating the pace of research
Cloud technology accelerates time to scientific insights: it supports research at scale and collaboratively between research groups through its reliable and scalable computing power. During the pandemic, Genomics England and their technology platform LifeBit are using cloud technology to deliver Genomic England's COVID-19 research platform. They provide researchers with access to genomic data from within their highly secure environment, allowing them to collaborate and find new insights quickly. Cerner launched their Learning Health Network, using the analytics capabilities of the cloud to perform analysis on aggregated and de-identified data on COVID-19 from multiple organisations. Through the network, researchers have been able to quickly run algorithms to prove the efficacy of therapies to treat COVID-19.
To support health systems sharing data for research, AWS launched CORD-19: a machine learning (ML)-enabled database of COVID-19 research. Policy changes to support the sharing of interoperable data between countries is required before we see the free-flow of health data across borders, but the trend to share data during the pandemic is leading to positive outcomes.
Enabling data-driven decision making
Cloud technology helped organisations make innovative use of data during the pandemic. Health systems have had greater willingness to use data from multiple sources and have worked with partners to develop dashboards for government leaders. For example, in England, the National Health Service (NHS) worked with AWS to analyse data on hospital occupancy levels, emergency room capacity, and patient wait times to decide where to allocate resources.
Governments and public health officials also used more real-time data, from a wider set of sources, and applied artificial intelligence (AI) and machine learning (ML) to infer patterns in virus prevalence and predict where they would need resources in the future. The World Health Organization (WHO) leveraged AWS to build large-scale data lakes and aggregate epidemiological country data to track the spread of the virus. In the United States, Kinsa, a developer of internet-connected thermometers and a health-tracking app, aggregated real-time fever and symptom information to create visualizations of the spread of the illness. And in the UK, Imperial College London and Pansurg used AWS for their Realtime Data Analysis and Synthesis (REDASA) platform to combat the infodemic of data about COVID-19. The platform uses cloud technology to analyse vast amounts of COVID-19 information in real time. It extracts the most important insights—saving tens of thousands of hours of research and enabling clinicians and policymakers to find the best available evidence for better patient treatments at speed.
Health systems have also seen reductions in treatments for non-COVID-related conditions during 2020, meaning there is likely to be a backlog of patients requiring care in 2021. Prioritization of this workload will rely on accurate, timely information.
Facilitating the delivery of services to citizens and patients
Healthcare providers have used cloud technology to deliver innovative, direct care. The NHS and technology consultancy Slalom worked with AWS to set up an automated messaging service to reach the 1.5 million UK citizens identified as most vulnerable to COVID-19. They helped them register to receive social and medical care and essential supplies. This service was set up in 48 hours, thanks to the cloud.
According to a study published by Journal of the American Medical Informatics Association (JAMIA), telehealth services including virtual urgent and non-urgent care visits grew by 683 percent and 4,345 percent respectively during the pandemic. Telehealth is the provision of care remotely, using digital technology and telecommunications. Regulatory reform in some countries facilitated this increase. For example, Brazil and India legalized the use of telemedicine during the pandemic, and Australia made telehealth a permanent part of the way the government will provide the delivery of care going forward. In the US, the federal government enabled Medicare to reimburse these services more comprehensively while individual states are developing legislation to permanently require insurers to cover telemedicine. In Japan, Canada, and many EU countries, frameworks for telehealth provision were already in place. So instead, government policies focused on encouraging more clinicians and patients to use them.
Providers of telehealth like Nye Health can use the cloud to scale quickly to keep up with the increase in demand, helping patients continue accessing clinical advice and care when they needed it. The Nye Health service is fully encrypted, compliant with NHS Digital's standards and is now servicing thousands of patient consultations a week.
---
Cloud technology made these healthcare innovations possible thanks to its ability to scale with demand, flexibility in use, and the agility in testing. By harnessing the power of cloud, health systems will continue to see innovation at scale to the benefit of patients and health services.
To learn more about how cloud technology can support the delivery of safe and effective care, download our new eBook, "Telehealth: Scale and Transform Virtual Care in the AWS Cloud" and visit https://aws.amazon.com/health/.