Your Guide to APN Partner Sessions, Workshops, and Chalk Talks at AWS re:Invent 2019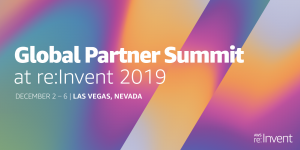 AWS re:Invent 2019 is almost here and reserved seating is now live!
To reserve seating for re:Invent activities throughout the week, including Global Partner Summit, log into the event catalog using your re:Invent registration credentials. Build out your event schedule by reserving a seat in available sessions.
Reserved seating is for breakout sessions, workshops, chalk talks, builder sessions, hacks, spotlight labs, and other activities. Keynotes, builders fairs, demo theater sessions, and hands-on labs are first come, first served and not included in reserved seating.
Reserve your seat today at AWS re:Invent activities >>
Global Partner Summit Seating
At re:Invent, members of the AWS Partner Network (APN) can learn how to leverage AWS technologies to better serve your customers, and discover how the APN can help you build, market, and sell your AWS offerings. This year, we have 76 sessions dedicated for existing and prospective APN Partners.
You can find all of the partner-related sessions in the re:Invent catalog by selecting "Partner" under the Topics filter on the left side of the page.
There are different type of sessions that fit your company's needs. Here are some GPS sessions to keep an eye on!
Breakout Sessions
Breakouts are one-hour, lecture-style sessions delivered by AWS experts.
Business Breakouts
GPSBUS207 – Build Success with New APN Offerings
Learn about new APN program launches and announcements made at the Global Partner Summit keynote at re:Invent. These new APN programs are designed to help you demonstrate deep AWS expertise to customers and achieve long-term success as an APN Partner.


.

GPSBUS203 – APN Technology Partner Journey: Winning with AWS for ISVs
Hear from AWS experts and APN Partners about the steps of the APN Technology Partner journey, from onboarding to building, marketing, and selling. We share with you the markers for success along each path, programs to take advantage of, and how to accelerate your growth.
Technical Breakouts
GPSTEC337 – Architecting Multi-Tenant PaaS Offerings with Amazon EKS
Learn the value proposition of architecting a multi-tenant platform-as-a-service (PaaS) offering on AWS, and the technical considerations for securing, scaling, and automating the provisioning of customer instances within Amazon Elastic Kubernetes Service (Amazon EKS).


.

GPSTEC338 – Building Data Lakes for Your Customers with SAP on AWS
In this demo-driven session, we show the best practices and reference architectures for extracting data from SAP applications at scale. Get prescriptive guidance on how to design high-performance data extractors using services like AWS Glue and AWS Lambda.
Workshops
Workshops are two-hour, hands-on sessions where you work in teams to solve problems using AWS services. Workshops organize attendees into small groups and provide scenarios to encourage interaction, giving you the opportunity to learn from and teach each other.
GPSTEC340 – How to Pass a Technical Baseline Review
A Technical Baseline Review (TBR) is a prerequisite for achieving APN Advanced Tier status. In this workshop, learn why the review is important for the success of your product, how Partner Solutions Architects evaluate your architecture, and how to get prepared.


.

GPSTEC404 – Build an AI to Play Blackjack
In this workshop, use computer vision and machine learning to build an AI to play blackjack. Build and train a neural network using Amazon SageMaker, and then train a reinforcement learning agent to make a decision that gives you the best chance to win.
Chalk Talks
Chalk Talks are one-hour, highly interactive sessions with a small audience.
GPSTEC204 – Technical Power-Ups for AWS Consulting Partners
Learn about AWS technical assets that can help you deliver successful cloud projects. Dive deep into AWS Immersion Days and Well-Architected Reviews, and leverage GameDays and Hackathons to propel customers along their cloud adoption journey.


.

GPSTEC303 – Overcoming the Challenges of Being a Next-Generation MSP
Discuss how the AWS Managed Service (MSP) Partner Program guides and assists organizations in various stages of maturity to overcome the challenges of transitioning from being a traditional MSP to being a next-generation MSP on AWS.
Builder Sessions
Builder Sessions are one-hour, small group sessions with up to six customers and one AWS expert, who is there to help, answer questions, and provide guidance.
GPSTEC417-R – [REPEAT] Build a Custom Container with Amazon SageMaker
Build a custom container that contains a train-completed PyTorch model, and deploy it as an Amazon SageMaker endpoint. A PyTorch/fast-ai model is provided for learning purposes.


.

GPSTEC418-R – [REPEAT] Securing Your .NET Container Secrets
Many customers moving .NET workloads to the cloud containerize applications for agility and cost savings. In this session, learn how to safely containerize an ASP.NET Core application while leveraging services like AWS Secrets Manager and AWS Fargate.
Learn More About Global Partner Summit
Join us for the Global Partner Summit at re:Invent 2019, which provides APN Partners with opportunities to connect, collaborate, and discover.
Learn how to leverage AWS technologies to serve your customers, and discover how the AWS Partner Network (APN) can help you build, market, and sell your AWS-based business. You'll have plenty of opportunities to connect with AWS field teams and other APN Partners.
This year, Global Partner Summit sessions will take place throughout the week across the entire re:Invent campus.
Learn more about Global Partner Summit >>
Why Your Company Should Sponsor AWS re:Invent 2019
Is your company joining the up to 65,000 expected attendees at AWS re:Invent 2019? Enhance your conference experience and drive lead generation through sponsorship—an exclusive opportunity for APN Partners and select AWS enterprise customers.
With plenty of turnkey options still available, it's not too late to participate in the leading global customer and partner conference for the cloud computing community.