Five Talent Collaborates with Customers Using the AWS Well-Architected Tool
Since its launch at re:Invent 2018, the AWS Well-Architected Tool (AWS WA Tool) has provided a consistent process for documenting and measuring architecture workloads using the best practices from the AWS Well-Architected Framework. However, sharing workload reports for collaborative work experience was time consuming.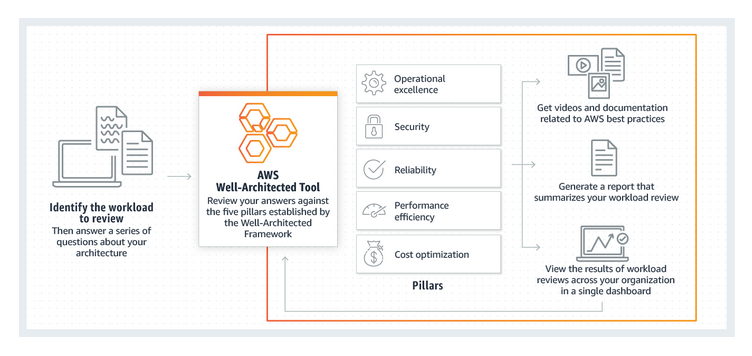 The new workload sharing feature solves these issues by offering a simple way to share workloads with other AWS accounts and AWS Identity and Account Management (IAM) users. Companies can leverage workload sharing to securely and efficiently collaborate and provide feedback about architecture implementation and design without sharing confidential account details through emails and PDFs. Multiple people across multiple organizations can now review a workload simultaneously and provide feedback and input.
Five Talent, a partner on the AWS Partner Network (APN) uses the workload sharing feature for a more collaborative Well-Architected review experience. With workload sharing, the company provides its clients with improved efficiency, transparency, and security.
"The new sharing feature has increased the efficiency across client and partner teams, which decreases the average time to remediate the high risks. By sharing the reviews in the AWS Console, we can protect sensitive customer data while staying informed in real time." – Ryan Comingdeer, Chief Talent Officer, Five Talent.
Previously, Five Talent defined workloads in its AWS account and asked its clients to submit their workload information in a custom-built webform. Five Talent then generated and sent PDF reports via email. This was problematic for several reasons: Five Talent and its clients couldn't control who had access to the report PDFs, it had no way to expedite high risk issue (HRI) remediation, and its recommendations could easily get lost in email correspondence. The workload sharing feature solves these problems and builds customer confidence through the ability for multiple people to work on reviews collaboratively.
Five Talent added extra security by customizing its workload sharing access controls based on its customer needs. The company is using the notes sections in the workload for secure and accurate communication. It shares links to documentation that can help clients take initiative and remediate HRIs — enabling quicker remediation and more transparent review cycles. Five Talent also highlights milestones in the AWS WA Tool, enabling customers to prioritize HRIs without sorting through lengthy PDFs and email threads, which ultimately expedites the review and revision process.
The workload sharing feature has helped Five Talent drive down HRIs without requiring direct access to the AWS account where the workload is defined. This transparency and ability to work simultaneously helps keep all teams accountable while reinforcing the principles of the Well-Architected Framework.
Sign in to the Console and check out the new Shares tab in the AWS Well-Architected Tool, or visit the workload shares documentation to learn more.