How Cloud Computing Helped Hotels and HotelTechReport.com Cope with Volatility
This is a guest post from Jordan Hollander, co-founder of HotelTechReport.com
—
The pandemic turned the world upside down. It has forever changed consumer behavior and forced businesses to rethink the way they operate. Despite the rapid adoption of technology and software in verticals like fintech (financial services) and biotech (medical), digital transformation has been underway more slowly in the hospitality industry. But crisis breeds creativity and opportunity. During the pandemic, the travel industry adopted technology at unprecedented speed and scope to meet new regulations and volatile market conditions.
If we had a global pandemic 25 years ago, before the widespread adoption of cloud technology, the travel industry would have faced exponentially greater threats. During the pandemic, hotels were forced to tackle challenges quickly with just a fraction of their workforce. Cloud technology was the key to survival.
How do you communicate with guests at a safe distance? Guest messaging software.
How do you change asset maintenance procedures to accommodate HVAC and plumbing when they're not being used? Preventive maintenance software.
How do you price rooms when historical data is irrelevant? Revenue management software.
How do you reach local guests when international and business travel demand drops to zero? Hotel CRM and email marketing software.
How do guests access rooms when they're uncomfortable touching key cards? Mobile key technology.
At the heart of every hotel process or SOP there is software that relies on cloud computing. It took a global pandemic for many hoteliers to realize this, but the trend will only accelerate as hotels staff back up quickly, create differentiated customer experiences, and recoup losses from the last 12 months through innovative customer acquisition strategies.
In January of 2021 the company I co-founded, Hotel Tech Report (HTR), sent a hotel software sentiment survey to our global community and received responses from 657 hoteliers that crystalized the major trends we've observed in the market:
96% told us that technology will be more important to their businesses in five years.
91% said that they expect to be using more software tools to run their businesses in 2025 than they did in 2020.
Historically, hoteliers respond that improving operational efficiency is the most important value proposition for adopting software, but when asked about their goal for hotel technology in 2021, hoteliers said they were adopting new technology solutions to assist in the transformation of business processes and operating models. The nuanced shift here alludes to the fact that cost savings is now actually less important to hoteliers than the ability to adapt to rapidly changing business conditions.
It's not surprising that hoteliers are focused on using technology to transform business processes after the events of 2020 where:
Guests demanded fully contactless experiences for the first time in history.
Regulators required detailed housekeeping protocols.
Key infrastructure and assets went unused for extended periods of time.
Hotels needed to decrease staffing levels while delivering increased, safety-focused levels of customer service.
Technology will continue to be the key to adapting business processes in volatile environments. Cloud computing technology like AWS has lowered the cost of delivery so that hotel operators of any size can access software that was previously only available to major global chains. The survey results mirror what we saw in our own web traffic data. In January 2020, Hotel Tech Report served 49,000 users. In January of 2021, despite being in a global pandemic that shut down the entire hotel industry, we served more than 97,000 users in their search for new hotel technology solutions.
Whether it's snow storms in Texas, fires in California, a global pandemic, or a stock-trading frenzy instigated on Reddit, it's clear that volatility is the new state of the world. No matter what the future holds, cloud computing provides the flexibility that businesses need to succeed.
How Cloud Computing Helped HTR Cope with Volatility
You don't need to be technical to understand the benefits of cloud computing. The cloud allows companies to avoid costly installations. It requires minimal upfront investment and frees up companies to focus on improving their core services instead of server configurations. The cloud also offers companies a pay-as-you-go model so that they can scale up and down their infrastructure in a flexible and cost-effective way.
Each year, we host the HotelTechAwards, which are the global user choice awards for hotel technology. We use verified customer reviews to determine the best hotel software companies in the world.
During the final weeks of voting this year, as hoteliers flooded the site to support their favorite partners, we saw an unprecedented volume of user reviews: thousands per night.
HTR's ranking algorithm was designed to recalculate scoring based on real-time data across hundreds of companies, thousands of products, and millions of data points that change in real time as new reviews are left on the platform. Although these real-time calculations performed seamlessly with our typical volume of 30-50 reviews per day, the application wasn't designed to handle the load. Site performance plummeted, resulting in slow load speeds and error messages.
At a critical moment for our business, we had two potential solutions:
Refactor the scoring algorithm to require less computing power.
The problem with this solution is that the entire site is based on the algorithm. It touches many other areas of the application. Our engineers estimated that it would take around 3-4 weeks of engineering to complete.
With only two weeks left until the winners were announced, we didn't have this kind of time. And a rush to refactor such an integral and complex piece of the code base would open us up to considerable risk, especially with site engagement at an all-time high. We rejected this solution.
Increase server capacity.
Increasing server capacity without cloud servers would have required us to rush-order new servers. For reference, even one additional server would have cost us more than $5,000. Purchasing additional capacity to meet a short-term need would have been expensive. It would also have taken at least a full day of engineering. That's labor that was desperately needed in other facets of the business.
Fortunately, our platform is built on AWS. With just a few keystrokes and in under an hour, our engineering team was able to double our server capacity for minimal cost. Our site performance returned to healthy levels. This solution ultimately saved our business at a critical moment. We can refactor the algorithm later, after proper planning and testing. B2B buying tends to come to a screeching halt around Christmas, so the very next week we scaled back the excess capacity. This is the beauty of the cloud. It adapts to meet evolving business needs.
Hotel and technology businesses face challenges from increasingly volatile markets. Sometimes they face growing pains and need to rapidly scale infrastructure to meet new demand. Sometimes, as they did during lockdowns, they need to scale back quickly. No matter the market conditions or challenge, the hospitality ecosystem can use the cloud's fundamental scale-up-on-demand model to enable creativity, innovation, and speed.
About the Author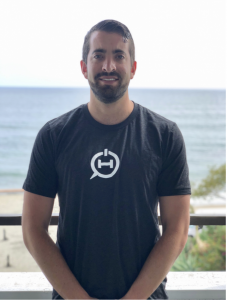 Jordan Hollander is the co-founder of HotelTechReport.com, the #1 ratings and review platform for the hotel technology industry. He was previously on the Global Partnerships team at Starwood Hotels & Resorts. Before he joined SPG, Jordan was Director of Business Development at MWT Hospitality and an equity analyst at Wells Capital Management. Jordan received his MBA from Northwestern's Kellogg School of Management where he was a Zell Global Entrepreneurship Scholar and a Pritzker Group Venture Fellow. He received his Bachelor's Degree from Williams College.