Happy Earth Day: The Fix This podcast April round up
Happy Earth Day! In April, the Fix This podcast focused on how the cloud can help people and organizations further understand human impact on the environment, and help them to achieve their sustainability goals.
All episodes are available for streaming and download on Spotify, Apple Podcasts, Google Play, Stitcher, TuneIn, Overcast, iHeartRadio, and via RSS.
First, we take to the skies and chat about birds, an important indicator of the health our environment. Episode 11 features interviews with Jed Sundwall, global lead for the open data program at Amazon Web Services (AWS), and interviews with researchers from the Cornell University Lab of Ornithology. Next, we return to the ground to talk about IT carbon emissions. In episode 12, we speak with Pierre Lussier, director of Jour de la Terre, and Nat Sahlstrom, director of AWS energy strategy.
We ended April with an announcement: the next Fix This episode will kick off our special mini-series featuring guest host Teresa Carlson, vice president of worldwide public sector at AWS. Teresa continues our discussions of how technology can help solve some of the world's latest challenges.
Using machine learning and open data to track bird populations
The trees are humming to life now that spring has returned to the United States. Millions of birds are making the journey back north after spending the winter months thousands of miles away—some as far as the Amazon rainforest!
Listen to episode 11 to explore how researchers from the Cornell Lab of Ornithology used weather radar open datasets from the 1970s to look at how bird populations have changed over the last 50 years.
Tracking how bird populations, migration patterns, and density have changed offers us a glimpse into how our entire world is changing, how effective our conservation efforts are, and what impact humans are having on the animals and environment around us. John Fitzpatrick, Adriaan Dokter, and Tom Auer from Cornell University talk about their BirdCast and eBird projects, and why the data about birds should matter to everyone. Listen to the Fix This podcast episode #11 – "Tracking birds."
Reducing IT carbon emissions by migrating to the AWS Cloud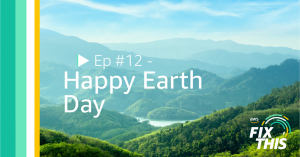 In celebration of Earth Day, we explored how we can all reduce our carbon footprints to create a "greener" today and tomorrow.
For a nonprofit, every dollar counts. Listen to episode 12 to hear how using AWS has simplified Jour de la Terre's IT operations and helped save them costs. The cost savings are reinvested into furthering their environmental advocacy work. Jour de la Terre is a Canadian nonprofit, whose name translates to "Earth Day" in French.
Jour de la Terre has a mission to help individuals and organizations reduce their carbon footprints by taking action now. Pierre joined us to talk about the organization's recent initiatives and how using AWS has helped the nonprofit focus on its mission—not on infrastructure.
The episode also features an interview with our AWS colleague Nat to walk through a 2019 study of sustainability in the cloud. The findings are encouraging for any organization looking to reach its own sustainability goals in addition to reducing their capital expenditure, and increase agility and speed. Migrating enterprise workloads to the AWS Cloud can reduce an organization's IT carbon footprint by upwards of 88 percent. Now, that's something to celebrate. Listen to the Fix This podcast episode #12 – "Happy Earth Day."
---
Stay tuned for more bi-weekly episodes of Fix This by subscribing on Spotify, Apple Podcasts, Google Play, Stitcher, TuneIn, Overcast, iHeartRadio, and via RSS.
Read the March, February, and January Fix This podcast round ups. Learn more about Open Data on AWS. Check out the Jour de la Terre case study, read more sustainability stories on the AWS Public Sector Blog, and learn about machine learning on AWS.