Startups at Re:Invent 2020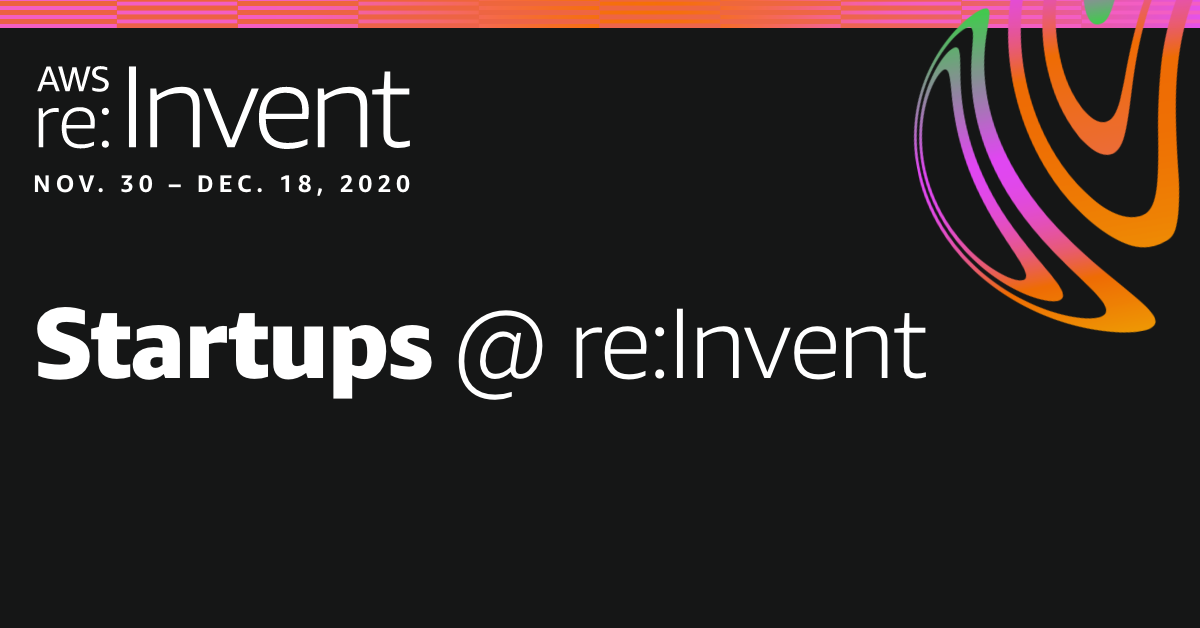 re:Invent 2020 is poised to offer three weeks of cutting-edge content, coveted by developers, builders, and the generally cloud-obsessed. And while we won't be physically together this year to bustle between busy meeting rooms, Keynote stages, and the expo halls, 2020's digital experience is shaping up to serve you all of the energy, intrigue, and latest releases that you'd expect from re:Invent.
All of this content will be available for you to take in from the comfort of your home office — and possibly your pajamas. If you haven't had a chance to attend re:Invent before, this is your opportunity to get the full scoop with "Ask Me Anything" sessions featuring startup leaders and AWS technical experts, Keynote product launches revealing all that is coming from AWS, and over 500 content track sessions where you can deep dive on specific categories that are of most interest to you.
If you have attended re:Invent in years past, rest assured, we've lined up an incredible experience featuring fan favorites such as Jams, Game Days, and of course, DeepRacer — as well as a plethora of additional content you will not want to miss!
Now, let's be honest, between executive Keynotes, leadership sessions, and over 500 track sessions, it can be overwhelming to figure out where to start and where to focus your attention, even while navigating virtually. With that in mind, we've broken down the must-see sessions and events into this handy guide. Final assembly of your re:Invent experience is up to you, but this guide should help get you started.
First, register here and start building your schedule. The re:Invent session catalog is now live!
Next, check out our Startup Attendee Guide and the customized session recommendations below from experts from the AWS Startup team on deep-dive topics such as B2B SaaS, Fintech, and Healthcare & Life Sciences. Those of you keen to learn more about what we are offering B2B SaaS startups should check out Boost Your B2B SaaS Startup with These AWS re:Invent Sessions and AWS re:Invent for B2B Startups Striving for Innovation. Fintech startups ought to take a look at How to Maximize AWS re:Invent for Fintech Startups. And lastly, Healthcare & Life Sciences Startup Events You'll Love at AWS re:Invent lists a great selection of HCLS sessions.
It's going to be an exciting and action-packed conference this year, and we're eager to help you make the most of it. You can start building a dynamic and customized schedule today by registering or logging in for re:Invent here.