Start off the New Year by earning AWS Certified Solutions Architect – Associate
Do you design applications and systems on AWS? Want to demonstrate your AWS Cloud skills? Ring in 2018 by becoming an AWS Certified Solutions Architect – Associate. It's a way to validate your expertise with an industry-recognized credential and give your career a boost.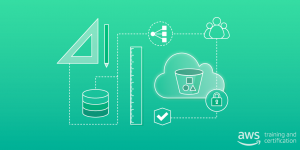 Why get certified, you ask? According to the 2017 Global Knowledge IT Skills and Salary Report, cloud certifications, including AWS Certified Solutions Architect – Associate, generally have salaries well above average. For example, a typical U.S. salary for AWS Certified IT staff is 27.5 percent higher than the normal salary rate. Looking ahead, the report also finds that the IT industry will continue investing heavily in certification as a way to validating employees' skills and expertise.
Here are our tips for preparing for the AWS Certified Solutions Architect – Associate exam—which we hope you'll pass with flying colors.
Learn About the Exam
View the AWS Certified Solutions Architect – Associate Exam Guide. It covers concepts within the exam and gives you a blueprint of what you need to study.
The exam tests your technical expertise in designing and deploying scalable, highly-available, and fault-tolerant systems on AWS. It's for anyone with one or more years of hands-on experience designing distributed applications and systems on the AWS platform.
Continue with Digital and Classroom Training
Next, brush up on key AWS services covered in the exam with our new free digital training offerings at aws.training. Our 100+ bite-sized online courses are each 10 minutes long so you learn AWS fundamentals at your own pace.
Just getting started learning the fundamentals of the AWS Cloud? We recommend you take our AWS Cloud Practitioner Essentials course, part of our free digital training offerings.
For more in-depth technical training, register for our immersive Architecting on AWS course. It's three days of instructor-led classroom training, books, and labs, built and taught by AWS experts.
Study with Exam Prep Resources
Once you have an idea of what's on the exam, and you've taken training to prepare, it's time to prepare for the exam itself.
Dig deeper into the exam's concepts and topics with the AWS Certified Solutions Architect – Associate Exam: Official Study Guide. It provides access to content written by AWS experts, real-world knowledge, key exam essentials, chapter review questions, an interactive online learning environment, and much more.
Next, study AWS whitepapers and FAQs with content related to the exam. You can find links to our suggested whitepapers at FAQs at https://aws.amazon.com/certification/certification-prep/ under the Solutions Architect – Associate tab.
You can also take an Exam Prep Workshop and learn exam strategies from a certified technical instructor.
Once you're ready, put your knowledge to the (practice) test with sample questions. Register for an online practice exam to test your knowledge in a timed environment.
Schedule Your Exam and Get Certified
Now you're ready to take the exam! Go to aws.training to schedule an exam at a testing center near you at. Once you've passed and are AWS Certified, you'll enjoy AWS Certification benefits like access to the AWS Certified LinkedIn Community, invitations to AWS Certification Appreciation Receptions, digital AWS Certified badges, access to AWS Certified merchandise, and more.
Learn More
Visit us at aws.amazon.com/training for more information on digital training, classroom training, and AWS Certifications.