AWS GovCloud (US) Update – Glacier, VM Import, CloudTrail, and More
I am pleased to be able to announce a set of updates and additions to AWS GovCloud (US). We are making a number of new services available including Amazon Glacier, AWS CloudTrail, and VM Import. We are also enhancing the AWS Management Console with support for Auto Scaling and the Service Limits Report. As you may know, GovCloud (US) is an isolated AWS Region designed to allow US Government agencies and customers to move sensitive workloads in to the cloud. It adheres to the U.S. International Traffic in Arms Regulations (ITAR) regulations and well as the Federal Risk and Authorization Management Program (FedRampSM). AWS GovCloud (US) has received an Agency Authorization to Operate (ATO) from the US Department of Health and Human Services (HHS) utilizing a FedRAMP accredited Third Party Assessment Organization (3PAO) for the following services: EC2, S3, EBS, VPC, and IAM.
AWS customers host a wide variety of web and enterprise applications in GovCloud (US). They also run HPC workloads and count on the cloud for storage and disaster recovery.
Let's take a look at the new features!
Amazon Glacier
Amazon Glacier is a secure and durable storage service designed for data archiving and online backup. With prices that start at $0.013 per gigabyte per month in this Region, you can store any amount of data and retrieve it within hours. Glacier is ideal for digital media archives, financial and health care records, long term database backups. It is also a perfect place to store data that must be retained for regulatory compliance. You can store data directly in a Glacier vault or you can make use of lifecycle rules to move data from Amazon Simple Storage Service (Amazon S3) to Glacier.

AWS CloudTrail
AWS CloudTrail records calls made to the AWS APIs and publishes the resulting log files to S3. The log files can be use as a compliance aid, allowing you to demonstrate that AWS resources have been managed according to rules and regulatory standards (see my blog post, AWS CloudTrail – Capture AWS API Activity, for more information). You can also use the log files for operational troubleshooting and to identity activities on AWS resources which failed due to inadequate permissions. As you can see from the blog post, you simply enable CloudTrail from the Console and point it at the S3 bucket of your choice. Events will be delivery to the bucket and stored in encrypted form, typically within 15 minutes after they take place. Within the bucket, events are organized by AWS Account Id, Region, Service Name, Date, and Time: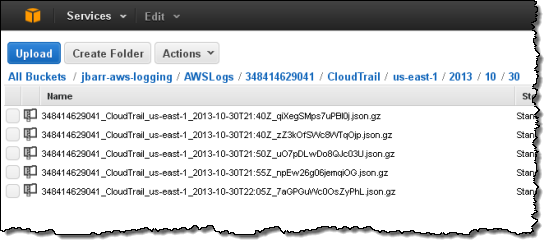 Our white paper, Security at Scale: Logging in AWS, will help you to understand how CloudTrail works and how to put it to use in your organization.
VM Import
VM Import allows you to import virtual machine images from your existing environment for use on Amazon Elastic Compute Cloud (Amazon EC2). This allows you to use build off of your existing investment in images that meet your IT security, configuration management, and compliance requirements.
You can import VMware ESX and VMware Workstation VMDK images, Citrix Xen VHD images and Microsoft Hyper-V VHD images for Windows Server 2003, Windows Server 2003 R2, Windows Server 2008, Windows Server 2008 R2, Windows Server 2012, Windows Server 2012 R2, Centos 5.1-6.5, Ubuntu 12.04, 12.10, 13.04, 13.10, and Debian 6.0.0-6.0.8, 7.0.0-7.2.0.
Console Updates
The AWS Management Console in the GovCloud Region now supports Auto Scaling and the Service Limits Report.
Auto Scaling allows you to build systems that respond to changes in demand by scaling capacity up or down as needed.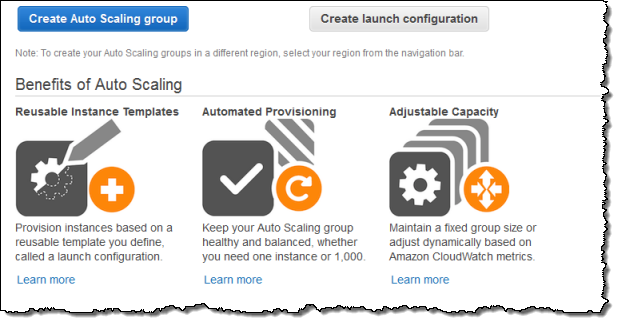 The Service Limits Report makes it easy for you to view and manage the limits associated with your AWS account. It includes links that let you make requests for increases in a particular limit with a couple of clicks: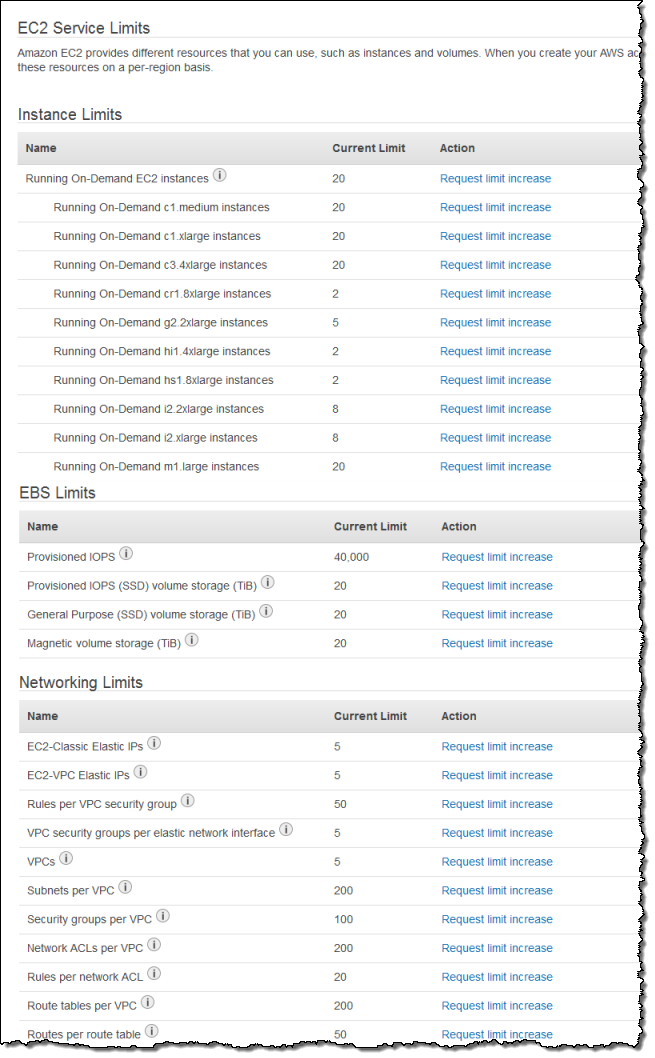 All of these new features are operational now and are available to GovCloud users today!
— Jeff;
Modified 10/27/2020 – In an effort to ensure a great experience, expired links in this post have been updated or removed from the original post.