Announcing the October 20 AWS Public Sector Summit Online keynote and customer speakers
The Amazon Web Services (AWS) Public Sector Summit Online is happening October 20, 2020—registration is now open and at no cost. Max Peterson, vice president of international sales of worldwide public sector at AWS, is hosting the opening keynote, featuring inspiring stories from leaders who are serving their missions with AWS. In the keynote, Max will also share insights into emerging trends in the public sector and discuss topics around digital transformation, business continuity, resilience, security, and privacy—as well as training and workforce development.
Meet the inspiring leaders featured in the keynote and learn a bit about their stories:
Juniper
In Australia, nonprofit Juniper provides retirement living, residential aged care, and in-home care services, supporting approximately 5,000 senior citizens. When COVID-19 hit, Juniper was challenged with the need to protect its residents and employees, while continuing to drive its mission to enhance the independence, spiritual fulfilment, and enjoyment of elderly individuals. Check out Eve Currie, executive director planning and strategy at Juniper, as she discusses how they rapidly responded to maintain quality service and avoid any disruptions by leveraging AWS solutions like Amazon Chime and Amazon WorkSpaces. Hear how this is significantly shifting the way they work and expanding possibilities within the organization – helping to revolutionize the way that quality aged care is being provided.
Smart Selangor Delivery Unit (SSDU)
In Malaysia, Smart Selangor Delivery Unit (SSDU), a state government owned company, is tasked with leading and implementing smart initiatives across the state of Selangor to help achieve its vision of becoming a regional smart state in ASEAN by 2025. When SSDU first began working with AWS in 2018, they created the "Citizens Electronic Payments Platform" to help citizens access paid government services through a central mobile and web portal. AWS has helped SSDU rapidly scale to build apps more efficiently, and also provided frameworks and policies to ensure digital security and privacy. This year, that collaboration and speed enabled SSDU to introduce new solutions and pilots with little investment during the COVID-19 pandemic. Listen to Dr. Mohammad Fahmi Ngah, managing director at SSDU, share more about how AWS is helping accelerate SSDU's digital transformation and support future innovation.
Ministry of Communications and Information Technology (MCIT)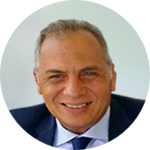 In Egypt, the Ministry of Communications and Information Technology (MCIT) strives to build and execute on the 'Digital Egypt' vision and plan, which lays the foundations for the transformation of Egypt into a digital society. The "Digital Egypt" strategy is built on three main pillars, including Digital Transformation, Digital Skills and Jobs and Digital Innovation. Listen to Khaled El Attar, deputy minister for administrative development, digital transformation and automation at MCIT, discuss how the government is translating its vision into outcomes and impact, with citizen centricity at the core. Hear more about MCIT's collaboration with AWS to build technical capacities in artificial intelligence (AI) and machine learning (ML), capitalizing on cloud computing to accelerate the implementation of flagship national project and to enhance the capabilities of Egypt's micro, small and medium-sized enterprises (MSMEs) specializing in information and communications technology (ICT), to participate in government-led transformation projects.
Centre for Development of Advanced Computing (C-DAC)
In India, the Centre for Development of Advanced Computing (C-DAC), is a government agency devoted to research and development, focused on strengthening national technology capabilities and developing world-class solutions to serve their citizens. When faced with the COVID-19 pandemic and a critical need for patient-to-doctor telemedicine solutions, C-DAC was tasked with developing a central platform for India's entire healthcare delivery system. Tune in to Dr. Sanjay Sood, associate director for health informatics at C-DAC, as he shares how AWS helped them scale quickly and address security concerns, as well as train staff to manage the day-to-day operations, to help all citizens get access to quality medical care.
---
After the keynote, hear about local programs and announcements from your AWS regional lead. Then, check out more than 30 breakout sessions to deepen your cloud knowledge and gain new skills that will help to further your mission. Register now for this no-cost event. See you virtually on October 20!