Agent Productivity and Empowerment
Empower agents with an AI-powered unified workspace to deliver great customer outcomes from day one
Boost agent productivity and customer satisfaction
Empower your contact center agents to deliver great customer experiences from day one, with a comprehensive set of AI-powered capabilities that automatically determines a customer's issue, provides contextual customer information, and recommends personalized and accurate next best actions for faster resolution. Agents leverage a unified workspace that enables everything agents need at their fingertips to provide personalized service to their customers.

Benefits
Resolve customer issues faster
Use artificial intelligence (AI) and machine learning (ML) to assist your agents and automatically display views that provide product and customer information, recommend knowledge articles and guided actions, and prioritize and route follow-up tasks for agents.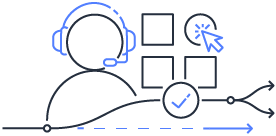 Unify your agent experience
Provide agents with a unified workspace that is easy and less stressful for new agents to learn and gives experienced agents all of the tools they need to continuously improve their customer experience.

Reduce per-agent costs
With pay-as-you-go pricing, you can toggle features on or off with a click of a button to optimize your agent experience, reduce their average handle time, and decrease your per-agent costs.

Amazon Connect Agent Workspace
With no custom integrations, provide agents with a unified workspace so they can accept a call, chat, or task, and have all the right information and recommended next actions.

Agent productivity features
Customers stories
Kentucky Transportation Cabinet equips their agents with a unified experience
Discover how KYTC is transforming their customer experience by boosting agent productivity using artificial intelligence (AI).

Watch the presentation and read the case study »



Orbit Irrigation brings AI/ML-powered automation to their agents
Hear how Orbit reduced average handle time by 15% with Amazon Connect's agent productivity capabilities.
Discover what agent productivity looks like for you
Whether your contact center is currently using agent tools today or not, our AWS experts can demo and assess how Amazon Connect helps increase agent productivity.