CollPoll uses AWS to help universities digitally transform in India and beyond
The extensive higher education landscape in India poses many challenges, like the rising complexity of administrative and academic activities, competition among institutions, increase in student enrollment, addressing the needs of a tech-savvy student generation, data security issues, and the burden of tedious tasks on administrations. The COVID-19 pandemic has also left a growing number of educational institutions struggling to transition from traditional transaction-management and record-keeping enterprise resource planners (ERPs) to more open, collaborative, and artificial intelligence (AI)-based technologies.
CollPoll started as a collaboration platform and then pivoted in 2018 to a full-stack web- and mobile-based campus automation, digital learning, and analytics platform powered by AI and designed to address these complex challenges. With a vision to empower higher education institutions to digitally transform, CollPoll uses the cloud to provide end-to-end automation of key academic and administrative processes, creating a meaningful experience for administrators, faculty, and students. By leveraging Amazon Web Services (AWS), CollPoll has developed a wide range of digital education stacks for institutions, including an academic management system, a learning management system, an examinations management system, as well as a campus help center. These services support institutions to build a paperless, cashless, and contactless campus and provide digital transformation solutions to educational institutions in India and around the world.
Universities digitally transform with CollPoll's cloud-powered services
Many top educational institutions have adopted CollPoll's cloud-powered solutions to sustain academic continuity, reduce administrative burden, enhance the student experience, and enable contactless campus operations.
O.P. Jindal Global University (JGU), located in Sonipat, Haryana, has been using CollPoll since 2016. With 10 schools in its system, JGU has implemented CollPoll's campus help center to provide over 8,000 students with a wide range of services like an IT help desk, shuttle booking, examination department inquiry, laundry and courier services, student and visitor gate passes, no dues, and more. JGU also uses CollPoll's career services module to create and share opportunities with the student community, to manage the application and selection process, as well as get insights on the number of students placed in each company, the roles and companies in which students are placed the most, and the number of services used by students the most.
Dr. D.Y. Patil Pratishthan uses CollPoll for complete campus automation. Thirteen of its institutions located across Pune have implemented a wide range of CollPoll modules. The main outcomes of this collaboration have been transparency at macro and micro levels, enhanced efficiency and collaboration between multiple stakeholders, reduction in duplication of work, and elimination of errors from data management.
Ashoka University, located in Sonipat, Haryana, has over 2,600 students from across India and all over the world. It is highly student-centered and by adopting CollPoll, the university emphasized enhancing the student experience on the campus. CollPoll helps provide seamless two-way communication between students, faculty, and administrators; automation of essential workflows; and enhanced security. By automating several business workflows through CollPoll's Campus Help Center, the university enables students to get ready access to a wide range of services.
Shobhit University adopted automated campus solutions from CollPoll well before the COVID-19 pandemic forced universities to consider contactless options for necessary tasks. Shobhit University boosted the efficiency of key processes and also brought in accountability and transparency, while providing students with a complete digital experience by automating admissions, fees, academic management, examinations, campus workflows, and more.
CollPoll keeps students on track to success during remote learning with AWS
CollPoll uses multiple AWS services, including deeply integrated solutions such as load balancers, lambda, attachment upload, facial recognition algorithms, security, and authentication features. One of the key areas where using AWS has helped CollPoll address the challenges brought by the pandemic was with AI-proctored online examinations.
When online examinations are conducted with CollPoll, the student's device takes multiple snapshots of the student at regular intervals during the exam. These images are then uploaded via an AWS Lambda function to an Amazon Simple Storage Service (Amazon S3) bucket. A separate Lambda function then accesses these images and calls the Amazon Rekognition service to detect anomalous instances like mismatching faces or multiple faces, and sends the results back to the application, where CollPoll's algorithm generates a confidence score for the test based on all the inputs.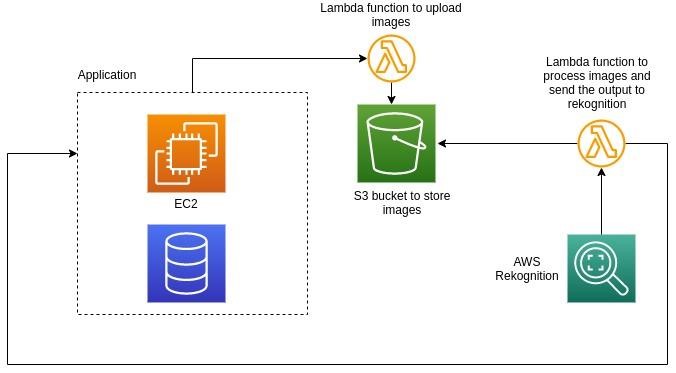 Figure 1. The CollPoll AI-powered remote proctoring solution uses Amazon Rekognition to detect anomalous activity in images uploaded to an Amazon S3 bucket.
CollPoll also uses AWS to provide a streamlined experience to faculty and students through its learning management system (LMS). With its LMS, faculty can share pre-recorded lectures as well as other learning resources with students. To make sure teachers can upload learning materials at scale, CollPoll uses Lambda and Amazon S3. The application first gets a signed URL from Amazon S3 which allows a secure upload. After the file uploads, a Lambda function processes it further to generate previews and process video content. With this setup, there is virtually no load on the application server for attachment upload, which helps CollPoll provide a smooth digital learning experience.
Learn more about digital transformation for higher education
CollPoll uses AWS to serve all kinds of educational institutions, and has scaled to cater to over 100,000 users, automated more than 3,000 business processes, managed 150,000 applications for job opportunities, conducted AI-proctored online examinations for over 200,000 users, collected 500,000 assignments and six million feedback notes on faculty, university processes, and more. Along with these milestones, CollPoll uses the cloud to boost administrative and academic efficiency, extend learning beyond the classroom, and enhance the student campus experience. Visit CollPoll to learn more.
Discover more about how AWS enables education technology (EdTech) companies to support educators, students, and administrators with scalable, secure, and innovative solutions at the AWS for EdTechs hub.
Are you looking for ways the cloud can help your educational institution digitally transform? Check out the AWS for Education main page, or contact us directly.
Read more stories about EdTechs using AWS to innovate in education:
---
Subscribe to the AWS Public Sector Blog newsletter to get the latest in AWS tools, solutions, and innovations from the public sector delivered to your inbox, or contact us.
Please take a few minutes to share insights regarding your experience with the AWS Public Sector Blog in this survey, and we'll use feedback from the survey to create more content aligned with the preferences of our readers.