How Virtusa Powers Hyper-Personalization with 5G, AWS Wavelength, and Edge Technology
By Néstor Gándara, Sr. Partner Solutions Architect – AWS
By Ravi Kumar Palepu, Sr. VP, Head of Global TMT Solutions – Virtusa
By Girish Ramadurgam, Chief Architect, Global TMT Solutions – Virtusa
Virtusa
The digital revolution has seen an explosion of marketing data, and marketing professionals have been successful in using this data to get closer to their end customers.
Hyper-personalization takes personalized marketing to the next level by gathering data and providing targeted recommendations to improve the user experience at every digital touchpoint. Artificial intelligence (AI) is also widely used to place such personalized ads on mobile and web channels.
What if you could cross the digital barrier and run hyper-personalized campaigns in the real world? In this post, we explore how Virtusa uses 5G, AWS Wavelength, and edge technology to help bridge this divide.
The solution described here is for marketers, salespeople, ad infrastructure companies, 5G enthusiasts, and edge explorers. We'll share critical aspects of hyper-personalization through the following parts: understanding the concept with a use case, solution overview, and conclusion.
Virtusa Corporation is an AWS Premier Consulting Partner that provides digital business strategy, engineering, and IT services. They have eight AWS Competencies in areas like DevOps, Data and Analytics, and Digital Workplace.
Creating a Low-Latency and Real-Time Personalized User Experience
Personalization is the incorporation of personal and transactional information into your communication.
Hyper-personalization is a step beyond personalization and persona-based marketing, where a personalized experience is rolled out by analyzing real-time data, identifying intent, location and triggering an event. It utilizes behavioral and real-time data to create highly contextual communication that's relevant to the user.
There are instances of behavioral and demographic AI models being run on 5G and edge to reduce latency.
Hyper-Personalization at Edge: The Need and Process
Hyper-personalized use cases currently focus on online and mobile marketing rather than a physical channel. Virtusa's hyper-personalized solution is a tool for marketers to place video content on digital walls in a retail setup.
To effectively place the targeted hyper-personalized ad, image capture, analysis, and playing of the video have to be achieved in less than eight seconds of having the customer in the vicinity of the digital wall.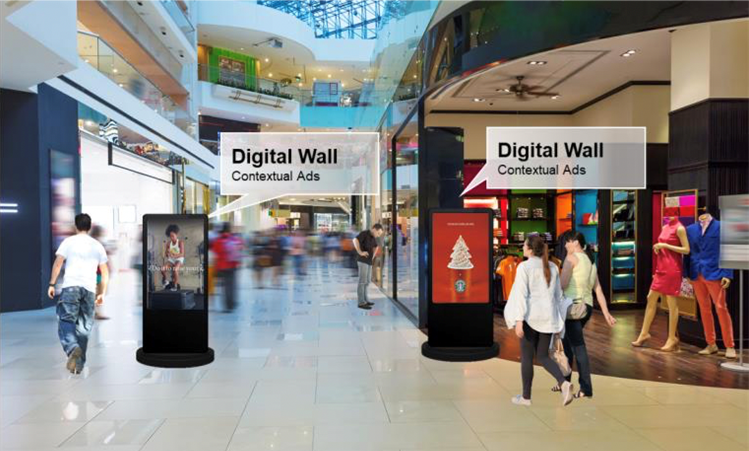 Figure 1 – Delivering hyper-personalized ads in the retail space.
This process involves the following key steps:
Campaign creation: Brand digital marketers create a digital campaign to run at edge-enabled digital signage. Here, they can define campaign details such as videos, frequency, demographic profile, edge site, and duration of a campaign. Additionally, marketers can see the cost and complete payment for the campaign.
Push ad to edge: An approved campaign is pushed automatically across multiple edge sites where all digital content is cached to deliver hyper-personalized campaign.
The trigger: When the buyer is near the digital wall, the camera installed in the digital wall captures the buyer's video/image feed. The feed is parsed and, based on the demography of the buyer, the right ad content is selected.
Ad delivery: In fewer than eight seconds, a personalized ad campaign is played for the shopper.
Ad dashboard: A brand manager gauges the effectiveness of a live campaign through a simple dashboard designed to capture relevant key performance indicators (KPIs) of the campaign, such as footfall per hour, interaction level, impressions and reach, conversion rate, and ad costs. The dashboard helps a brand manager gauge the effectiveness of an ad based on product and location with the help of historical analysis available for each edge site.
Hyper-Personalized Solution Architecture: Using AWS Wavelength
Virtusa's hyper-personalized solution has the following three components:
Centralized customer data platform (CDP)
Distributed edge sites
Digital wall
A centralized CDP contains the campaign engine, bidding engine, billing and invoicing modules, and associated dashboards hosted at the AWS regional instance. According to rules configured upon creation of a campaign, the campaign and associated media are "dockerized" and pushed to selected edge sites.
Figure 2 – Decomposition of hyper-personalization for edge.
In this approach, metrics related to campaign performance sync from the edge site to the centralized ad dashboard. The centralized CDP also configures the edge sites with updated analytical algorithms and troubleshooting.
The edge site is connected to the digital wall and camera feed. It also hosts various analytical modules such as image processing, facial recognition engine, and identity management tools. The edge site also receives the subset of campaigns from the centralized CDP delivered to the digital wall using high-definition (HD) media content delivery modules.
The digital wall is equipped with a camera, and content is delivered through APIs from the edge site. Real-time analytics is captured on campaign performance and sent to the centralized CDP via the edge site.
This setup also includes AWS Wavelength, which is an AWS infrastructure offering optimized for mobile edge computing applications. Its deployment within a telco's data centers enables 5G traffic emanating from end consumer devices to be securely processed in the AWS-telco ecosystem.
To test the latency in delivering the personalized content from the regional data center as compared with the AWS Wavelength Zone, we ran the campaigns at the same location (New York City) but with a minor differences in the hosts of the edge sites (with video/image parsing and analytical models):
Edge site hosted at AWS North Virginia data center (~400 miles from NYC)
Edge site hosted at AWS NY Wavelength Zone (~80 miles from NYC)
The AWS NY Wavelength Zone provides ultra-low latency from 5G devices to the application endpoint under the communications service provider (CSP)'s 5G network, with a single pane for managing the applications across Wavelength Zones and AWS Regions, as shown in Figure 3.
From the tests run from the AWS North Virginia data center and AWS NY Wavelength Zone, the latter was 81% faster in latency test and 51% faster overall.
Figure 3 – Test results for AWS Wavelength vs. AWS regional instance.
Conclusion
Using AWS Wavelength, Virtusa achieved reduced latency, which adds a huge value to delivering a hyper-personalization use case for campaign management.
With this solution, Virtusa is able to:
Strengthen campaign effectiveness.
Provide targeted promotion and actionable insights.
Create cross-selling and upselling revenue opportunities.
Complement the existing business intelligence solutions.
In conclusion, for 5G use cases requiring ultra-low latency, massive bandwidth for real-time experiences, and immersive end-user experiences, AWS Wavelength is a suitable and innovative option.
The ability to run AI models at the edge opens up many possibilities for adapting this use case for various scenarios—such as stadiums, airports, bus stops, hospitality venues, and other industries—to deliver a unique and hyper-personalized experience to users.
Enterprises are invited to join us on the 5G and edge journey to create disruptive business solutions. Learn more about AWS Wavelength, and explore Virtusa's 5G and edge offerings.
---
Virtusa – AWS Partner Spotlight
Virtusa is an AWS Premier Consulting Partner and global provider of digital business strategy, engineering, and IT services and solutions. Virtusa accelerates clients' cloud adoption through technical, training, and GTM investments.
Contact Virtusa | Partner Overview
*Already worked with Virtusa? Rate the Partner
*To review an AWS Partner, you must be a customer that has worked with them directly on a project.