New APN (AWS Partner Network) Blog
The AWS Partner Network (APN) is a rapidly growing ecosystem of Consulting and Technology partners. These partners push the boundaries of what can be done with cloud computing by creating and bringing value-added solutions to their customers. Our goal is to continue to support the APN partners as they work to build successful businesses on the AWS platform. As our ecosystem grows, we continue to launch new programs, benefits, and content for APN Partners via the AWS Partner Network (APN).
New APN Blog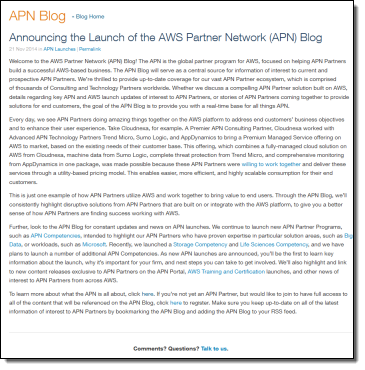 Today we are launching a new AWS Partner Network Blog that will serve as a central source for information that will be of interest to current and prospective APN Partners. We plan to provide up-to-date coverage of the entire partner ecosystem. Look for posts that discuss compelling APN solutions built on AWS, details on key AWS and APN launches of special interest to APN Partners, and stories of two or more APN Partners working jointly to provide a solution for a customer. The new blog is designed to serve as a real-time base for all things APN.
In addition to APN Partner stories, the new blog will keep you informed of additions to the APN program. We'll continue to launch additional programs, such as the recent APN Competencies (including Storage and the Life Sciences, with more on the way), intended to highlight the APN Partners with proven expertise in particular solution areas such as Big Data or specific workloads (Microsoft is a good example) We also have a program designed for Managed Service Providers.
The new blog will also put new APN launches in to perspective. You'll be among the first to learn about key information and why it is important to your organization. It will also cover new content on the APN Portal along with AWS Training and Certification launches and other news of special interest to APN Partners from across AWS.
Finally, the blog will take a closer look at the AWS, APN, and partner announcements that were made at AWS re:Invent.
— Jeff;