SAP on AWS Update – Customer Case Studies, Scale-Up, Scale-Out, and More
SAP SAPPHIRE NOW 2019 takes place this week in Florida! Many of my AWS colleagues will be there, and they would love to talk to you. Today, I would like to share some customer success stories and give you a brief update on the work that we have been doing to make sure that AWS is the best place for you to run your SAP-powered OLTP and OLAP enterprise workloads.
Customer Update
Let's start with a quick recap of some recent customer success stories. Here are just a few of the many customers that are using SAP on AWS in production today:
Fiat Chrysler Automotive – After exploring multiple options and vendors, FIAT decided to deploy SAP on AWS with Capgemini as a partner: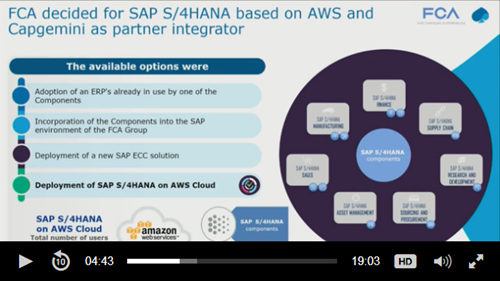 Engie – Read the case study to learn how this international energy provider has been able to Transform and Streamline their Financial Processes and drastically reduced the ramp-up time for new users from three days to one day by running SAP S/4HANA on AWS: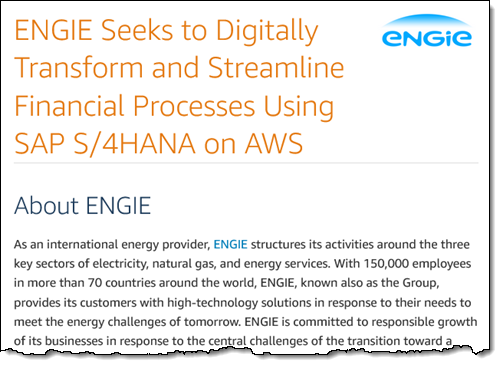 AIG – Watch the video to learn how AIG migrated 13 SAP landscapes from an on-premises environment to SAP HANA on AWS in 13 months, while reducing their infrastructure cost by $8M: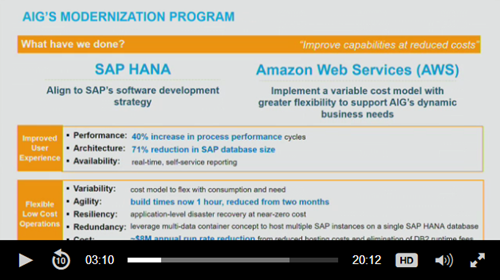 Sumitomo Chemical – Read this case study to learn how Sumitomo Chemical runs a huge number of SAP ERP batch jobs on AWS, cutting job processing time by around 40%: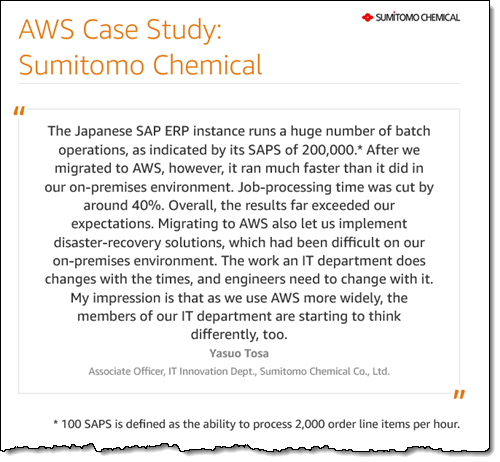 There are additional SAP on AWS Case Studies for your reading pleasure!
AWS customers are making great use of the 6, 9, and 12 TB EC2 High Memory instances that we launched last year. They are building many different SAP Solutions on AWS, taking advantage of the SAP Rapid Migration Test Program, and working with members of the SAP Competency Partner Network.
What's New
Our customers are building ever-larger SAP installations, using both scale-up (larger instances) or scale-out (more instances) models. We have been working with SAP to certify two additional scale-out options:
48 TB Scale-Out (S/4HANA) – When we launched the EC2 High Memory instances with 12 TB of memory last year, they were certified by SAP to run OLTP and OLAP HANA workloads in scale-up configurations. These instances now support additional configuration choices for your OLTP workloads. You can now use up to four of these 12 TB High Memory instances to run an OLTP S/4HANA solution in scale-out mode, while meeting all SAP requirements.
This is the first ever SAP-certified scale-out certification of S/4HANA on cloud instances. SAP recommends (SAP OSS Note 2408419) the use of bare metal platforms with a minimum of 8 CPUs and 6 TB of memory for running S/4HANA in scale-out. Since the EC2 High Memory instances with 12 TB memory is an EC2 bare metal instance that combines the benefits of the cloud with the performance characteristics of a bare metal platform, it is able to support SAP-certified scale-out configurations for S/4HANA in the cloud. To learn more, read Announcing support for extremely large S/4HANA deployments on AWS and review the certification.
100 TB Scale-Out (BW4/HANA, BW on HANA, Datamart) – You can now use up to 25 x1e.32xlarge EC2 instances (thanks to TDI Phase 5) to create an OLAP solution that scales to 100 TB, again while meeting all SAP requirements. You can start with as little as 244 GB of memory and scale out to 100 TB; review the certification to learn more.
The 48 TB OLTP solution and the 100 TB OLAP solution are the largest SAP-certified solutions available from any cloud provider.
We also have a brand-new S/4HANA Quick Start to help you get going in minutes. It sets up a VPC that spans two Availability Zones, each with a public and private subnet, and a pair of EC2 instances. One instance hosts the primary copy of S/4HANA and the other hosts the secondary. Read the Quick Start to learn more: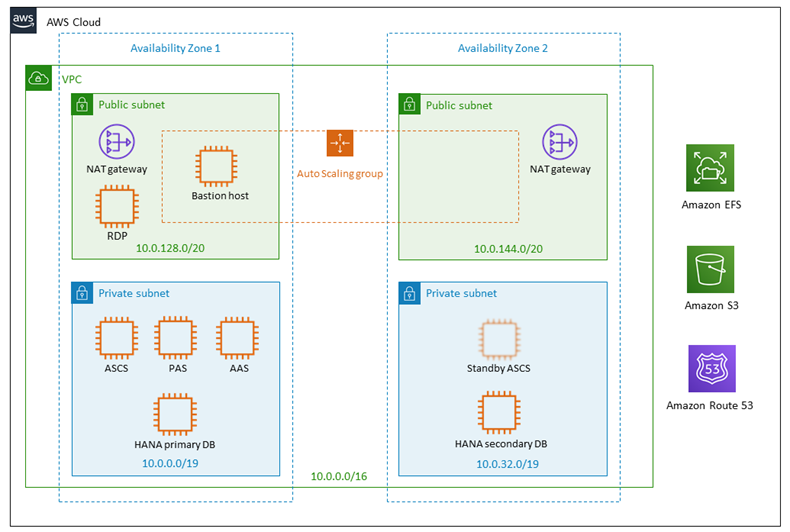 What's Next
Ok, still with me? I hope so, since I have saved the biggest news for last!
We are getting ready to extend our lineup of EC2 High Memory instances, and will make them available with 18 TB and 24 TB of memory in the fall of 2019. The instances will use second-generation Intel® Xeon® Scalable processors, and will be available in bare metal form. Like the existing EC2 High Memory instances, you will be able to run them in the same Virtual Private Cloud (VPC) that hosts your cloud-based business applications, and you will be able to make use of important EC2 features such as Elastic Block Store and advanced networking. You can launch, manage, and even resize these EC2 instances using the AWS Command Line Interface (AWS CLI) and the AWS SDKs.
Here are screen shots of SAP HANA Studio running on 18 TB and 24 TB instances that are currently in development: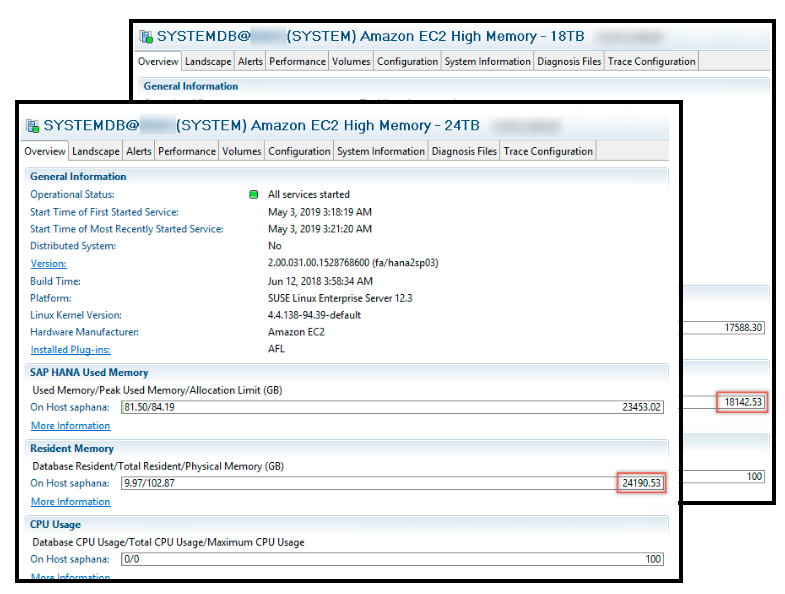 And here is the output from top on those instances:

Here is a handy reference to all of your scale-up and scale-out SAP HANA on AWS options: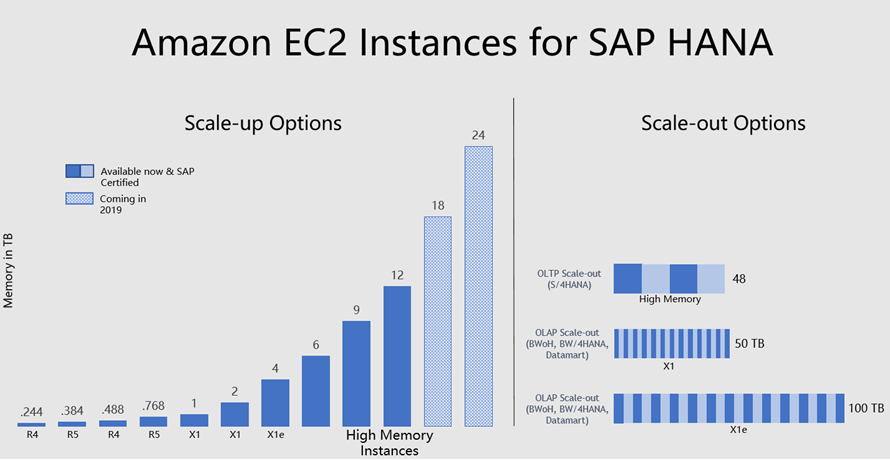 If you want to learn more or you want to gain early access to the new instances, go ahead and contact us.
— Jeff;