Accelerating innovation in Australia and New Zealand: AWS Summit Canberra keynote recap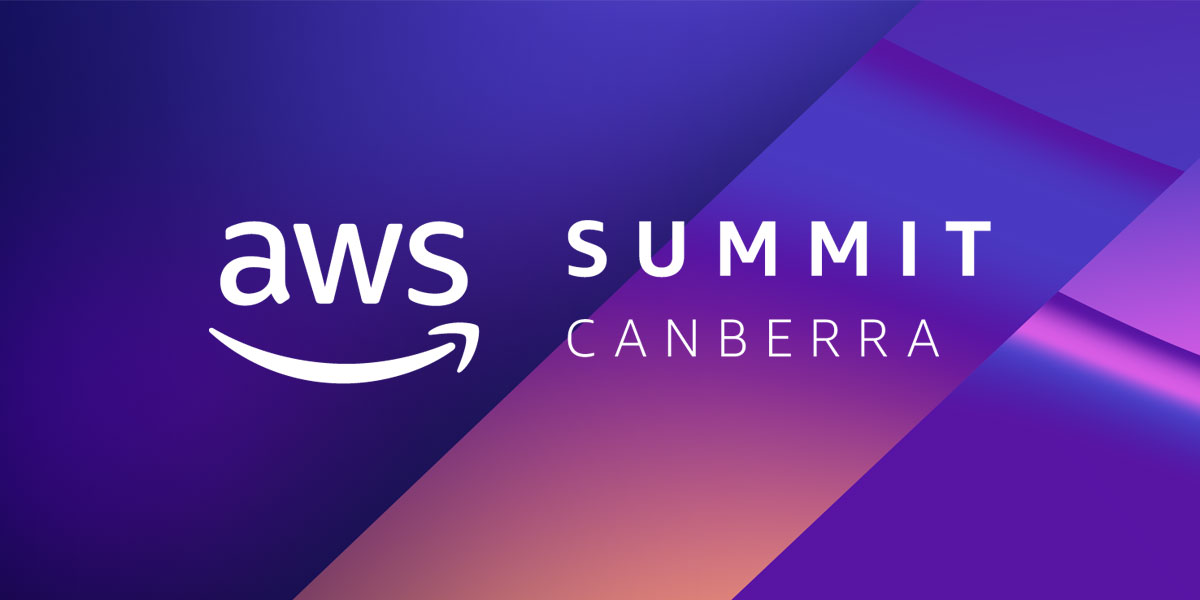 On Wednesday, August 31, Max Peterson, vice president of worldwide public sector at Amazon Web Services (AWS), delivered the keynote address at the AWS Summit Canberra. Max shared regional announcements and local stories of how public sector customers are using the cloud to transform citizen services, innovate in healthcare, improve sustainability, and more. Two customer speakers joined the stage to share how AWS helps their organizations support their mission success and reimagine what's possible.
What'd you miss at the AWS Summit Canberra keynote?
Improving citizen services with cloud technology
More organizations are using the cloud to innovate on behalf of citizens and keep up with changing needs. For instance, the New South Wales Government's Department of Customer Service, which is made up of more than 30 agencies, migrated workloads from its government data centers to AWS. Their cloud-supported efforts range from automating flood mapping with machine learning, to scaling its contract tracing app during the COVID-19 pandemic, and more – while also reducing overall costs.
As digital transformation in the public sector continues to accelerate, governments are taking steps to simplify the procurement process for agencies to migrate to the cloud and leverage its benefits. This year, AWS renewed its Whole-of-Government agreement with the Australian Federal Government for another three years and signed two new Whole-of-Government agreements with the Victorian Government and New Zealand's Department of Internal Affairs. These agreements help bring the transformative power of the cloud to more public sector organizations, and can help them to develop cost-effective and secure services at a faster pace.
Delivering the Australian Census to give citizens a voice
Over the last few years, governments rapidly innovated to support their citizens in critical times of need. Teresa Dickinson, deputy Australian statistician at the Census and Data Services Group for the Australian Bureau of Statistics (ABS), joined Max on stage to share how her organization moved quickly with the cloud to collect 2021 Census data from more than 25 million Australian citizens in a seamless and secure manner when traditional ways of collection data were limited due to COVID-19.
"[The Census is] the biggest peacetime event in Australia," said Teresa at the AWS Summit Canberra. At peak time, the Census employs over 30,000 staff to reach over 25 million people with Census forms. But the 2021 Census faced a specific challenge: how to collect Census data when over half of the population was in COVID-19-related lockdown?
In the three years leading up to the Census, Teresa's team worked with AWS and PwC Australia (PwC) to create the 2021 Census Digital Service. AWS also helped ABS prepare by facilitating the largest denial of service test ever conducted in Australia. Ultimately, on Census Day, the digital service scaled to enable 2.8 million households to submit forms within a 24-hour period, performing seamlessly with no unscheduled downtime. "We were all pleased that Census night was uneventful to the point of being a bit boring," joked Teresa. Moreover the Digital Service was inclusive: the Census website was awarded 'Government Website of the Year' by the Centre for Accessibility Australia. Overall, the ABS achieved a 96.1% response rate for the Census—above target. "We could not have done it without [AWS]," Teresa said. Learn more about how the Australian Bureau of Statistics ran the 2021 Census on the AWS Cloud.
Innovating in healthcare to personalize and improve health outcomes
Modernizing with the cloud is also helping improve health outcomes by increasing efficiencies and providing the insights and tools needed – all in a secure environment that supports data privacy needs. Dr. Zoran Bolevich, chief executive of eHealth NSW and chief information officer (CIO) for NSW Health, took the stage to explain how his organization is transforming with the cloud to enhance the clinician and patient experience.
NSW Health has become "digital on the inside," explained Zoran: over 12 million appointments are booked digitally per year, 22,260 patient beds use the electronic medical record (EMR), up to 300,000 NSW staff and patients use video conferencing each month, and more. In 2021, NSW Health collaborated with AWS to migrate its workloads to the cloud. This year, they reached a milestone of 30% of eHealth workloads migrated. Already, NSW Health has seen significant benefits from its cloud migration: $25 million of benefits in avoided costs from reduced capital expenditure and improvements in productivity; 10 times increased deployment speed on average; 116-144K hours of productivity saved for front line clinicians due to increased platform stability; a 70% reduction in unplanned outages; and more. Now, NSW Health is moving to the next stage of its digital health journey: supporting value-based healthcare focused on patient outcomes and elevating the human experience in healthcare. In 2022, NSW Health created the Enterprise Data Lake, hosted on AWS, which is a centralized repository storing vast amounts of structured and unstructured data from multiple systems. This data will support better decision making, safe and high quality care, improved health system planning, research and innovation, and more.
Advancing genomics research with machine learning
In the medical research world, analyzing vast amounts of genomics data poses significant challenges. So the Commonwealth Scientific and Industrial Research Organization developed VariantSpark, a machine learning library on AWS. This is providing the scale, speed, and security needed to support today's genomics research and future growth. Using VariantSpark, analyses are now completed 3.6 times faster than other big data solutions. The availability of VariantSpark on the AWS Marketplace also helps provide widespread access to the genomics research community, and aligns with adherence to international security standards.
Shaping a sustainable future using AWS
A recent study by international analyst firm 451 Research found that AWS's infrastructure is five times more energy efficient than the average of surveyed enterprise data centers in the Asia Pacific region. Read more about the study and the potential for more efficient and sustainable operations in the Asia Pacific region.
In Australia, Amazon has invested in three renewable energy projects. This includes two solar farms, one located in Suntop and another in Gunnedah in New South Wales, and one wind farm in Hawkesdale, Victoria. Combined, these projects will generate 717,000 megawatt hours of renewable energy annually, which is equivalent to the annual electricity of almost 115K average Australian homes. The two solar farms are already delivering clean energy to the Australian grid.
Max also announced that the Institute of Geological and Nuclear Sciences Limited (GNS Science New Zealand) is using the AWS Open Data Sponsorship Program to make earthquake, tsunami, and other natural hazard information from its GeoNet monitoring project available at no cost. Researchers can work together to study changes on Earth and recognize patterns to tackle real-world issues faster – helping alert citizens to disasters before they even happen.
Skilling the future workforce to support public sector innovation
Increasing cloud talent is important for ongoing innovation. AWS is dedicated to democratizing knowledge and making sure all individuals, regardless of their background, education, or social status, have the opportunity to build technical skills. Since 2017, AWS has trained more than 200,000 people in Australia through our various learning offerings.
AWS supports local programs in Australia and New Zealand to cultivate an interest in technology with students and help provide opportunities to a variety of career paths. For the third consecutive year, AWS is sponsoring the Eagles RAPS mentoring program in the Blacktown region of Western Sydney, which focuses on helping disenfranchised teenagers develop digital skills. AWS also recently launched the AWS Think Big Space at Blacktown Girls High School, which is a dedicated learning environment that provides students with hands-on lessons and activities to explore an interest in science, technology, engineering, arts, and math (STEAM) and STEAM-related careers.
AWS customers in Australia and New Zealand are blazing trails and finding new and better ways to deliver on their missions. These pioneering efforts and digital transformations have contributed to a strong foundation that will allow organizations to respond faster to changing conditions and ensure reliability as we forge ahead – and ultimately help unleash a new wave of innovation.
Learn more about how AWS supports customers in the public sector.
Read more about AWS for the public sector:
---
Subscribe to the AWS Public Sector Blog newsletter to get the latest in AWS tools, solutions, and innovations from the public sector delivered to your inbox, or contact us.
Please take a few minutes to share insights regarding your experience with the AWS Public Sector Blog in this survey, and we'll use feedback from the survey to create more content aligned with the preferences of our readers.