Modernize Data Archiving
Move data archives to AWS to lower costs and gain new insights
Maximize the value of cold storage with Amazon S3 Glacier

Modernize your data archive and put your data to work with Amazon S3 Glacier.

Enterprises today face significant challenges with exponential data growth. Machine learning and analytics give data more value than ever before. Regulatory compliance requires long retention periods. Customers need to replace on-premises tape and disk archive infrastructure with solutions that provide enhanced data durability, immediate retrieval times, better security and compliance, and greater data accessibility for advanced analytics and business intelligence.
AWS offers archive storage solutions for long term retention, compliance, and digital preservation. Amazon S3 provides you with virtually unlimited scale, 99.999999999% durability, and the highest standards of data security, all with lower costs and faster access times than on-premises tape storage. The Amazon S3 Glacier storage classes are purpose-built for data archiving, providing you with the highest performance, most retrieval flexibility, and the lowest cost archive storage in the cloud. You can now choose from three archive storage classes optimized for different access patterns and storage duration. S3 Glacier storage classes deliver cost-optimized archive storage, whether you need to access your archive data quarterly, annually, or somewhere in-between.
Benefits of archiving in AWS
Lowest cost cloud storage
AWS archival storage solutions start at about $1 per terabyte per month, a cost lower than most customers' on-premises tape infrastructure.
Meet compliance requirements
To aid your compliance efforts, AWS regularly achieves third-party validation for thousands of global compliance requirements that we continually monitor to help you meet security and compliance standards for virtually any industry.

Business agility
Quickly move data from archival to production when needed with milliseconds retrieval and extract insights by easily accessing adjacent AWS services. Customers can rapidly or gradually expand cloud workflows, or quickly deploy new business models that leverage the asset archive.

Zero hardware to manage
Simplify data archiving and eliminate operational complexities of managing on-premises tape libraries or offsite vaulting services by seamlessly replacing tape infrastructure without changing your existing backup or archiving workflows.
Data protection and data integrity
Data stored on AWS archival storage solutions is highly available, 99.999999999% durable, and highly protected against degradation or corruption throughout the multi-decade retention periods. Data stored on AWS archival storage solutions can be configured to be immutable, ensuring an additional layer of data-protection by preventing malicious or accidental deletion or modification of records even where access credentials are granted.
Unlimited scale with pay-as-you-go pricing
Seamlessly meet unpredictable capacity demands driven by exponential growth of data and pay only for what you use without making large upfront capital investments.

Use cases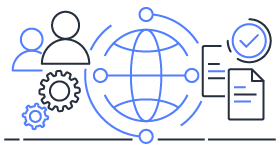 Compliance archival
Heavily regulated industries such as financial services, healthcare, and public sector organizations require customers to retain data for long periods of time for business compliance and regulatory purposes. AWS supports more security standards and compliance certifications than any other offering, including PCI-DSS, HIPAA/HITECH, FedRAMP, GDPR, FIPS 140-2, and NIST 800-171, helping satisfy compliance requirements for virtually every regulatory agency around the globe.

Media asset preservation
Customers can store infrequently accessed digital media assets in highly durable and massively scalable storage solutions at very low costs. They can easily move data from archival to distribution when needed, and extract insights by easily accessing adjacent AWS services such as AWS Elemental Media Services, AWS Lambda, Amazon Elastic Transcoder, and Amazon Rekognition, to maximize the value of data and generate top line value.
Enterprise backups
Customers can significantly reduce the cost of their offsite backups by migrating off of tape libraries and storage appliances, moving data into AWS. AWS archive solutions have no upfront costs, eliminate maintenance costs, and provide significantly faster access when archived data is needed.

Disaster recovery
Customers can replicate their coldest data to a secondary Region at a very low cost with just the click of a button using AWS archival storage solutions and meet disaster recovery needs. AWS archival solutions make it easy for organizations to meet their offsite data storage needs with unmatched durability and resilience.
Amazon S3 Glacier storage classes
For archive data that needs immediate access, such as medical images, news media assets, or genomics data, choose the S3 Glacier Instant Retrieval storage class, an archive storage class that delivers the lowest cost storage with milliseconds retrieval. For archive data that does not require immediate access but needs the flexibility to retrieve large sets of data at no cost, such as backup or disaster recovery use cases, choose S3 Glacier Flexible Retrieval, with retrieval in minutes or free bulk retrievals in 5-12 hours. To save even more on long-lived archive storage such as compliance archives and digital media preservation, choose S3 Glacier Deep Archive, the lowest cost storage in the cloud with data retrieval within twelve hours.

Preserving and maximizing the value of digital media assets using Amazon S3
Many companies recognize that by creating more unique content than ever to engage audiences and grow revenue, they may be overlooking the hidden value in their media archives and constraining their ability to access their archives from anywhere. It's essential to preserve your organization's most priceless assets and be able to use them easily when pursuing new business goals. In this video, leading media and entertainment organizations, Warner Bros., CNN, and PGA Tour, share their media archive modernization journey from on-premises systems to the cloud and provide insights on how you can maximize the value of archival data to unlock business value for your organization.

Modernize your data archive with Amazon S3
The vast majority of data in the world is cold. Using the Amazon S3 Glacier storage classes, businesses can safely and securely store data for years or decades without worrying about expensive and finicky tape drives or off-premises tape archival services. Learn about the unique challenges for managing cold data as well as best practices for addressing key archiving guidelines with Amazon S3 Glacier and Amazon S3 Intelligent-Tiering. Hear about different options for ingesting and restoring your data at petabyte scale while taking into consideration accessibility, cost, and different tiers of performance.

Move data archives to AWS to lower costs and gain new insights
Learn about the benefits customers achieve when archiving data in AWS and why there is no better place for archive data to be than in AWS. This webinar reviews the AWS archive storage solutions for long term retention, compliance, and digital preservation. The webinar also dives into how to innovate faster by focusing your highly valuable IT resources on developing applications that differentiate your business, instead of the undifferentiated heavy lifting of managing archival data on your data centers.

Put your cold data to work for training AI/ML workloads with Amazon S3 Glacier
Organizations use data archives to cost-effectively manage data growth, preserve priceless assets, and use business analytics and machine learning to build new customer experiences. We frequently see customers using their own archives as a treasure trove of data for analytics, machine learning, and business intelligence. Learn how customers are using Amazon S3 Glacier storage classes to modernize their data archive and get the most out of their critical assets. With the Amazon S3 Glacier storage classes, you get the best of both worlds — low cost archive storage along with retrieval times ranging from milliseconds to hours depending on the S3 Glacier storage class that you choose.
AWS data archiving customers
Partner with an AWS Storage expert
AWS Partner Network (APN) partners offer solutions that leverage AWS archival storage services, providing a durable and cost-effective storage target for long-term data retention. APN partner solutions enable organizations to harness the benefits of cloud economics while still maintaining their existing investments. Deployment options range from purpose-built appliances to software-defined solutions.
The AWS Competency Program is designed to provide customers with certified APN Partners who have demonstrated technical proficiency and proven success in specialized solutions areas. Partners who've attained an AWS Competency offer a variety of services, software, and solutions on AWS.
Learn how APN Storage Competency Partners can support you with your data archiving needs »

Additional resources
Data archiving blogs
There are no Amazon S3 blogs available at this time, please visit AWS blogs to view all storage blog content.