AWS' Connected Vehicle Solutions enable you to easily integrate a wide variety of digital services to enhance your brand experience and integrate with your customer's digital lifestyle.
Use the comprehensive set of AWS services to gather, process, analyze and act on vehicle data at global scale. Rapidly develop and deploy innovative connected vehicle applications to provide personalized, intuitive, intelligent and safe interactions.
With AWS' local computing capabilities, you can execute functions and act on data within the vehicle, even when connectivity is interrupted, providing advanced in-vehicle experience while reducing connectivity costs.
AWS' serverless, microservices based approach and the security of AWS IoT platform allow automotive companies to easily build and scale connected vehicle applications at low cost.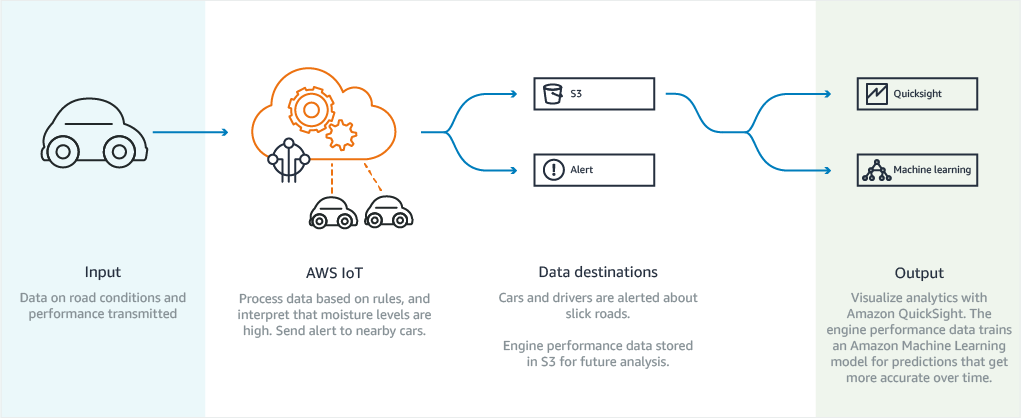 Many organizations use AWS' broad set of services to build connected vehicle applications. But to make things easier, we've built a reference connected vehicle solution to help you quickly develop a wide array of innovative connected vehicle applications, allowing you to build innovative connected experiences, rather than managing the underlying infrastructure operations. You can use this framework to address a variety of use cases such as voice interaction, navigation and other location-based services, remote vehicle diagnostics and health monitoring, predictive analytics and required maintenance alerts, media streaming services, vehicle safety and security services, head unit applications, and mobile applications.
We also offer a framework that allows you to integrate AWS IoT and AWS Greengrass into the Automotive Grade Linux (AGL) software stack.
Automotive companies of all types and sizes, from global automakers to startups rely on AWS. Contact our experts and start your own AWS Cloud journey today.