AWS Console Mobile App – Support for Multiple Identities
The AWS Console mobile app supports Amazon EC2, Elastic Load Balancing, Amazon S3, Amazon Relational Database Service, Route 53 Hosted Zones, Auto Scaling, AWS OpsWorks, CloudWatch, and the Service Health Dashboard. You can use the app to monitor the status and health of your AWS resources on your iOS or Android device:
Support for Multiple Identities
In order to support a very popular use case — one cloud administrator managing multiple AWS accounts — the AWS Console mobile app now allows you to add credentials for multiple accounts and to easily switch between them without logging out: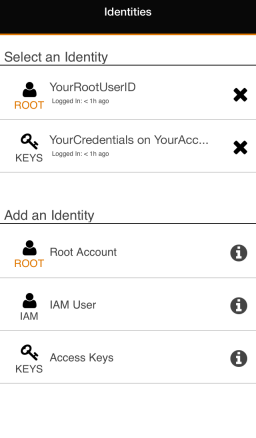 You can also sign in to the mobile app using your AWS access keys. If you choose this option, we recommend that you secure your device with a password, and that you create an IAM user specifically for use with the app.
Download and Install Today
You can download and install the AWS Console mobile app from Amazon Appstore, Google Play, and iTunes.
— Jeff;