Hot Startups on AWS – July 2016 – Depop, Nextdoor, Branch
Today I would like to introduce a very special guest blogger! My daughter Tina is a Recruiting Coordinator for the AWS team and is making her professional blogging debut with today's post.
— Jeff;
---
It's officially summer and it's hot! Check out this month's hot AWS-powered startups:
Depop – a social mobile marketplace for artists and friends to buy and sell products.
Nextdoor – building stronger and safer neighborhoods through technology.
Branch – provides free deep linking technology for mobile app developers to gain and retain users.
Depop (UK)
In 2011, Simon Beckerman and his brother, Daniel, set out to create a social, mobile marketplace that would make buying and selling from mobile a fun and interactive experience. The Depop founders recognized that the rise of m-commerce was changing the way that consumers wanted to communicate and interact with each other. Simon, who already ran PIG Magazine and the luxury eyewear brand RetroSuperFuture, wanted to create a space where artists and creatives like himself could share, buy and sell their possessions. After launching organically in Italy, Depop moved to Shoreditch, London in 2012 to establish its headquarter and has since grown considerably with offices in London, New York, and Milan.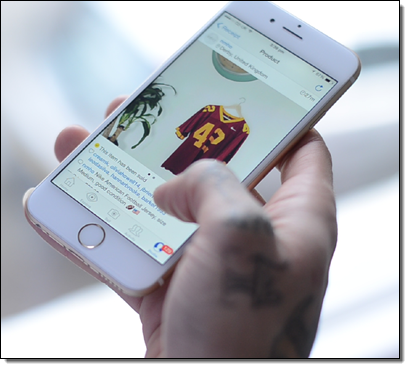 With over 4 million users worldwide, Depop is growing and building a community of shop owners with a passion for fashion, music, art, vintage, and lifestyle pieces. The familiar and user-friendly interface allows users to follow, like, comment, and private message with other users and shop owners. Simply download the app (Android or iOS) and you are suddenly connected to millions of unique items ready for purchase. It's not just clothes either – you can find home décor, vintage furniture, jewelry, and more. Filtering by location allows you to personalize your feed and shop locally for even more convenience. Buyers can scroll through an endless stream of items ready for purchase and have the option to either pick up in-person or have their items shipped directly to them. Selling items is just as easy – upload a photo, write a short description, set a price, and then list your product.
Depop chose AWS in order to move fast without needing a large operations team, following a DevOps approach. They use 12 distinct AWS services including Amazon S3 and Amazon CloudFront for image hosting, and Auto Scaling to deal with the unpredictable and fairly large changes in traffic throughout the day. Depop's developers are able to support their own services in production without needing to call on a dedicated operations team.
Check out Depop's Blog to keep up with the artists using the app!
Nextdoor (San Francisco)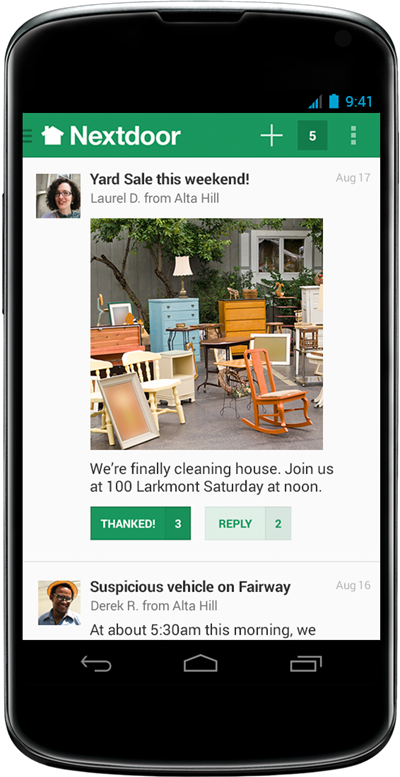 Based in San Francisco, Nextdoor has helped more than 100,000 neighborhoods across the United States bring their communities closer together. In 2010, the founders of this startup were surprised to learn from a Pew research study that the majority of American adults knew only some (29%) or none (28%) of their neighbors by name. Recognizing an opportunity to bring back a sense of community to neighborhoods across the country, the idea for Nextdoor was born. Neighbors are using Nextdoor to ask questions, get to know one another, and exchange local advice and recommendations. For example, neighbors are able to help one another to:
Find trustworthy babysitters, plumbers, and dentists in the area.
Organize neighborhood events, such as garage sales and block parties.
Get assistance to find lost pets and missing packages.
Sell or give away items, like an old kitchen table or bike.
Report neighborhood crime and share safety concerns.
Nextdoor is also giving local agencies such as police and fire departments, and offices of emergency management the ability to connect with verified residents in their jurisdiction through a feature called Nextdoor for Public Agencies. This is incredibly beneficial for agencies to help residents with emergency preparedness, community engagement, crime prevention, and community policing. In his seminal work, Bowling Alone, Harvard Professor Robert Putnam learned that when social capital within a community is high, children do better in school, neighborhoods are safer, people prosper, the government is better, and people are happier and healthier overall. With a comprehensive list of helpful community guidelines, Nextdoor is creating stronger and safer neighborhoods with the power of technology. You can download the Nextdoor app for Android or iOS.
AWS is the foundational infrastructure for both the online services in Nextdoor's technology stack, and all of their offline data processing and analytics systems. Nextdoor uses over 25 different AWS services (Amazon EC2, Elastic Load Balancing, Amazon Cloudfront, Amazon S3, Amazon DynamoDB, Amazon Redshift, and Amazon Kinesis to name a few) to quickly prototype, develop, and deploy new features for community members. Supporting millions of users in the US, Nextdoor runs their services across four AWS Regions worldwide, and has also recently expanded to Europe. In their own words, "Amazon makes it easy for us to flexibly grow our technology footprint with predictable costs in an automated fashion."
Branch (Palo Alto)
The idea for Branch came in May 2014 when a group of Stanford business school graduates began working together to build and launch their own mobile app. They soon realized how challenging it was to grow their app, and saw that many of their friends were running into the same difficulties. The graduates saw the potential to create a deep linking platform to help apps get discovered, retain users, and grow exponentially. Branch reached its first million users within several months after its inception, and a little over a year later had climbed to one billion users and 5,000 apps. Companies such as Pinterest, Instacart, Mint, and Redfin are partnering with Branch to improve their user experience worldwide. Over 11,000 apps use the platform today.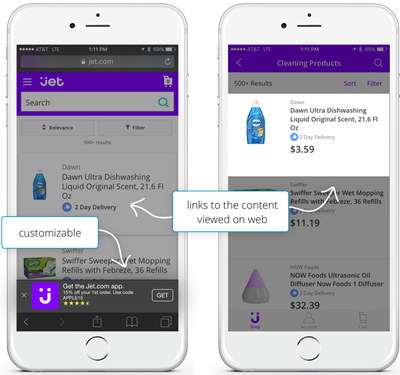 As the number of smartphone users continues to increase, mobile apps are providing better user experiences, higher conversions, and better retention rates than the mobile web. The issue comes when mobile developers want to link users to the content they worked so hard to create – the transition between emails, ads, referrals, and more can often lead to broken experiences.
Mobile deep links allow users to share content that is within an app. Normal web links don't work unless apps are downloaded on a device, and even then there is no standard way to find and share content as it is specific to every app. Branch allows content within apps to be shared just as they would be on the web. For example, imagine you are shopping for a fresh pair of shoes on the mobile web. You are ready to check out, but are prompted to download the store's app to complete your purchase. Now that you've downloaded the app, you are brought back to the store's homepage and need to restart your search from the beginning. With a Branch deep link, you instead would be linked directly back to checkout once you've installed the app, saving time and creating an overall better user experience.
Branch has grown exponentially over the past two years, and relies heavily on AWS to scale its infrastructure. Anticipating continued growth, Branch builds and maintains most of its infrastructure services with open source tools running on Amazon EC2 instances (Amazon API Gateway, Apache Kafka, Apache Zookeeper, Kubernetes, Redis, and Aerospike), and also use AWS services such as Elastic Load Balancing, Amazon CloudFront, Amazon Route 53, and Amazon RDS for PostgreSQL. These services allow Branch to maintain a 99.999% success rate on links with a latency of only 60 ms in the 99th percentile. To learn more about how they did this, read their recent blog post, Scaling to Billions of Requests a Day with AWS.