PathSpot: Enabling handwashing hygiene, innovation, and insights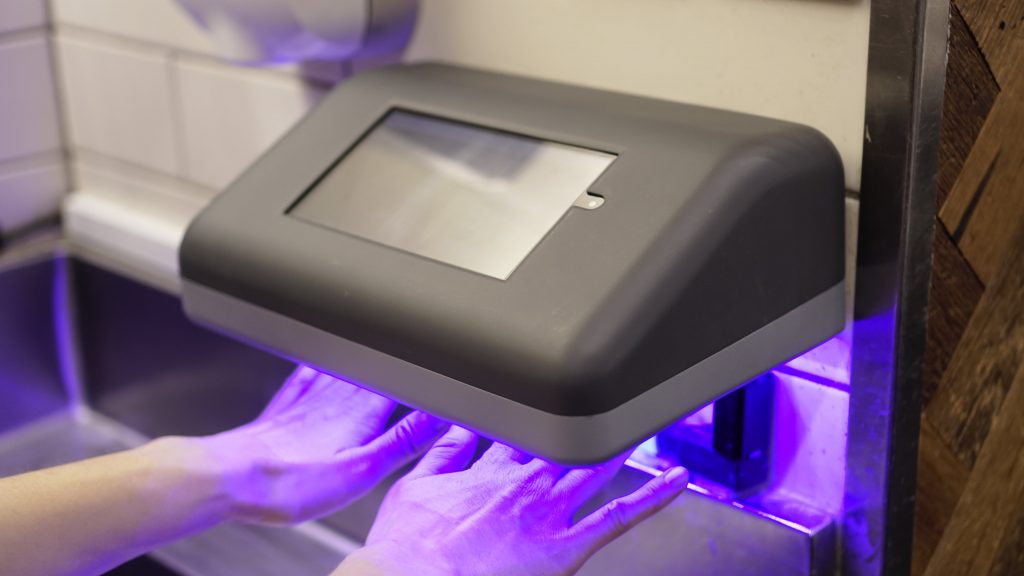 PathSpot provides the travel and hospitality industry a hygiene management system designed to protect businesses and their customers from contaminants and ensure effective and frequent handwashing. PathSpot has raised over $10M in venture funding to date, most recently a $6.5M Series A led by Valor Siren Ventures. PathSpot has been featured as one of TIME's Best Inventions, a World Changing Idea by Fast Company, and a leading tool in the industry to prevent the spread of COVID-19.
Meet PathSpot's Co-Founder and CEO, Christine Schindler. Christine is an entrepreneur and engineer who's passionate about the intersection of healthcare and technology. She's also an advocate for gender equality in the Science, Technology, Engineering, and Mathematics (S.T.E.M.) fields.
Schindler sat down with Amy Chen from the Travel & Hospitality Startup BD team at AWS to tell her company's story of how they built their hygiene solution on AWS and how they enable their customers to keep both employees and customers safe.
Amy: Tell us about your role with starting PathSpot.
Christine: I lead the PathSpot team and set our strategic vision as the CEO. Along with my co-founder, I also invented our patented Hand Scanner and continue to use my engineering background to advance our product and services.
First and foremost, I'm a biomedical engineer with a passion and background in public health. My background is research, where I worked in the developing world building low-cost cancer detection tools for hospitals in resource constricted settings. This was a pivotal experience for me and when I returned back to the US, I wanted to continue solving public health issues and apply what I had learned in creating low-cost tools for public health discrepancies domestically as well. After seeing outbreak after outbreak of illnesses linked to restaurants in the media, I was shocked to learn no one had created a technological solution to ensure frequent and effective handwashing—a leading factor of the spread of illness and disease. My co-founder and I built PathSpot because we knew we could create a technical solution to the "All Employees Must Wash Hands" sign that would solve a real public health problem.
How did you discover the need for a technical solution to the "All Employees Must Wash Hands" sign?
Both quality and quantity of handwashing is important for eliminating dangerous contaminants that spread illness and disease. Compared to traditional methods such as periodic handwashing trainings, audits, and mailing in swab tests to labs, PathSpot has better and longer lasting results, costs less, and requires less management time. Through working with our customers, PathSpot provides an upgrade to the "All Employees Must Wash Hands" sign. We enable real-time handwashing feedback. In just two seconds after each handwash, employees know if there is any invisible contamination present on their hands, and are instructed to rewash and rescan their hands if necessary. The system also collects data, so teams across systems can easily monitor and ensure that proper hygienic practices are being carried out at all times, in all locations.
Since the start of the pandemic, there's been an industry-wide emphasis on the importance of sanitation and hygiene best practices as well as overall transparency into business operations and values. PathSpot doesn't only empower businesses to meet those demands, but also creates safer work environments for employees. With actionable insights, risk visualization, and reporting, PathSpot technology gives businesses unprecedented visibility into hygiene practices across team members and locations and keeps people safe everyday. We've also equipped our customers with the tools and resources they need to communicate their commitment to health and safety to their customers including national press opportunities and in-store handwashing commitment displays.
How do you work with your customers?
At PathSpot, we view all of our customers as partners and strive to help them succeed. As soon as a business becomes a partner, they receive a dedicated account manager who ensures PathSpot is helping them meet their overarching business goals. This partnership includes 24/7 support, a tailored onboarding process, goal setting sessions, customized reporting and marketing support. We've also been able to help our partners share their stories and commitment to safety in their communities. Partners like Dairy Queen Franchises and Seattle-Tacoma Airport have been spotlighted in local and national press highlighting their partnership with PathSpot. AWS has been instrumental in scaling our dataset and growing customer base. We're able to provide our customers with unprecedented data and insight around handwashing thanks to our collaboration with AWS.
We also strive to serve as real business partners. If a business is using PathSpot, we're going to do everything we possibly can to make sure we're helping them meet their bottom line, whether that's supporting their press initiatives, celebrating their high-performing locations, or creating dashboards that help them communicate their dedication to hand hygiene to their customers.
Another partner of ours is Chopt, a chain of fast casual restaurants across the US Colin McCabe, Co-founder of Chopt shared how working together impacts his company's operations and employee culture: "Our relationship with PathSpot has given us the tools to measure and improve our sanitation practices. But more importantly, working with PathSpot has created an even greater overall sensitivity to and awareness of food safety in our restaurants. The PathSpot Team understands our priority to create a strong culture of food safety, and I have incredible confidence in their team as they consistently deliver on their mission."
Could you share the technical foundations of your product?
With a founding team that has a primary background in healthcare, hardware engineering, and life sciences, we started building the product with limited experience in software and cloud development— AWS's clear and well-organized documentation made the ramp up seamless as we built our initial prototypes and served our early customers. Today, PathSpot uses many AWS services to support our rapidly growing customer base and dataset. These services include Amazon Simple Storage Service (Amazon S3), AWS Lambda, Amazon Relational Database Service (Amazon RDS), Amazon Elastic Compute Cloud (Amazon EC2), and AWS IoT. Building with serverless technology as an early-stage startup decreases the need for additional team resources for server management including scaling and security patches. AWS Lambda has automatically scaled alongside our company as we've deployed hundreds of devices across the country, all while maintaining a consistent experience for our customers and our internal team.
How are you operating at scale, and how are you continuing to innovate?
Since PathSpot's inception in 2017, we have always been on a mission to use innovative technology to fill alarming gaps in public health around proper hand hygiene. When first launching our product, we iterated on it hundreds of times based on customer feedback until we started hearing comments like "I've been waiting for a product like this for 10 years." Now we're continuing to develop our offerings to support every business in replacing the "All Employees Must Wash Hands" sign with a technical solution that will help them keep their employees and customers safe.
PathSpot has scanned millions of hands across the country, giving us unparalleled insight into what makes an effective handwash, where bacteria can hide, and how often people do or don't wash their hands. By merging visible light spectroscopy and data tracking capabilities, PathSpot can ensure frequent and effective handwashing and immediately identify gaps in sanitation at an individual, store, or chain level. We've anonymized and aggregated that data across millions of hands to set industry benchmarks and create new handwashing resources. Operating at scale has allowed us to broaden our impact and advocate for more effective handwashing practices across industries.
—
Learn more about how AWS is helping transform the travel and hospitality industry at aws.com/travel