Uplevel Your Revenue Growth Management for CPG With Sigmoid on AWS
Consumer packaged goods (CPG) companies are undergoing massive transformations on multiple fronts to cater to the demands of ever-changing consumer behavior, new supply chain practices, and increasing competition with new market entrants. A survey conducted by Boston Consulting Group (BCG) with global business leaders, whose companies underwent a transformation over the past five years, suggests that 95 percent of transformations used one or more revenue growth levers. Simultaneously, in 77 percent of the transformation cases, revenue growth levers have helped to achieve at least 50 percent of the financial impact, with the remaining impact coming from other levers. Moreover, revenue growth in a transformation is particularly important because of the global economic downturn, industry-specific disruptions, and other unprecedented events, such as global pandemics.
Introduction to revenue growth management
Revenue growth management (RGM) can be defined as the increase in revenue due to the availability of the right brand, pack, and brand-pack mix to the right consumer, at the right price, and on the right occasion. Traditionally, core RGM strategies have been tactical and reactional in nature. These include adjusting price based on consumer price elasticities, shifting trade investments toward higher-growth categories, or discounting selected brands for special occasions. RGM faces certain challenges that demand instrumentalizing it as one of the key parameters of CPGs' commercial strategies, rather than using it just as a facilitator. These include:
Rise in direct-to-consumer (DTC) ecommerce: Ecommerce is creating a massive price management challenge. According to a McKinsey & Company study, US consumers plan to continue spending more of their money online even after the COVID-19 pandemic subsides. For example, 43 percent of consumers said that they plan to buy at least some of their groceries online post-pandemic. There is a 20–40 percent increase in net intent to shop online post-COVID-19 across all categories. For CPGs, the ecommerce way – which means less foot traffic to the brick-and-mortar stores – becomes somewhat complex from the traditional pricing, marketing, and assortments perspective.
Disruptions in supply chain: The COVID-19 pandemic has posed some interesting challenges, with spikes in demands for certain brands. McKinsey & Company's second study suggests that, in 2020, wages and labor costs in manufacturing increased substantially – from 5 percent to 20 percent – as a result of COVID-19-caused pay and overtime increases. These are expected to remain high in 2021 and beyond. On the other hand, warehousing has also become more expensive because of higher labor costs, and it is also expected to remain at higher levels in the future.
New entrants and competition: The advent of the digital era has generated a gradual increment in incumbents with attractive pricing strategies. Moreover, global ecommerce at the consumer level has skewed the markets for certain brands.
Because of these challenges, CPGs need an RGM solution at the center of the companies' commercial strategies rather than just facilitating it.
Sigmoid, an AWS CPG expert partner, is a pioneer of delivering various custom solutions on CPG data and analytics. Sigmoid has taken a more intriguing approach toward RGM. The basis of this approach is the foundation of data and actionable insights, thereby helping CPGs utilize sophisticated analyses of various data sources.
One of the biggest challenges is building data pipelines to harmonize and normalize all of the data sources, and then store them in a data lake solution. Sigmoid can facilitate various enterprises with a data lake and a ring of purpose-built solutions around the lake. This helps them make decisions quickly and accurately at scale with affordable prices and desired performance.
Some of the interesting use cases that can be realized when using this RGM solution include:
Return on marketing investment (ROMI): Marketers must understand the ROMI of marketing campaigns comprising different tactics and creatives. For example, accessing granular levels of data and drawing insights across different marketing channels, attributing sales to these marketing activities, and finally, realizing how marketing dollars are spent. Therefore, it helps marketers to optimize marketing campaigns and shape demand for a particular brand or pack.
Forecasting demands of different brands and packs: Forecasting the demands of different brands and packs is important for retailers and e-tailers to provide the availability of these inventories in their stores and online channels. Now that CPGs are going with DTC, demand forecasting per-channel also becomes more critical. Simultaneously, CPGs must still meet delivery cycles or the On-Time-In-Full (OTIF) mandate so that products are available on the shelf to fulfill consumers' demands.
Pricing and promotions: One of the most popular ways to boost and shape demand is by making the right bundle and promoting and recommending the right brands and packs at the right price. And all of this while keeping an eye on the price elasticity of each brand segment. According to McKinsey & Company's third study, some CPG companies invest up to 20 percent of their gross revenues on promotions, thus making it one of the largest items on profit and loss (P&L) accounts.
Customer analytics: Although it's important to acquire new consumers, it's also imperative to understand the challenges that the existing ones are facing and the reasons for inconsistent churn rates. Moreover, we must consider how they can be optimized for a specific brand or pack.
These use cases have a holistic impact across five major dimensions of CPGs: categories, occasions, consumers, channels, and competitors. Furthermore, these categories should be considered from three different perspectives: demand shaping, demand sensing, and demand fulfillment. Let's look at some illustrative examples of Sigmoid's customers from each of the three different perspectives.
Demand shaping
Demand shaping activities are often attributed to different strategies employed by CPGs when they use several marketing tactics to entice consumers to purchase products. These tactics include promotions, new product launches, digital recommendations on DTC channels, dynamic marketing campaigns on various channels, and others. Sigmoid has identified several optimization techniques that help in understanding ROMI from marketing activities, thereby creating niche machine learning (ML) models for campaign optimization, promotions, and recommendations. By using Amazon SageMaker – which lets users build, train, and deploy ML models for virtually any use case – CPGs can monitor their ML models and help data scientists model explainability.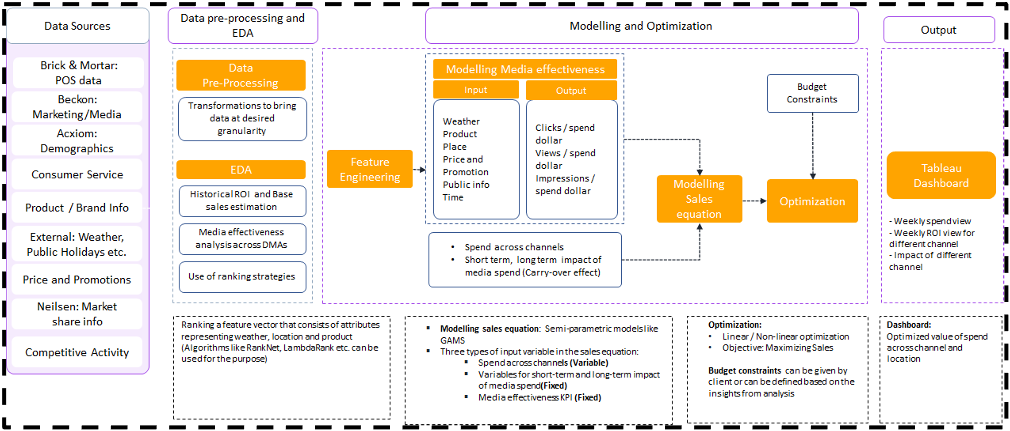 The data warehouse created using Amazon Redshift – which accelerates the time to insights – makes data queryable through Amazon Athena. This facilitates virtually seamless querying of data collated across multiple sources, such as point-of-sale (POS), marketing, demographics, DTC ecommerce systems, market research, and external data. These data points are ingested using various services, such as:
AWS Glue – a serverless data integration service to enrich, clean, and normalize data.
Amazon Kinesis Data Firehose – an extract, transform, load service to deliver near-real-time streaming data.
Ultimately, by using data sources – such as weather, product, pricing and promotions, and demographics – media-effectiveness key performance indicators (KPIs) are feature engineered along with spend across different channels. Complex modeling techniques, such as GAMS, are used to model a sales equation using Amazon SageMaker. This sales equation is optimized by keeping objectives specified by users, such as maximizing sales with certain constraints, like budgets.
As an output, customers' business intelligence (BI) tools, such as Tableau on AWS, are used to help members from marketing teams visualize a campaign's weekly performance, weekly ROMI of each channel, a 360-degree view of media spend, and number of ad clicks and impressions on each creative across different channels and locations.
Demand sensing
Demand sensing deals with predicting short-term demands. Traditionally, forecasting models were based on time series techniques that create a forecast based on sales history. However, where past sales are sufficient for predicting future forecast levels in mid- and long-term planning horizons, they have been shown to be less accurate for short-term planning. Therefore, one could say that if the past is the best predictor of the future, then it follows that the very recent past is the best predictor of the very near future. Moreover, in the digital era where CPGs are putting DTC ecommerce into action, demand sensing forms the basis of providing the right recommendations to the consumers to drive better sales in near real-time.
As a result, it is important for CPGs to understand the buying behavior of each consumer cohort across different geographical locations, product segments, and channels, as well as to attribute it to higher sales.
Demand fulfillment
Fulfilling the demands of each retailer, and ultimately the consumer, is particularly important. This calls for the prediction of stock outs and demands at the macro level, where data is fetched from every retailer, store, and DTC channel and distribution partner to accurately estimate each category with optimum brand-pack mix. Furthermore, these data points can be a good indicator of changing consumer behavior, and they can help to channelize efforts on the marketing side to shape the demand accordingly.
During the COVID-19 pandemic, consumer habits transformed, and 75 percent of US consumers switched brands or stores, while 60 percent of them plan to incorporate new buying patterns and habits post-pandemic. In other words, 45 percent of consumers shifted their brand choices over the long-term and won't go back. To avoid churn, it is important to understand and model consumer behavior changes and, more importantly, to fulfill consumer demands at the right occasions.
For one of the largest cosmetics companies in Latin America, Sigmoid delivered a demand-forecasting solution that fit both the commercial planning and supply chain needs. Moreover, it would improve sales, shorten the planning cycle, reduce the time-to-market, reduce stock outs, and optimize inventory. Various business KPIs – such as revenue, profit, inventory cost, stock outs, revenue growth per consumer, and customer retention – were used to build an ML-based demand forecasting model by using Amazon SageMaker and Amazon EMR, a cloud big data solution. This model helped improve the weighted average percentage error (WAPE) and bias that govern stock outs, inventory investments, and coverage of all of the products. Furthermore, the solution helped the cosmetics company reduce the time to plan digital campaigns by 66 percent, as well as reduce inventory costs by 10 percent. Sigmoid uses various AWS services to productionize the ML models deployed for predicting demands.
Conclusion
RGM is a cutting-edge system that answers the challenges posed by the changing dynamics in consumer behavior, unconventional spikes in demand, and the uncertainties of today's world. By maintaining the right mix of demand shaping, fulfillment, and sensing, the potential of RGM can be unlocked.
To implement a robust RGM solution on AWS, refer to the following reference architecture if your organization likes to take on the challenges of building a solution. If you want more information about Sigmoid's RGM solution on AWS, leave a comment on this post. To request a demo, visit Sigmoid or contact your AWS account team today.
AWS Partner Spotlight
Sigmoid
Sigmoid delivers actionable Intelligence for Consumer Packaged Goods (CPG) enterprises. Sigmoid's CPG analytics solution portfolio is specifically designed to equip CPG decision-makers with targeted consumer insights to drive growth. Sigmoid's expertise in CPG analytics lets companies build a robust data infrastructure that simplifies every step of managing big data in the CPG industry. By solving complex analytics use cases, brands can engage effectively with consumers, forecast demand accurately, optimize inventory levels, and take action based on real-time sales data across the e-commerce and retail partners ecosystem.