Bringing the Cloud to Canada: An AWS Public Sector Summit – Ottawa Recap
The AWS Public Sector Summit in Ottawa saw snow, but the cloud prevailed. Government, education, and nonprofits joined us in the Canadian capital city to learn how early adopters are innovating with the cloud and the benefits seen coast to coast.
Athabasca University's 5-year digital transformation plan using AWS
Take for example, Athabasca University (AU). AU is in the middle of reinventing themselves as a university. They have always been on the forefront of innovation and actually offered the first online MBA in 1995. Now, AU has over 850 online courses that can be augmented, deconstructed, and reconstructed into a variety of additional learning experiences. The vision of the university is to allow students, instructors, and the AU organization to use the cloud to transform education. But how do they get there?
With the help of AWS experts, AU is creating a training program, using AWS Educate and AWS Academy, to further economic opportunity for people who live in their communities now. They are encouraging their Canada-wide faculty to dream the impossible through new innovation in online learning.
Making art, history, and culture available to all with Art Gallery of Ontario
The Art Gallery of Ontario also spoke about making art, history, and culture available to the masses. By digitizing its collection, AGO overcame technical complexities and met industry standard requirements. Now, others are able to follow the model. In the near future, museums of all sizes will be able to install the solution in one click on the AWS Marketplace.
Unfortunately, not everyone can come to downtown Toronto to view the collection, so they have begun to develop curriculum for northern schools who can't physically be there. Since they spent a lot of time rearchitecting the AGO website, they now want to pay it forward.
Governments can innovate like startups
Minister Scott Brison, President of Treasury Board and Minister of Digital Government is the first federal minister of Digital Government. He is leading the way in innovation across the Government of Canada and spoke about how governments can innovate like startups and truly deliver new and meaningful services to the masses. The minister opened his speech with the quote: "Governments exist to improve the lives of citizens." This was a theme that resonated throughout his remarks. The minster also spoke about the importance of data and access to data. By making data available to those who specialize in it, you open endless possibilities for value you can deliver to citizens.
Fostering economic growth
Innovation, Science and Economic Development (ISED) Canada is using AWS to deliver on its mission of fostering economic growth. The department used AWS to deliver on a complex digital online platform that would normally take multiple years in just 2.5 months. ISED was able to release the first version of the platform in less than three months.
Investing in Canada's cloud future
AWS is growing along with our customers in Canada. One of the biggest differences we can make is to expand cloud opportunities to as many communities as possible. At the Summit, we announced two new training opportunities:
AWS DigiGov: AWS DigiGov is a two-day training designed to equip attendees with the skills to build a new wave of digital services. We created AWS DigiGov in partnership with the University of Ottawa Professional Development Institute – an organization focused on convening world-class experts to share knowledge and collaborate with decision makers. Over the course of the two-day training, attendees will learn from AWS instructors about cloud computing concepts, key AWS services, common use cases, security and compliance principles, and more. The curriculum designed for any public sector employees with an interest in cloud – no technical skills are needed.
AWS Educate in French: AWS Educate is a global initiative that provides students and educators with resources to accelerate cloud learning. Today, more than 10,000 educators and hundreds of thousands of students in more than 200 countries and territories have enrolled in AWS Educate. We have continued to expand the opportunities available to students including a recently launched Alexa Badge and a new Machine Learning Pathway. We are expanding opportunities even further with the launch of AWS Educate pathways in French. We are starting with AWS Educate's most popular career pathways by the end of November.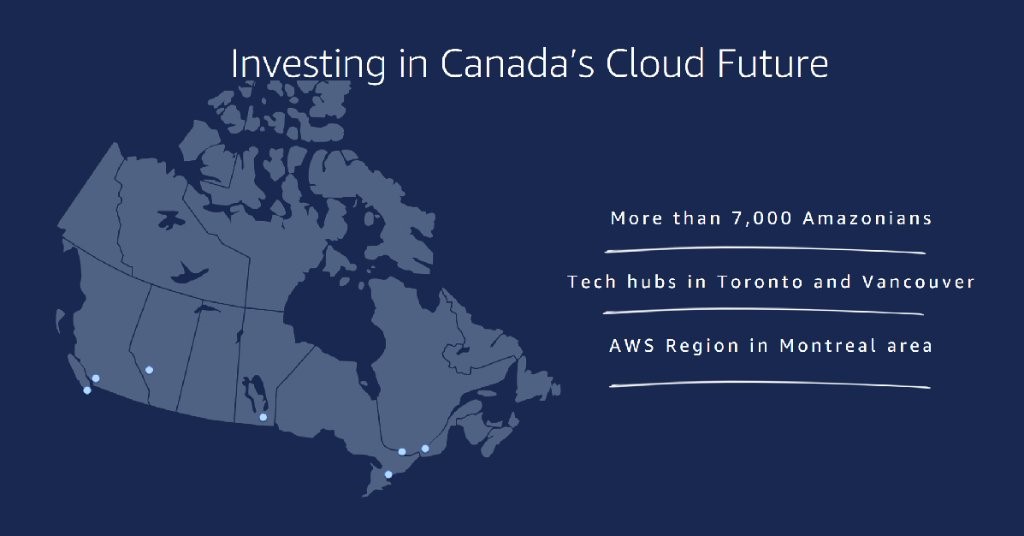 In addition to the opportunities available through AWS Educate, AWS is actively working to engage underrepresented communities around the world through the We Power Tech program. We hosted a We Power Tech event following the Summit at the University of Ottawa. The panel discussed strategies and tools leaders can use to ensure that women feel included and represented in the technology industry.
And we recently took another step forward for our Canadian customers with the launch of a Canadian French voice model for Alexa. Developers can now build Alexa "skills" to serve French Canadian speaking customers. And existing skills can be updated too. Get started today by visiting our Alexa developer forums at forums.developer.amazon.com.
Thanks to all who came out to Ottawa! Learn more about AWS in Canada here , watch the videos from the event here, and view the session slides here.
---
Amener le Cloud au Canada : un sommet AWS pour le secteur public – Récapitulatif de l'événement d'Ottawa
Même si le Sommet AWS pour le secteur public à Ottawa a vu neiger, c'est le cloud qui a prévalu! En effet, le gouvernement, le milieu de l'éducation et les organismes à but non lucratif se sont joints à nous dans la capitale canadienne pour découvrir comment les premiers adoptants innovent avec le cloud et les avantages qu'ils en tirent d'un océan à l'autre.
Le Plan quinquennal de transformation numérique de l'Université Athabasca et AWS
Prenons par exemple L'Université Athabasca (UA). L'UA est en train de se réinventer en tant qu'université. L'établissement a toujours été à l'avant-garde et a offert le premier MBA en ligne en 1995. Aujourd'hui, l'UA compte plus de 850 cours en ligne qui peuvent être augmentés, déconstruits et reconstruits en une variété d'expériences d'apprentissage supplémentaires. La vision de l'université est de permettre aux étudiants, aux enseignants et à l'administration d'utiliser le cloud pour transformer l'éducation. Mais comment y parviennent-ils ? Par l'apprentissage.
Avec l'aide d'experts AWS, l'UA est en train de créer un programme de formation qui recourt à AWS Educate et à AWS Academy pour offrir des ouvertures économiques aux personnes qui vivent actuellement dans leur communauté. Ils encouragent leur corps professoral à l'ensemble du pays à ce que leurs rêves deviennent réalité grâce à de nouvelles innovations en matière d'apprentissage en ligne.
Rendre l'art, l'histoire et la culture accessibles à tous grâce au Musée des beaux-arts de l'Ontario
Le Musée des beaux-arts de l'Ontario a aussi parlé de sa volonté de rendre l'art, l'histoire et la culture accessibles à la population . En numérisant sa collection, AGO a surmonté les complexités techniques et rencontre les normes de l'industrie. Cela étant, d'autres peuvent suivre le modèle, ce qui fait que dans un proche avenir, les musées de toute taille pourront installer la solution en un seul clic sur AWS Marketplace.
Malheureusement, ce n'est pas tout le monde qui puisse se rendre au centre-ville de Toronto pour voir la collection. Le musée a donc commencé à élaborer un programme d'études pour les écoles situées dans le grand Nord qui ne peuvent pas se déplacer jusqu'au musée. Après avoir passé beaucoup de temps à reconfigurer le site Web de l'AGO, l'heure est maintenant venue d'en faire la promotion.
Les gouvernements peuvent innover comme des startups
Le président du Conseil du Trésor et Ministre du Gouvernement numérique, Scott Brison, est le premier ministre fédéral du Gouvernement numérique. À ce titre, il ouvre la voie de l'innovation dans l'ensemble du gouvernement du Canada et a parlé de la façon dont les gouvernements peuvent innover au même niveau que les startups et véritablement offrir des services nouveaux et significatifs à la population. Le Ministre a ainsi entamé son discours : « Les gouvernements existent pour améliorer la vie des citoyens ». C'est un thème qui a résonné tout au long de son allocution. Le Ministre a également souligné l'importance des données et de l'accès aux données. En rendant les données accessibles à ceux qui se spécialisent dans ce domaine, vous créez des possibilités infinies de valeur que vous pouvez offrir aux citoyens.
Favoriser la croissance économique
Innovation, Science et Développement économique (ISED) Canada utilise AWS pour remplir sa mission de favoriser la croissance économique. Le ministère a utilisé AWS pour créer une plateforme numérique en ligne complexe en deux mois et demi seulement, un travail qui aurait normalement nécessité plusieurs années. ISED a ainsi pu proposer la première version de la plateforme en moins de trois mois.
Investir dans l'avenir du cloud au Canada
AWS évolue au même rythme que ses clients au Canada. L'une des plus grandes différences que nous pouvons faire est d'étendre les possibilités du cloud au plus grand nombre de communautés possible. Lors du Sommet, nous avons annoncé deux nouvelles occasions de formation :
AWS DigiGov : AWS DigiGov est une formation de deux jours conçue pour donner aux participants les compétences requise pour construire une nouvelle vague de services numériques. Nous avons créé AWS DigiGov en partenariat avec l'Institut de développement professionnel de l'Université d'Ottawa, un organisme dont l'objectif est de réunir des experts de classe mondiale pour partager les connaissances et collaborer avec les décideurs. Au cours de la formation de deux jours, les instructeurs AWS enseigneront aux participants les concepts du cloud computing, les principaux services AWS, les cas d'utilisation courante, les principes de sécurité et de conformité et plus encore. Le programme d'études est conçu pour les employés du secteur public qui s'intéressent au cloud. Aucune compétence technique n'est requise.
AWS Educate in French : AWS Educate est une initiative mondiale qui fournit aux étudiants et aux enseignants des ressources permettant d'accélérer l'apprentissage sur le cloud. À ce jour, plus de 10 000 éducateurs et des centaines de milliers d'élèves dans plus de 200 pays et territoires se sont inscrits à AWS Educate. Nous avons continué d'élargir les possibilités offertes aux étudiants, notamment avec le lancement récent du Alexa Badge et un nouveau parcours de machine learning. Et nous élargissons davantage les possibilités avec le lancement des parcours AWS Educate en français. Nous commencerons avec les parcours de carrière les plus populaires d'AWS Educate d'ici la fin novembre.
Outre les possibilités offertes via d'AWS Educate, AWS travaille activement à mobiliser les communautés sous-représentées du monde entier avec le programme We Power Tech. Nous avons organisé un événement We Power Tech à la suite du Sommet à l'Université d'Ottawa, où un groupe d'experts a discuté des stratégies et des outils que les dirigeants peuvent utiliser pour s'assurer que les femmes se sentent incluses et représentées dans l'industrie de la technologie.
Nous avons récemment réalisé une nouvelle avancée pour nos clients canadiens avec le lancement d'un modèle vocal en français canadien pour Alexa. Les développeurs peuvent désormais développer les « compétences » Alexa pour servir les clients francophones du Canada. Les compétences existantes peuvent également être mises à jour. Lancez-vous dès aujourd'hui en visitant nos forums de développeurs Alexa sur forums.developer.amazon.com.
Merci à tous d'être venus à Ottawa ! Pour en savoir plus sur AWS au Canada, cliquez ici et visualisez les vidéos de l'événement ici.