How AWS Digital Customer Experience Competency Partners Are Changing the Marketing Landscape
By Renata Melnyk, Sr. Partner Program Manager at AWS
We just announced the AWS Digital Customer Experience (DCX) Competency to highlight top AWS Partner Network (APN) Partners that support all phases of the digital customer acquisition and retention lifecycle—from content management and marketing automation to digital commerce and data analytics.
Launch Partners in this program have built solutions on Amazon Web Services (AWS) that give organizations the infrastructure, storage, availability, advanced analytics, and decision-making capabilities to leverage customer data—your most valuable asset—to deliver the most meaningful customer experiences.
Learn more about the customer success of DCX Competency Partners Looker, Bulletproof, Perfect Sense, CloudHesive, Solodev, Tickr, G-AsiaPacific, and Manthan.
If you want to be successful in today's complex IT environment, and remain that way tomorrow and into the future, teaming up with an AWS Competency Partner is The Next Smart.
The AWS Competency Program verifies, validates, and vets top APN Partners that have demonstrated customer success and deep specialization in specific solution areas or segments.
See the full list of Launch Partners >>
Casper & Looker
About the Customer: In April 2014, Casper set out to disrupt the stale mattress industry with one product and a mission. "We are a New York based sleep startup," says Scott Breitenother, VP of Data and Analytics at Casper. "We were data-driven from the beginning. To find that one perfect mattress, we tested thousands of different combinations of foams and covers. We continue to evolve it using data-driven techniques."
About the APN Partner: Looker is a unified platform for data and APN Advanced Technology Partner that delivers actionable business insights to every employee at the point of decision. Looker integrates data into the daily workflows of users to allow organizations to extract value from data at web scale.
The Story: As the company grew and their product line expanded, Casper realized they needed a tool to take them to the next level. Enter Looker and AWS. "Literally, these are the tools that have allowed us to get to that next level, and to become a data driven company," says Scott. "There was a point where really, if we hadn't made this move, we would have plateaued and peaked, and the data team would have been an anchor slowing down the rest of the company."
The Result: Casper was able to achieve a 360-degree view of their customer through their customer lifecycle. Today, Amazon Redshift is the central warehouse for all of Casper's data, which helps them to seamlessly join previously siloed datasets. When they first implemented Redshift, Casper used an open source tool to load their Postgres databases into their data warehouse. However, they soon realized that the six-hour refresh cycle was not going to be fast enough.
In Casper's Own Words:
"Our goal was to move from this full refresh cycle to a cycle that was based more in real-time. Ultimately, we chose Looker because it could enable our whole company with relatively little training, and lets everyone at Casper answer their own questions. Looker provides us with an easy-to-manage source of truth." – Danny Brown, Casper Data Analyst at WB Games
---
Movember & Bulletproof
About the Customer: From humble beginnings in a Melbourne pub, The Movember Foundation has rapidly become a leading not-for-profit organization. Since 2003, 5.2 million people have joined The Movember Foundation's cause to raise much-needed money for men's health.
About the APN Partner: Bulletproof is an AWS Premier Consulting Partner and Managed Service Provider (MSP) that provides end-to-end cloud services to help customers drive innovation, open new sales channels, and stay ahead of the competition.
The Story: The Movember Foundation's journey started with just 30 men growing mustaches in Melbourne and morphed into a worldwide fundraising phenomenon. Movember.com facilitates the entire campaign experience, raising the vast majority of total revenue for the organization while delivering an awesome experience for every MoBro and MoSista. Movember partnered with Bulletproof to migrate from their private cloud with complex legacy systems to AWS, and to mature their DevOps capabilities to release products earlier and more often to the public.
The Result: Movember has seamlessly transitioned from their complex legacy systems to AWS, and none of their 4 million online members were affected. Moving to AWS allowed for a two-faceted approach to disaster recovery, allowing them to utilize multiple Availability Zones (AZs) and building the entire production stack in another AWS Region. As the entire stack was managed in code, there was very little cost in maintaining the site. This provides Movember with the uptime they require during campaigns, but also with the ability to reduce costs without compromising on SLAs.
Due to how the AWS environment was built and the capabilities AWS offers, Movember has scaled accordingly to accommodate rapid spikes in traffic. Thanks to the migration project, they have achieved a 70 percent total cost saving in managing their environment.
In Movember's Own Words:
"Working with Bulletproof has been pivotal in The Movember Foundation's infrastructure transformation. We've worked together on a vitally important strategic project for our organization, migrating away from legacy systems to a well-architected AWS solution that will scale as we continue to grow." – Byron Hill, Head of Technology at The Movember Foundation
---
Sotheby's & Perfect Sense, Inc.
About the Customer: With a global network of 80 offices in 40 countries, Sotheby's is a leading broker of art, jewelry, real estate, and collectibles. Known for their fine art auctions and private sales, the company has been uniting collectors with world-class works of art for over 250 years.
About the APN Partner: The Brightspot content management system (CMS) developed by APN Advanced Technology Partner Perfect Sense is fueling digital transformation for global organizations by providing a high-speed publishing solution. Built on a low-code, lightweight framework to enable faster, easier digital experiences, the Brightspot CMS can host world-class, globally deployed sites fast and efficiently.
The Story: In 2017, the team at Sotheby's realized its Adobe (AEM) content management system was inhibiting the organization's digital innovation. The site was out-of-date and the editorial team was restricted by the types of content they could publish. In addition to SEO concerns, the CMS codebase had become difficult to maintain, especially without significant development support. For Sotheby's, providing a better digital experience called for a site-wide design refresh and the ability to create and publish a wider array of multimedia content.
Sotheby's also needed a flexible solution that would decrease IT dependency and make it easier to deliver innovative online experiences to its audiences more quickly. Additional requirements included robust localization and translation requirements, as well as business intelligence capabilities. Finally, with such a large library of digital assets, restructuring the organization's internal taxonomy to increase discoverability was critical.
The Result: The project kicked off with Sotheby's Museum Network—a rich, online showcase of the world's best exhibitions, collections, videos, and stories from hundreds of museums across the globe. After successfully replatforming the Museum Network in less than 90 days, Sotheby's migrated its flagship corporate site from Adobe AEM to Brightspot.
Brightspot empowers Sotheby's to create and publish engaging digital experiences faster, with less obstacles and additional content types, customizable workflows, and multi-channel distribution capabilities. All of this while providing an improved user experience for visitors with smoother navigation and enhanced personalization. This solution has increased unique visitors by 57 percent and overall visits by 52 percent while decreasing bounce rate by 23 percent.
In Sotheby's Own Words:
"We were under time pressure to get something live that represented a high-quality user experience, which is often a recipe for trouble. That's one of the reasons why it was very important to have flexible technical partner and platform to work with." – Jonathan Pytell, VP and Director of Digital Product at Sotheby's
---
Kirkland's Inc. & CloudHesive
About the Customer: Kirkland's Inc. was founded in 1966 and is a specialty retailer of home décor in the U.S. Currently, they operate 434 stores in 37 states, as well as an e-commerce website, www.kirklands.com, which hosts more than 12,000 products that are available for online purchase.
About the APN Partner: CloudHesive is an APN Advanced Technology Partner and Managed Service Provider (MS) that provides cloud solutions through consulting and managed services with a focus on security, reliability, availability and scalability. Their services help companies reduce operating costs and increase productivity while improving their cloud security posture by deploying mission-critical workloads onto AWS.
The Story: Kirkland's needed to move from their current provider within 90 days. First, CloudHesive evaluated the e-commerce platform, working with the previous hosting provider to identify the infrastructure architecture and application dependencies. Prioritization was placed on the migration of the platform as-is, with minimal architecture changes, but optimizations were introduced where possible.
Some of the optimizations introduced provided for stronger security policy enforcement and detective controls, leveraging CloudHesive's experience in PCI, application performance monitoring, a multi-Availability Zone (AZ) and multi-Region approach to key and critical services, and an optimized deployment process allowing Kirkland's to self-service deploy to non-production environments.
The Result: Kirkland's e-commerce platform was migrated from the previous hosting provider by the target date. Three key events have provided a measure of success for the re-architected platform on AWS: 1) The ability to load test to 2x the anticipated demand and then subsequently scaling 2x beyond that when actual demand was driven to the platform; 2) Load test activities were decreased by half, from 6 hours to 3 hours of downtime; and 3) Deployment windows were decreased by two-thirds, from 5 hours to 90 minutes.
---
Florida Dairy Farmers & Solodev
About the Customer: The Florida Dairy Farmers association needed a fresh way to breathe new life into a brand plagued by declining dairy sales and misunderstandings and assumptions about the area. Florida Dairy wanted a new web experience that would be emblematic of the unique business of dairy in an unexpected state like Florida.
About the APN Partner: Solodev is content management system (CMS) and APN Advanced Technology Partner that empowers businesses to reach their digital goals. With Solodev, organizations can build websites, custom applications, and online strategies that transform customer experience. Winners of the 2017 AWS "City on a Cloud Innovation Challenge," Solodev's solution is available on AWS Marketplace.
The Story: Representing more than 130 farms, Florida Dairy Farmers needed to modernize their website and implement a robust CMS to promote Florida's milk and dairy products. Solodev and their design partner, DigitalUs, built an award-winning front-end experience with a dynamic, mobile responsive framework. The new CMS empowered digital marketers at Florida Dairy Farmers to easily manage the website with minimal code and integrate seamlessly with third-party technologies.
Solodev also migrated hundreds of pages of legacy content, including an expansive library of popular dairy recipes. They provided a rapid path to the cloud, giving Florida Dairy Farmers unprecedented control over cost and capacity. Running Solodev on an Amazon Elastic Compute Cloud (Amazon EC2) cluster, the customer was able to load balance and auto scale to manage unexpected traffic loads without crashing. Solodev also utilized Amazon Relational Database Service (Amazon RDS) to set up, operate, and scale databases, and Amazon CloudFront to cache data and enhance redundancy. Along with improved performance, the new website helped address compliance issues like ADA accessibility and data privacy.
The Result: The resulting site effectively delivered messaging and continues to meet objectives, both online and offline. Site administrators can quickly make adjustments to content and creative elements as needed, and they know exactly who is making those changes thanks to Solodev's permissioning system. The new Solodev-powered site reduced bounce rate by almost 40 percent between the old site and the updated platform. At the same time, website visitors' time per page more than doubled with the average time spent onsite doubling as well.
In Florida Dairy Farmers' Own Words:
"We wanted to increase traffic to our team's page on our website. We needed to give our page a makeover and make it more user friendly for our target audiences. We have already seen an over 100 percent increase in page visits because of the refresh, along with a lot of word-of-mouth compliments and recommendations." – Natalia Lozada, Communications Manager at Florida Dairy Farmers
---
Spectrum Science Communications & Tickr
About the Customer: Spectrum Science Communications is a leading independent health and science public relations agency. As a full-service communications agency, Spectrum believes in the power of scientific storytelling to clarify complexity, capture imaginations, shift mindsets, and move markets.
About the APN Partner: Tickr is an APN Technology Partner that provides marketing intelligence for every business, enabling customers to track real-time brand awareness, campaign performance, and ROI. With Tickr, you can gather all your key marketing and PR metrics in a simple, elegant interface that enables collaboration, real-time decision-making, and campaign tracking across multiple channels.
The Story: Spectrum and their clients were grappling with an explosion in the amount and types of data being generated. There were questions about the efficacy of various media types, round-the-clock demands for monitoring and reporting, and a need to demonstrate increased value in a noisy media environment. Determined to transcend the capabilities of emerging media monitoring solutions and deliver greater value, Spectrum turned to Tickr's Marketing Intelligence Platform, which helped them provide customers with real-time dashboards filled with the most relevant media and social intelligence along with campaign and competitor monitoring.
The Result: Tickr uses AWS to combine a wide range of enterprise marketing tools and services into one seamless interface. Their visualization of the disparate information made it easy for Spectrum's clients to glean the kinds of insights that would allow them to optimize their media strategy on the fly and effect real results. Using Tickr, Spectrum has driven up to an 18 percent increase in overall website traffic and a 2.5 percent increase in conversions.
In Spectrum's Own Words:
"Often in our industry, we've seen metrics programs delivered after the fact, in the form of dense reports packed with irrelevant data and confusing charts that are designed to validate past actions, but don't point the way to current and future decision-making. Through our partnership with Tickr, we are changing that dynamic, by surfacing the most relevant information in real-time, in a way that is directly oriented toward actionable insights." – Jonathan Wilson, President and CEO at Spectrum
---
Padini Holding Berhad & G-AsiaPacific
About the Customer: Padini Holdings Berhad is a leader in the apparel and garment industry in Malaysia, having nine labels under their belt that caters for consumers of both genders and all ages. Padini operates with over 3,600 employees, selling kid's, men's, and ladies' shoes and accessories, as well as garments. Their labels proudly carry the 'Made in Malaysia' stamp in more than 200 stores and franchised outlets in Malaysia and around the world, alongside its online e-commerce store.
About the APN Partner: G-AsiaPacific is an APN Advanced Consulting Partner that provide 100 percent cloud solutions to enterprises, corporations, SMEs, mid-market companies, and multi-national companies in Malaysia, Singapore, Indonesia, Thailand, Vietnam, New Zealand, and Australia. They specialized in quality online marketing, search, domain registration, website design, and internet solutions.
The Story: In 2015, Padini was in the midst of launching its e-commerce platform and planned to host the platform with a local third-party solution. G-AsiaPacific shared some insights about the implications of hosting locally with physical servers, as well as the benefits of hosting e-commerce on the cloud. Upon consideration, Padini chose AWS due to the prominent scalability features, and G-AsiaPacific worked closely with the e-commerce platform development team.
The Result: After two months, Padini's e-commerce platform collected enough data for G-AsiaPacific to optimize the CPU load range, allowing Padini to run its e-commerce smoothly depending on traffic while only paying for what the application used.
In Padini's Own Words:
"When we decided to go digital, G-AsiaPacific came in with sound advice on leveraging cloud. The team worked well in crafting a solution plan for our e-commerce website to be scalable and powerful enough to cope with incoming traffic. The auto-scaling environment has given a compelling shopping experience for our online customers. Whether it's our email, e-commerce hosting, or loyalty system, G-AsiaPacific has displayed strong cloud IT expertise as well as dedication in managing their support and services." – Padini
---
Relationshop & Manthan
About the Customer: Relationshop is a shopper engagement agency focused on the retail sector that uses a combination of digital technology, Manthan analytics, and strategic services to deliver highly-personalized digital interactions and promotional campaigns. Relationshop enables connected experiences and 1-to-1 communications across all digital channels, powered by Manthan's customer analytics solution.
About the APN Partner: Manthan is an APN Advanced Technology Partner that provides business-ready packaged analytic applications for customer marketing, merchandising, store operations, and supplier collaboration. Sophisticated yet intuitive analytical capability coupled with the power of machine learning, big data, mobility, and cloud computing brings Manthan's product users business-ready applications that provide on-demand access and real-time execution.
The Story: Relationshop works with a U.S.-based supermarket chain with more than 100 stores and 3.5 million customers in their loyalty program. The retailer was seeing poor customer engagement and low conversions from their marketing campaigns, and while they deployed multiple channels there was no integration among digital systems and communications were the same for all customers.
Manthan worked with Relationshop to deploy a Customer Data Platform to create a unified view of the customer across online and offline channels. This view was used to generate insights, understand customer journeys, identify products of interest, and utilize propensity models to gauge likelihood to respond, buy, churn, etc. Armed with this information, the retailer adopted a personalized marketing approach that was curated to each customer's preferences, transactional behavior, lifecycle stage, and promotional activity.
The Result: With targeted communications, personalized recommendations, and offers across all channels—including their web and mobile app platform—the retailer saw a 100 percent increase in digital account growth, 4X increase in mobile app usage, and millions of dollars in incremental margin contribution. All this while lowering their total expense by using more efficient digital channels and targeted, personalized offers.
In Relationshop's own Words:
"Our partnership with Manthan, and use of their customer analytics solution to power our digital engagement and personalization platform, has helped us deliver the kind of contextualized digital experiences and interactions that consumers are expecting from their brands of choice. And most importantly, we're seeing these efforts translate into incremental sales and profits for our retail clients. At the end of the day, that's what it's all about." – Randy Crimmins, Chief Strategy Officer at Relationshop
---
Team Up with an AWS Competency Partner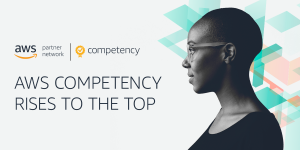 If you want to be successful in today's complex IT environment, and remain that way tomorrow and into the future, teaming up with an AWS Competency Partner is The Next Smart.
The AWS Competency Program verifies, validates, and vets top APN Partners that have demonstrated customer success and deep specialization in specific solution areas or segments.
To receive the AWS Competency designation, APN Partners must undergo a rigorous technical validation related to industry-specific technology. The validation gives customers complete confidence in choosing APN Partners to team up with.