Introducing the AWS Digital Customer Experience Competency
In today's competitive business environment, nothing matters more than how a customer values your relationship with them. Customers want to be engaged in a personalized, meaningful way that shows your organization understands who they are and what they want.
Solutions powered by Amazon Web Services (AWS) give organizations the infrastructure, storage, availability, advanced analytics, and decision-making capabilities to leverage customer data—your most valuable asset. This can drive personalized and relevant messaging that captures the attention of the customer and converts them to becoming a buyer.
We are excited to announce the AWS Digital Customer Experience (DCX) Competency to highlight top AWS Partner Network (APN) Partner solutions.
AWS DCX Competency Partners support all phases of the digital customer acquisition and retention lifecycle. This includes content management and marketing automation to engage prospects and customers with the right experience; effective and secure commerce solutions to create seamless buying experiences, and data analytics to support your decisions and retain customers.
Learn more about the AWS DCX Competency >>
Explore AWS DCX Competency Partner Solutions
AWS customers can now explore APN Partner solutions in four DCX technology tracks:
Content Management
APN Partner solutions that help you author, create, manage, and deliver web content across a multitude of digital channels.
Marketing Automation
APN Partner solutions that facilitate how you attract and retain customers through automated marketing processes such as email, video, event management, personalization, account-based marketing, and more.
Digital Commerce
APN Partners that help you deploy commerce solutions across multiple channels like web, mobile, social, and voice, with integrated product catalogs, inventory management, shopping carts, payment systems, and compliance.
Customer 360
Make your customer data actionable with relevant business metrics and near real-time decision support with capabilities such as visitor and conversion tracking, social analytics, customer segmentation, campaign performance and attribution, customer lifecycle analytics, and marketing ROI analysis.
Consulting Partners
AWS customers can also explore DCX solutions from APN Consulting Partners, including digital agencies, application hosting, and customer experience system integrators.
These service and hosting organizations specialize in marketing and commerce and offer strategy, deployment, and/or hosting capabilities that greatly accelerate digital initiatives while delivering greater ROI and reducing the burden on IT resources.
Team Up with an AWS Competency Partner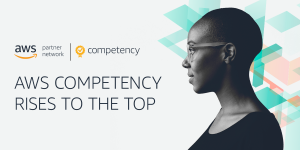 If you want to be successful in today's complex IT environment, and remain that way tomorrow and into the future, teaming up with an AWS Competency Partner is The Next Smart.
The AWS Competency Program verifies, validates, and vets top APN Partners that have demonstrated customer success and deep specialization in specific solution areas or segments.
To receive the AWS Competency designation, APN Partners must undergo a rigorous technical validation related to industry-specific technology. The validation gives customers complete confidence in choosing APN Partners to team up with.