It's more than a job. It's AWS.

At Amazon Web Services, we set out every day to innovate and disrupt the status quo. We pride ourselves on pursuing unexpected paths and seeing things from different perspectives. We create work we're proud of. Geek out over. Work our customers love. Work that will change your resume—and the world. So, let's get started. We can't wait to see what you build here.
Life at AWS
Our workdays are just different here.
We're a global team of diverse builders committed to bringing our best selves to work in order to make a positive impact for our customers. At AWS, everyone is invited to combine their passion and imagination with cutting-edge technology to develop for one of the world's largest cloud platforms.

Ownership & Autonomy
From Day One, you'll be in the driver's seat when it comes to your development, your career, and your future here at AWS. You'll be encouraged to explore new possibilities, take risks, and make your mark. But don't worry—whatever you decide do and however far you stretch, we'll be behind you every step of the way.
Customer Obsession
Customer first, customer focused, customer centric. Whatever you want to call it, starting with our customers and working backwards is one of our leading principles at AWS. We collaborate closely and listen carefully to earn the trust of our customers. It's this level of obsession, if you will, that goes into every product, solution, and idea we build here.
An "Experiment & Fail" Culture
We know that to be truly entrepreneurial, failure and innovation are inseparable. To invent you have to experiment. Sometimes those experiments go awry; other times they lead to real breakthroughs. So, we've created a culture that doesn't just accept failure—we encourage it. Because we know that's where the best ideas bubble up from.

Inclusion, Diversity & Equity
We believe that technology should be inclusive, diverse, and equitable. And we have a responsibility to make that happen. That's why we're committed to putting in the work to build a more inclusive environment and equal representation for all.

Celebremos.
For Hispanic Heritage Month, team members across the company shared stories about their lives, their AWS experience, and the steps we're taking to increase Hispanic and Latinx representation.

Benefits at AWS
How we care for our builders.
At AWS, we help care for our employees so they can focus on building for the future. We know when the right resources are in place, our people have the potential to truly thrive. That's why we offer many different ways to experience good health, professional growth, and financial well-being.

Health & Wellness
You and your family's health and well being are a top priority at AWS, which is why we provide arange of healthcare plans. On top of the usual coverage, we support new parents with paid leave and a gradual return-to-work program. There's also paid time away if you need to care for an ill family member.

Professional & Personal Growth
Plan on developing both professionally and personally at AWS. Our employees are encouraged to enter different roles, take on new challenges, and learn new skills through seminars, trainings, and hands on learning opportunities whenever possible. The potential for internal transfers and expanding career development programs help our people continue building on their careers.

Financial Success
To help you best prepare for the future, we provide 401(k) matching and the opportunity to become an Amazon shareholder. We also believe in pay parity, which means we're doing our best during the hiring process and annual compensation reviews to ensure women earn the same as men to perform similar work.

Our Locations
A global company. Growing exponentially.
When you join AWS, you'll find a world of possibilities, wherever you're located. From software developers in Seattle collaborating with their counterparts in Singapore to machine learning researchers in Tel Aviv sharing studies with their peers in Texas, you'll find smart, passionate, and innovative builders working together to create for the cloud.

Our Featured Offices
The future of work at AWS.
When it comes to working these days, where we work matters more than ever. For a company as large as AWS, no single return-to-office solution will work for every team, so to maximize collaboration and connection, each team will determine what works best for their group. Some teams will continue to work remotely, some may return to the office as a group, or others will opt for a combination of the two.
We are always looking for the best ways to deliver outstanding results while maintaining flexibility for our builders. If you prefer working remotely, you can search our growing list of remote-only positions for a role that's right for you. For all other positions, onsite frequency will vary depending on the role and team you apply for.

Ready to change the future of tech with us?
Looking for challengers, bar-raisers, and new perspectives.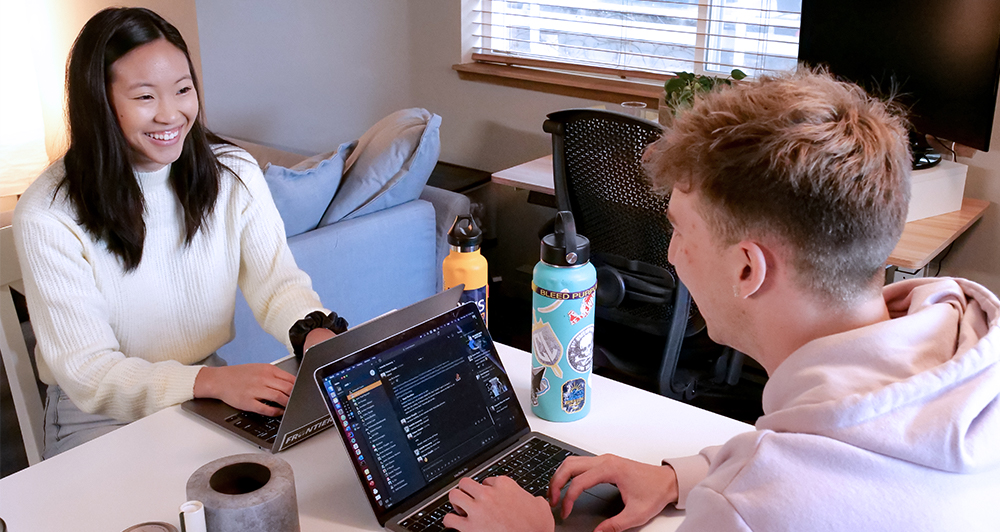 See how fast the semester flies by when you're changing the world.

Stay in Touch
Curious to see what it's like to work #HereAtAWS? Keep up with the latest employee features, job opportunities, and everything else that makes up life at AWS.