In the Works – VMware Cloud on AWS
The long-standing trend toward on-premises virtualization has helped many enterprises to increase operational efficiency and to wring out as much value from their data center as possible. Along the way, they have built up a substantial repertoire of architectural skills and operational experience, but now find that they are struggling to match public cloud economics and the AWS pace of innovation.
Because of this, many enterprises are now looking at the AWS Cloud and like what they see. They are enticed by the fact that AWS has data centers in 35 Availability Zones across 13 different locations around the world (with construction underway in five more) and see considerable value in the rich set of AWS Services and the flexible pay-as-you-go model, and are looking at ways to move in to the future while building on an investment in virtualization that often dates back a decade or more.
VMware + AWS = Win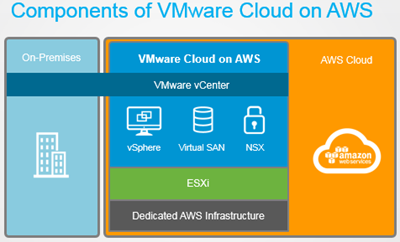 In order to help these organizations take advantage of the benefits that AWS has to offer while building on their existing investment in virtualization, we are working with our friends at VMware to build and deliver VMware Cloud on AWS.
This new offering is a native, fully managed VMware environment on the AWS Cloud that can be accessed on an hourly, on-demand basis or in subscription form. It includes the same core VMware technologies that customers run in their data centers today including vSphere Hypervisor (ESXi), Virtual SAN (vSAN), and the NSX network virtualization platform and is designed to provide a clean, seamless experience.
VMware Cloud on AWS runs directly on the physical hardware, while still taking advantage of a host of network and hardware features designed to support our security-first design model. This allows VMware to run their virtualization stack on AWS infrastructure without having to use nested virtualization.
If you find yourself in the situation that I described above—running on-premises virtualization but looking forward to the cloud—I think you'll find a lot to like here. Your investment in packaging, tooling, and training will continue to pay dividends, as will your existing VMware licenses, agreements, and discounts. Everything that you and your team know about ESXi, vSAN, and NSX remain relevant and valuable. You will be able to manage your entire VMware environment (on-premises and AWS) using your existing copy of vCenter, along with tools and scripts that make use of the vCenter APIs.
The entire roster of AWS compute, storage, database, analytics, mobile, and IoT services can be directly accessed from your applications. Because your VMware applications will be running in the same data centers as the AWS services, you'll be able to benefit from fast, low-latency connectivity when you use these services to enhance or extend your applications. You'll also be able to take advantage of AWS migration tools such as AWS Database Migration Service, AWS Snowball, and AWS Storage Gateway.
Plenty of Options
VMware Cloud on AWS will give you a lot of different options when it comes to migration, data center consolidation, modernization, and globalization:
On the migration side, you can use vSphere vMotion to live-migrate individual VMs, workloads, or entire data centers to AWS with a couple of clicks. Along the way, as you migrate individual components, you can use AWS Direct Connect to set up a dedicated network connection from your premises to AWS.
When it comes to data center consolidation, you can migrate code and data to AWS without having to alter your existing operational practices, tools, or policies.
When you are ready to modernize, you can take advantage of unique and powerful features such as Amazon Aurora (a highly scalable relational database designed to be compatible with MySQL), Amazon Redshift (a fast, fully managed, petabyte-scale data warehouse), and many other services.
When you need to globalize your business, you can spin up your existing applications in multiple AWS regions with a couple of clicks.
Stay Tuned
I will share more information on this development as it becomes available. To learn more, visit the VMware Cloud on AWS page.
— Jeff;