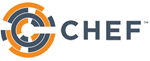 This Quick Start automatically deploys Chef Automate, which is the highly scalable foundation of the Chef automation platform, on AWS.
You can use Chef Automate to create and manage dynamic infrastructure that runs on the AWS Cloud, or manage the servers in your on-premises data center. The Quick Start gives you instant access to Chef Automate, which includes Chef Server, Chef Analytics, Chef Management Console, and Chef Reporting.
This Quick Start performs Chef Automate initial setup, creates the Chef administrative user account, and enables HTTPS access over the internet and within your virtual private cloud (VPC). You can include an optional Chef workstation and configure it, create and upload a cookbook, and bootstrap an EC2 instance with Knife, which helps you manage infrastructure components.