New APN Program Launches and Updates Announced at AWS re:Invent 2019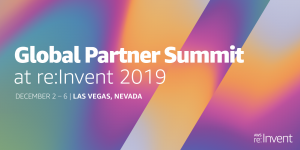 The annual Global Partner Summit was held December 2-6 at AWS re:Invent 2019, and we are excited to introduce the APN's new program launches and key initiatives for 2020.
Global Partner Summit provides AWS Partner Network (APN) Partners with opportunities to connect, collaborate, and discover.
There were GPS sessions and events taking place across the re:Invent campus, helping APN Partners to leverage AWS technologies and learn how the APN program can help companies build, market, and sell their AWS-based offerings.
This post will showcase the new APN programs that partners can take advantage of today.
Watch the Global Partner Summit Keynote
The APN hosted our annual Global Partner Summit keynote December 4 at the Venetian. The keynote was delivered by Doug Yeum, Head of AWS Worldwide Channels and Alliances.
We announced a host of new APN programs and updates:
Watch the Global Partner Summit keynote on YouTube >>
Watch GPS Breakout Sessions
All of our Global Partner Summit sessions will soon be available online for you to watch on YouTube.
GPS videos include business sessions on the new APN program launches, how to work with AWS sales teams, and building a profitable MSP practice, as well as technical sessions and chalk talks on securing SaaS solutions, passing a Technical Baseline Review, and more.
NEW!

APN Global Startup Program
Mid- to late-stage startups need to move at a fast pace in order to compete with much larger companies. To help businesses build, market, and sell faster with AWS, we developed the APN Global Startup Program.
Since 2012, the APN has helped tens of thousands of companies launch and scale their business on AWS. This new program is invite-only and helps startups become enterprise-ready with prescriptive benefits, simplified paths to meeting foundational requirements for the APN, and a robust set of resources to help startups significantly accelerate their growth.
One of the most pressing requests our AWS startup team hears from businesses is the need for speed in getting support from the APN. Additionally, since startups have smaller teams than their larger competitors, they often require more prescriptive guidance to identify the specific APN programs and resources that are best suited to their business.
When companies join the APN Global Startup Program, they are assigned a Startup PDM, who becomes their primary point of contact and guides each business in their personalized and simplified journey through the APN. These startups also receive support from assigned AWS Startup Partner Solution Architects.
This white-glove support increases the speed at which startups can receive direct benefits from the APN in three key areas: technical validation, go-to-market (GTM) support, and sales enablement.
Learn more about the APN Global Startup Program >>
NEW!

AWS Service Ready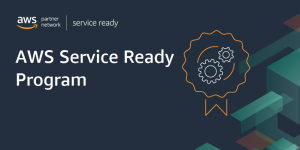 Before making a purchasing decision, AWS customers tell us they want to know if a tool or application will integrate with AWS services running in their cloud environment.
To meet this need for customers, the APN is excited to introduce AWS Service Ready. This program identifies and validates products from APN Technology Partners that integrate with specific AWS services, and recommends these products to customers.
Through AWS Service Ready, participating APN Technology Partners can demonstrate to customers through website listings on AWS service pages and AWS Partner Solutions Finder that their products have been validated by AWS Solutions Architects for high availability and proper architecture.
At launch, AWS Service Ready designations are available for AWS PrivateLink and Amazon Redshift. We are also opening AWS Service Ready applications for AWS Lambda and Amazon RDS. If you're interested in applying, please review the prerequisites and Validation Checklists.
Learn more about AWS Service Ready >>
NEW!

AWS Retail Competency
AWS has thousands of retailer customers that are continuously searching for trusted technology and consulting solution providers to accelerate their transformation, modernization, and customer engagement roadmaps.
Finding the most qualified and experienced partners can be time-consuming for retailers, and may not always lead to the best partners for their cloud adoption journey.
To assist retailers with this search, the APN launched the AWS Retail Competency. This designation helps retailers find top APN Partners with highly specialized solutions and consulting practices that offer retail technology and services that are powered and vetted by AWS.
The AWS Retail Competency takes on the heavy lifting of identifying and validating industry leaders with proven customer success and technical proficiency in services such as artificial intelligence (AI), machine learning (ML), voice, Internet of Things (IoT), visual recognition, robotics, and more.
AWS Retail Competency Technology Partners offer innovative solutions across all areas in the enterprise, such as marketing, store operations, supply chain, merchandising, finance, IT, and more.
AWS Retail Competency Consulting Partners offer strategy and deployment services to retailers, to help accelerate their digital transformation.
Learn more about the AWS Retail Competency >>
NEW!

AWS Public Safety & Disaster Response Competency
Communities around the world hit by natural or man-made emergencies and disasters reported $2.9 trillion in direct economic losses between 1997 and 2017—more than doubling the $1.3 trillion reported in the previous two decades.
First responders, public safety agencies, disaster response organizations, hospitals, schools, and cities are facing a growing number of challenges in resiliency planning.
Previously, there was no easy way for these organizations to find businesses that offered specialized services tailored to meet the mission-critical needs of responding to and managing public safety emergencies and large-scale disasters.
With the new AWS Public Safety & Disaster Response Competency, AWS customers can identify top APN Consulting Partners that can identify, build, and implement technology offerings that improve organizational capacity to prepare, respond, and recover from emergencies and disasters.
AWS Competency Partners have demonstrated deep technical experience to implement innovative solutions that address complex, dynamic, and sensitive operating environments, including leveraging the AWS Cloud in areas where internet access is degraded or completely destroyed.
Learn more about the AWS Public Safety & Disaster Response Competency >>
NEW!

SaaS Enablement Track for APN Navigate
APN Navigate is a partner's path to specialization on AWS, guiding organizations large and small to establish fundamental building blocks that will help them become successful APN Partners.
The software-as-a-service (SaaS) application delivery model is expanding at a rapid pace, across all segments.
Recent IDC research on customer preference shows 72 percent of customers worldwide strongly consider SaaS for new applications, migration of existing applications, or in moving existing apps to SaaS when software contracts renew.
The SaaS Enablement track for APN Navigate creates a prescriptive journey for APN Partners and provides resources to understand the fundamentals of building SaaS solutions on AWS. The SaaS Enablement track helps partners develop expertise in designing and implementing end-to-end solutions architecture for cloud-native products on AWS.
Dive deep on the APN SaaS Enablement Navigate track for business and technical pros:
To access any APN Navigate track, an APN Partner Central account is required.
NEW!

APN Immersion Days
AWS Immersion Day workshops are day-long, in-person workshop that AWS Solutions Architects created to help customers walk through different areas of the AWS platform.
This in-depth approach helps technical experts learn how to best leverage the AWS platform to unlock business potential and meet key objectives.
AWS Immersion Day workshops are available in many solution areas, such as database migration, containers, artificial intelligence, edge services, and more.
To help APN Partners provide this same type of experience for their customers, we are excited to announce APN Immersion Days.
Available to APN Advanced and Premier tier consulting partners, APN Immersion Days takes the content developed by our Solutions Architects and packages it in a marketing portal for APN Partners to use exclusively with their customers. Included in this package is a full suite of event management resources, including presentations, hands-on labs, and other assets that are custom built and address key customer questions.
With APN Immersion Days, we are providing APN Partners with a repeatable model, reusable content, and automated tools that will help you deliver successful technical workshops for your customers.
Learn more about APN Immersion Days >>
On the Ground: Daily Updates from Global Partner Summit 2018
We were thrilled to be in Las Vegas for AWS re:Invent 2019 and our annual Global Partner Summit.
APN Partners from across the globe were busy attending breakout sessions, technical chalk talks, and hands-on training to learn how the APN program can help organizations build, market, and sell their AWS-based offerings.
Throughout the show, we published daily updates on the APN Blog. Check out this post to see what we shared from Las Vegas, including details of the APN program launches, sponsor booths at the Sands Expo, and other awesome things from re:Invent.
Check out our daily recap blog post from Global Partner Summit >>