On the Ground: Daily Updates from AWS Global Partner Summit 2019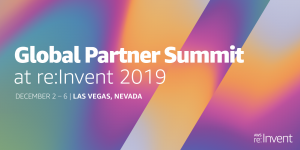 We are thrilled to be in Las Vegas this week for AWS re:Invent 2019 and our annual Global Partner Summit, meeting and connecting with APN Partners from around the world.
This year's conference provides the AWS Partner Network (APN) community with great opportunities to connect, collaborate, and discover.
APN Partners are busy attending breakout sessions, chalk talks, and hands-on trainings to learn how the APN can help their organizations build, market, and sell their AWS-based offerings.
Keep checking this post for daily updates from re:Invent and our Global Partner Summit!
Daily Update for Thursday, Dec. 5
Amazon Web Services Chief Technology Officer Dr. Werner Vogels delivered his annual re:Invent keynote, diving deep on the technical underpinnings of AWS and the state of cloud computing heading into 2020.
Top 3 Things That Happened Today
Sponsor Awards
The Sands Expo hosted the AWS Village, APN Partner Booth, developer lounge, sponsor booths, and more. This year's.
sponsor award winners included Cockroach Labs, Matillion, and NetApp.
The coveted re:Invent Sponsor of the year went to MongoDB, an AWS Competency Partner!
Partners All Day, Every Day
Each year, re:Invent gets bigger and better, and our APN Partners play a key role in educating customers all week by delivering sessions, answering questions at the Expo, hosting parties and networking events, and generally making re:Invent a smash success in so many ways.
We are proud to partner with you, and we thank you for everything you do on behalf of our joint customers!
re:Play Party
This year's re:Play expanded beyond EDM, with concerts from Jen Lasher, Miya Folick, A-Trak, Jamestown Revival, The Intel Drone Show. Anderson Paak, and STS-9. This interactive extravaganza is a popular way to close out re:Invent and is the ultimate playground for those of us who didn't get the memo that grown-ups don't play.
https://twitter.com/Bloombase/status/1202864060875730950
Last Chance for AWS Certifications at re:Invent
If your organization needs additional certifications to qualify for the next APN tier, or your staff wants to take the next step on their AWS Cloud journey, we are offering on-site AWS Certification exams at re:Invent.
The AWS Certification Exam Testing Center is open throughout the week, and APN Partners can register for one or more exams. Registrants will receive special benefits at the event, such as access to the AWS Certification Lounges and Appreciation Reception.
Earning an AWS Certification helps you demonstrate your deep technical skills and expertise to design, deploy, and operate applications and infrastructure on AWS.
Daily Update for Wednesday, Dec. 4
The AWS Partner Network (APN) hosted our annual Global Partner Summit keynote today at the Venetian.
The keynote was delivered by Doug Yeum, Head of AWS Worldwide Channels and Alliances, who shared how the APN program is helping partners build, market, and sell their AWS-based offerings.
Following a key theme from Andy Jassy's talk the day before, the Global Partner Summit keynote made it clear how important APN Partners are in helping customers all across the world transform their businesses.
Doug was joined on stage for presentations by Dave McCann, VP of AWS Marketplace, and Sandy Carter, VP of Worldwide Public Sector Programs, to share new launches and discuss APN opportunities ahead for partners.
We announced a host of new APN programs and updates, including:
Doug welcomed leaders from BP and Avis Budget Group, and each shared their stories of digital transformation and the central role that APN Partners have played in driving their organizations to new heights.
Andy Jassy also joined Doug on stage for a fireside chat, discussing the partner business at AWS and how APN Partners help customers innovate and grow. In Andy's words: "Our customers need the people in this room."
https://twitter.com/AWS_Partners/status/1202284139757522944
Top 3 Things That Happened Today
APN Global Startup Program
Mid- to late-stage startups need to move at a fast pace in order to compete with much larger companies. The APN Global Startup Program is invite-only and helps startups become enterprise-ready with prescriptive benefits and a robust set of resources.
Learn more about the APN Global Startup Program >>
AWS Service Ready
This program identifies and validates products from APN Technology Partners that integrate with specific AWS services, and recommends these products to customers.
At launch, AWS Service Ready designations are available for AWS PrivateLink and Amazon Redshift. We are also opening AWS Service Ready applications for AWS Lambda, Amazon RDS, and AWS Outposts.
Learn more about AWS Service Ready >>
New AWS Competency Designations
We announced two new AWS Competencies that will help AWS customers identify and team up with top APN Partners. Learn more about the new designations:
Daily Update for Tuesday, Dec. 3
Amazon Web Services CEO Andy Jassy delivered the AWS re:Invent keynote and introduced lots of new services, such as the general availability of both AWS Outposts and Amazon EKS on AWS Fargate, as well as data lake export and federated queries for Amazon Redshift.
Read Jeff Barr's blog post for information on all the AWS services that launched on Tuesday.
Top 3 Things That Happened Today
Andy Jassy Keynote
Andy's keynote was full of AWS business updates, service launches, and AWSome announcements. You can read the AWS News Blog for details on Tuesday's big stories.
APN Partner Plaques
We invited partners to the APN booth to receive their APN Branded Plaque, and partners shared their photos with the plaques on social media using the hashtag #APNproud.
The APN Branded Plaques are designed for display at a company's office and to enable businesses to showcase their APN Partner status and gain credibility with AWS customers.
Learn how your company can receive an APN Branded Plaque >>
https://twitter.com/RocksetCloud/status/1201989985554927616
We Power Tech
We Power Tech is building a future of technology that is diverse, inclusive, and accessible. The AWS initiative works with a global network of underrepresented technologists to provide access to the tech industry through trainings and platforms.
This year's re:Invent features a host of We Power Tech events, including tech sessions, expo hall lounge, and meetups. Tuesday's #WePowerTech happy hour at the Aria brought together hundreds of people to celebrate diversity and inclusion.
https://twitter.com/AWSreInvent/status/1202056078126538752
Daily Update for Monday, Dec. 2
AWS re:Invent 2019 is here, and it was an action-packed first full day. Check out this walk through of the Sands Expo to see how many APN Partners are in attendance this year—and how many customers want to talk to them!
https://twitter.com/AWSreInvent/status/1201659072795176960
In addition to the Expo, there are Global Partner Summit sessions and events taking place across the re:Invent campus. Wednesday morning's Global Partner Summit keynote will be held at the Venetian, while breakout sessions are at the Aria, Bellagio, MGM, Mirage, and Venetian.
Check out the full agenda of GPS sessions if you're still trying to build your schedule.
Top 3 Things That Happened Today
APN Partner Booth
The APN booth opened today and is a great place for APN Partners to connect with AWS experts and APN staff. We are excited to discuss how you can differentiate your business through the APN program, integrate solutions with AWS, leverage APN co-marketing opportunities, and more.
The APN booth is located at the Sands Expo (booth #4407). We'll be here all week, so stop by after nearby sessions or Wednesday's GPS keynote to learn more about the APN in 2020. Or just to collect some cool APN swag!
Public Sector Partner Award Winners
More than 100 innovative leaders from 60+ APN Partners came together Monday to collaborate, learn, and recognize contributions to the public sector.
This year, we introduced the AWS Public Sector Competency and Region Awards. The winners were selected based on their success within their AWS Competency, demonstration of Amazon Leadership Principles, engagement and success with the APN, and delivery of results in a customer obsessed way.
Read more about our Public Sector Partner award winners >>
APN Partner Bootcamps and Sessions
Led by AWS Solutions Architects, bootcamps are an opportunity to hone existing skills and learn new ways of working with AWS. We hosted several exclusive bootcamps today for APN Partners, diving deep on containers, machine learning, VMware Cloud on AWS, and more.
Partner-focused sessions touched on subjects like ISV success and how to build a next-generation AWS Managed Service Provider (MSP). We'll have full video coverage of all GPS sessions following re:Invent, so stay tuned for the week's key learnings. Need more training? We have a full set of APN Partner Training offerings!
What Else is Happening at re:Invent?
APN Partner Promotion
There are more than 380 Sponsorship Partners at re:Invent this week, including 150+ AWS Competency Partners, 30+ AWS Service Delivery Partners, and 20+ AWS Managed Service Provider (MSP) Partners. A very special thank you to these Sponsorship Partners!
https://twitter.com/AWS_Partners/status/1201686843319734272
Digital signage across the re:Invent campus and within the various sessions is displaying APN Partner sponsor logos, as well as APN program messaging that promotes the expertise and unique offerings of specialized APN Partners.
Additionally, AWS Competency Sponsorship Partners received unique booth badging in the Expo to help showcase their business to AWS customers on the show floor.
Cool Swag at the APN Booth
APN Partners and AWS customers are welcome to stop by the APN booth (#4407) in the Sands Expo to learn more about APN programs and working with APN Partners. We've got great swag for partners and customers alike!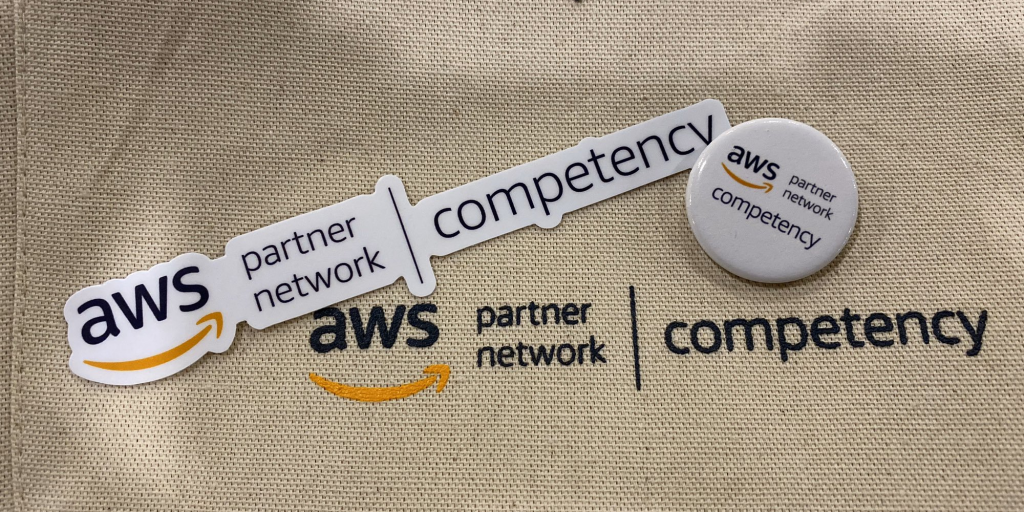 Stay Connected
Follow AWS and the APN on social media for all the latest updates about re:Invent 2019: