Amazon QuickSight Gallery
Explore sample industry and domain specific analytics built by Amazon QuickSight customers. Contact us to help you get started with your own.



Solutions by Industry and Domain
Solutions for AWS Cost Management and Optimization
Create the foundation of your own AWS cost management and optimization tool with features such as billing summary for chargeback and a single view of benefits from your Reserved Instances and Savings Plans.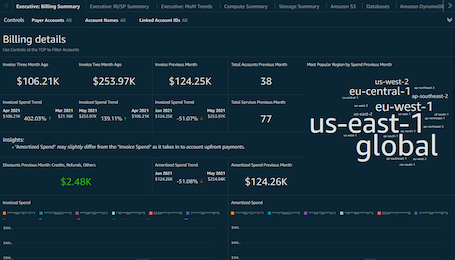 In-depth, granular, and recommendation-driven dashboard to dive deep into AWS cost and usage and to fine-tune efficiency with features such as resource-level granularity and service-level alerts.

Provides comprehensive details and trends across your entire AWS Organization's Trusted Advisor reports including optimization, security checks, and more.

Get started for free
QuickSight makes it easy to provide a rich analytics experience tailored to your apps, portals, and websites. With no servers or infrastructure to manage, QuickSight is designed and priced to grow with you. Its architecture scales to millions of customers while you only pay for what you use.