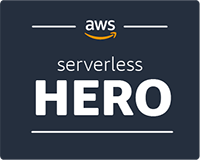 Angela Timofte, Data Platform Manager at Trustpilot
Copenhagen, Denmark
Hero since 2020
Angela is Data Platform Manager at Trustpilot. Passionate about knowledge sharing, coaching, and public speaking, she is committed to leading by example and empowering people to seek and develop the skills they need to achieve their goals.
Angela has a proven history of transitioning legacy applications to new platforms and product offerings. She is driven to build scalable solutions with the latest technologies while migrating away from monolithic solutions using serverless applications and event-driven architecture. She is a co-organizer of the Copenhagen AWS User Group and a frequent speaker about serverless technologies at AWS Summits, AWS Community Days, ServerlessDays, and more.


LinkedIn

Twitter
What is the AWS Heroes Program?
The AWS Heroes program recognizes a vibrant, worldwide group of AWS experts whose enthusiasm for knowledge-sharing has had a real impact within the community. Heroes go above and beyond to share AWS knowledge via social media, blog posts, videos, open source projects, events, user groups, and more.