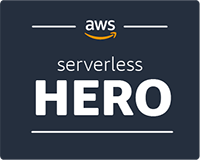 Ken Collins, Principal Engineer at Custom Ink
Norfolk, USA
Hero since 2020
Ken Collins is a Principal Engineer at Custom Ink, focusing on DevOps and their Ecommerce Platform, with an emphasis on emerging opportunities. Custom Ink is approaching its 20th year in business and is entering its second phase of Cloud adoption, where Ken helps a growing engineering team succeed using AWS-first well-architected patterns.
With a love for the Ruby programming language and serverless, Ken continues his open source Rails work by focusing on using Rails with AWS Lambda using a Ruby gem called Lamby. Recently, he wrote an ActiveRecord adapter to take advantage of Aurora Serverless with Rails on Lambda. Ken lives near Norfolk, VA and organizes the area's 757rb Ruby User Group.


Twitter

GitHub

LinkedIn
What is the AWS Heroes Program?
The AWS Heroes program recognizes a vibrant, worldwide group of AWS experts whose enthusiasm for knowledge-sharing has had a real impact within the community. Heroes go above and beyond to share AWS knowledge via social media, blog posts, videos, open source projects, events, user groups, and more.