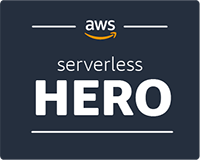 Luca Bianchi, Chief Technology Officer at Neosperience
Milan, Italy
Hero since 2020
Luca is Chief Technology Officer at Neosperience, an AWS ISV company, that delivers a cloud platform to empower brands to understand what makes their customers unique and bring empathy in technology. He has taken a serverless-first development approach to build Neosperience solutions since the very beginning.
Luca has worked with AWS since 2010 and has developed many cloud-native products to support big data, IoT, and Machine Learning applications. He has more than 15 years of experience in IT, working on microservices and software architectures, and holds a Ph.D. in Computer Vision and Machine Learning.
Luca writes on Medium about serverless and Machine Learning, where he focuses on technologies such as AWS CDK, AWS Lambda, and Amazon Sagemaker. He is co-founder of Serverless Meetup Italy and co-organizer of ServerlessDays Milano and ServerlessDays Italy.
As an active member of the serverless community, Luca is a regular speaker at user groups, helping developers and teams to adopt cloud technologies.

LinkedIn

Twitter

Blog

GitHub
What is the AWS Heroes Program?
The AWS Heroes program recognizes a vibrant, worldwide group of AWS experts whose enthusiasm for knowledge-sharing has had a real impact within the community. Heroes go above and beyond to share AWS knowledge via social media, blog posts, videos, open source projects, events, user groups, and more.