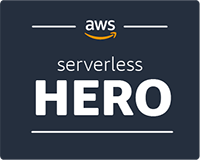 Ran Ribenzaft, CTO at Epsagon
Tel Aviv, Israel
Hero since 2019
Ran Ribenzaft is the Chief Technology Officer at Epsagon, an AWS Advanced Technology Partner that specializes in monitoring and tracing for serverless applications. Ran is a passionate developer that loves sharing open-source tools to make everyone's lives easier and writing technical blog posts on the topics of serverless, microservices, cloud, and AWS on Medium and the Epsagon blog.
Ran is also dedicated to educating and growing the community around serverless. He organizes Serverless meetups in SF and TLV, delivers online webinars and workshops, and frequently gives talks at conferences. Ran welcomes anyone who wants to learn more about building on serverless. Whether you need help taking your first steps getting started with serverless or you want to dive in to complex architectures, he invites you to contact him through Twitter and start a conversation.


Twitter

GitHub

LinkedIn

Personal Blog
What is the AWS Heroes Program?
The AWS Heroes program recognizes a vibrant, worldwide group of AWS experts whose enthusiasm for knowledge-sharing has had a real impact within the community. Heroes go above and beyond to share AWS knowledge via social media, blog posts, videos, open source projects, events, user groups, and more.