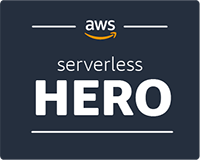 Tom McLaughlin, Principal Engineer at NBCUniversal
Boston, USA
Hero since 2020
Tom is a cloud infrastructure and operations engineer who has worked in companies ranging from startups to the enterprise. His areas of focus around serverless started largely on the operational aspects of building and running reliable serverless systems. More recently his efforts involve mentoring teams new to AWS and serverless, and helping them successfully adopt these technologies through training and education. Tom frequently shares his learnings on his blog, ServerlessOps.
What drew Tom early to serverless was the prospect of having no hosts or container management platform to build and manage which yielded the question: What would he do if the servers he was responsible for went away? As an early DevOps adopter he felt it was time to take a leap again into a new and emerging technology space. He's found enjoyment in a community of people that are both pushing the future of technology and trying to understand its effects on the future of people and businesses.
Off the computer Tom races cars, dabbles in photography, sails, and is a devoted cat dad.


LinkedIn

Twitter

ServerlessOps Blog

ServerlessOps eBook

ServerlessOps Webcast
What is the AWS Heroes Program?
The AWS Heroes program recognizes a vibrant, worldwide group of AWS experts whose enthusiasm for knowledge-sharing has had a real impact within the community. Heroes go above and beyond to share AWS knowledge via social media, blog posts, videos, open source projects, events, user groups, and more.