Simon Elisha & Jeff Barr discuss various aspects of the Amazon Web Services (AWS) offering. Each podcast include AWS news, tech tips, and interviews with startups, AWS partners, and AWS employees.

---
---
Simon is a long-time Amazonian, passionate about helping customers get the most out of cloud technology. A pragmatic technologist at heart, Simon holds an Honours Degree in Information Systems from Monash University.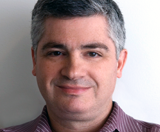 Jeff Barr has been an Amazon employee since 2002. As Chief Evangelist, he focuses on spreading the word about AWS through the AWS blog and select in-person appearances. Jeff holds a Bachelor's degree in Computer Science and a Master's degree in Communication and Digital Media.

---
---
We want to hear from you! Have a show idea, or suggestions on how we can improve? Send us an email at awspodcast@amazon.com.