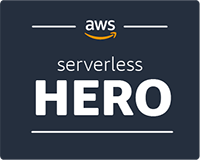 Dhaval Nagar, Founder at AppGambit
Surat, India
Hero since 2020
Dhaval is founder and director of cloud consulting firm AppGambit, based in India. He loves to work on anything and everything around cloud services. Serverless is his area of interest and he works with clients across the world to showcase how Serverless can be used to efficiently solve business challenges. He thinks that Serverless is not just another method, but a big paradigm shift in modern computing that will have a major impact on future technologies.
Dhaval has been professionally developing applications for around 15 years and has been using the AWS platform since 2015. Coincidentally, the first service that he picked on AWS was Lambda. He is currently working on ServerlessFAQs.com to share frequently asked questions related to the topic. He has cleared 11 AWS Certifications and holds other cloud certifications, too.
Dhaval likes to talk about everything cloud and is a regular speaker at AWS user groups and conferences. He also frequently writes on his Medium blog. He runs the Surat AWS and Serverless User Groups and has organized over 20 meetups since starting them in 2018.

Twitter

LinkedIn

Blog
What is the AWS Heroes Program?
The AWS Heroes program recognizes a vibrant, worldwide group of AWS experts whose enthusiasm for knowledge-sharing has had a real impact within the community. Heroes go above and beyond to share AWS knowledge via social media, blog posts, videos, open source projects, events, user groups, and more.