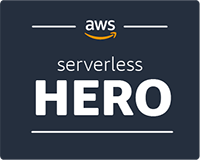 Efi Merdler-Kravitz, Director of Engineering at Lumigo.io
Tel Aviv, Israel
Hero since 2020
Efi is Director of Engineering at Lumigo, a monitoring and debugging platform for AWS serverless applications, which is built on a 100% serverless backend.
As an early and enthusiastic adopter of serverless technology, Efi has been racking up the air miles as a frequent speaker at serverless events around the globe. He also contributes to open source projects like lumigo-cli and writes regularly on the topic for the Lumigo blog.
Efi began his journey into serverless as head of engineering at Coneuron, building its entire stack on Lambda, S3, API Gateway, and Firebase, while perfecting the art of helping developers transition to a serverless mindset. He has more than a decade of experience as a developer, team leader, group manager, and director in the healthcare, mobile, security, and agriculture industries.

Twitter

LinkedIn

Blog

GitHub
What is the AWS Hero Program?
The AWS Hero program recognizes a vibrant, worldwide group of AWS experts whose enthusiasm for knowledge-sharing has had a real impact within the community. Heroes go above and beyond to share knowledge via social media, blog posts, open source projects, events, and user groups.