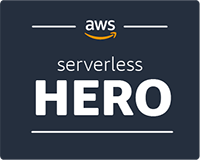 Gojko Adzic, Partner at Neuri Consulting
London, United Kingdom
Hero since 2019
Gojko Adzic is a partner at Neuri Consulting LLP and a co-founder of MindMup, a collaborative mind mapping application that has been running on AWS Lambda since 2016. He is the author of the book Running Serverless and co-author of Serverless Computing: Economic and Architectural Impact, one of the first academic papers about AWS Lambda. He is also a key contributor to Claudia.js, an open-source tool that simplifies Lambda application deployment, and is a minor contributor to the AWS SAM CLI.

Gojko frequently blogs about serverless application development on Serverless.Pub and his personal blog, and he has authored numerous other books including Impact Mapping, Humans vs Computers, Specification by Example, and several from the Fifty Quick Ideas book series. Specification by Example won the Jolt Award for the best book of 2012, and his blog won the UK Agile Award for best online publication in 2010. Gojko is also the winner of the 2016 European Software Testing Outstanding Achievement Award, and the 2011 Most Influential Agile Testing Professional Award.


Twitter

GitHub

Running Serverless Book

Personal Blog
What is the AWS Hero Program?
The AWS Hero program recognizes a vibrant, worldwide group of AWS experts whose enthusiasm for knowledge-sharing has had a real impact within the community. Heroes go above and beyond to share knowledge via social media, blog posts, open source projects, events, and user groups.