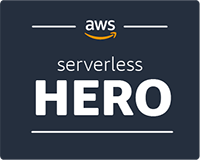 Luc van Donkersgoed, Lead Engineer at PostNL
Utrecht, Netherlands
Hero since 2021
Luc is a well-known speaker and writer in the AWS Serverless community. He started his career in 2009 by founding Coding Dutchmen. They developed mobile apps for large sporting events such as the Tour de France and the Olympic Summer and Winter Games. These ventures laid the groundwork for Luc's specialisation in high-volume, mission-critical web infrastructures.
In 2017, Luc discovered AWS perfectly merged his dual passions: software development and web infrastructure. Infrastructure-as-Code allowed him to define his systems like the software he knew so well, and APIs and SDKs allowed him to scale infrastructure with the click of a button instead of a 3-month lead time for a server purchase.
From 2021 onwards, Luc has focused on AWS Serverless, the current pinnacle of cloud maturity. Serverless allows developers to stop thinking about servers, networking, and (most of) the problems associated with scaling. These complex challenges are delegated to AWS, allowing developers to focus on the business logic of their applications. But using Serverless at scale requires a thorough understanding of common patterns, reliable integrations, and limits. Luc strives to help team members, colleagues, local and global AWS communities in embracing and growing these skill sets, so they too can experience the joy, fun and sheer scale Serverless brings to application development.


Twitter

LinkedIn

GitHub

Personal Blog
What is the AWS Heroes Program?
The AWS Heroes program recognizes a vibrant, worldwide group of AWS experts whose enthusiasm for knowledge-sharing has had a real impact within the community. Heroes go above and beyond to share AWS knowledge via social media, blog posts, videos, open source projects, events, user groups, and more.