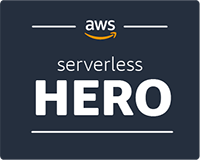 Luc van Donkersgoed, Lead Engineer at PostNL
Utrecht, Netherlands
Hero since 2021
Luc is a geek at heart, solutions architect, software developer, and entrepreneur. He is fascinated by bleeding edge technology. When he is not designing and building powerful applications on AWS, you can probably find him sharing knowledge in blogs, articles, videos, conferences, training sessions, and Twitter.
Some highlights of his work include his website Bite-Sized Serverless, a 16-session AWS Solutions Architect Professional course on YouTube, regular appearances in podcasts and webcasts, and presentations on local and international meetups and conferences. He also built and maintains the AWS Blogs Twitter Bot (@awsblogs).
Luc is currently employed as a lead engineer at PostNL, the Dutch national postal service. There he designs and builds serverless architectures which process millions of parcels and billions of events each month. You can find Luc on Twitter @donkersgood, where he engages with the AWS community on a daily basis.

Twitter

LinkedIn

GitHub

Bite Sized Serverless
What is the AWS Heroes Program?
The AWS Heroes program recognizes a vibrant, worldwide group of AWS experts whose enthusiasm for knowledge-sharing has had a real impact within the community. Heroes go above and beyond to share AWS knowledge via social media, blog posts, videos, open source projects, events, user groups, and more.