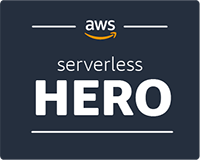 Shingo Yoshida, CTO of CYDAS
Tokyo, Japan
Hero since 2019
Shingo Yoshida is CTO of CYDAS, a founder of Section-9, a founder of Serverless Community (JP), and a member of JAWS-UG (Japan AWS User Group). Since 2012, Shingo has not only built a system with just AWS, but also has built with a cloud-native architecture to make his customers happy.
Serverless Community (JP) was established in 2016, and Meetups were held about 20 times at Tokyo, Osaka, Fukuoka, and Sapporo, including 3 full-day conferences. Through this community, thousands of participants have touched the attraction of serverless. Shingo has contributed to these serverless scenes with many blog posts and books about serverless.
Shingo has changed his career to cloud architect and solved many issues through JAWS-UG (Japan AWS User Group) and is eager to help others in the cloud community. If you want to run your business efficiently with serverless applications, it will be meaningful if you discuss with him.

Twitter

Blog
CYDAS

AWSによるサーバーレスアーキテクチャ
What is the AWS Heroes Program?
The AWS Heroes program recognizes a vibrant, worldwide group of AWS experts whose enthusiasm for knowledge-sharing has had a real impact within the community. Heroes go above and beyond to share AWS knowledge via social media, blog posts, videos, open source projects, events, user groups, and more.